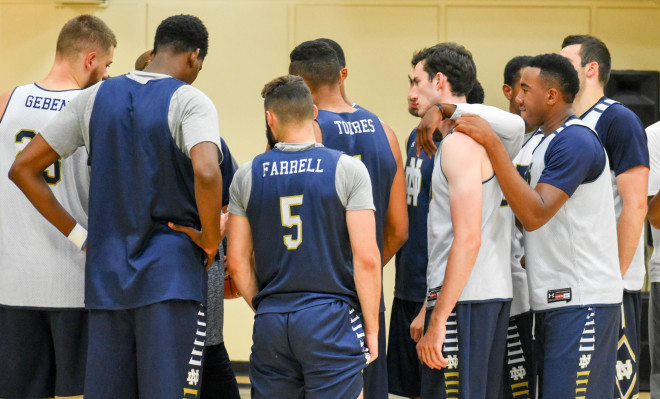 Notre Dame's men's basketball 2017-2018 schedule is now complete with the ACC releasing the conference slate for each of its members this season this afternoon.
The Irish, who finished 26-10 in 2016-2017, will begin its regular season with a road game at DePaul (Nov. 11) in what will be the first game at DePaul's new arena — Wintrust Arena.
Home games against Mount St. Mary's and Chicago State are sandwiched between DePaul and when Notre Dame departs for the Maui Invitational where the Irish will face LSU or Michigan after opening with Chaminade on Nov. 20.
A road game against potential top-five Michigan State follows Maui on Nov. 30 which is part of the ACC/Big 10 Challenge. The Crossroads Classic in Indianapolis rounds out the road non-conference schedule with the Irish facing off against Indiana and new coach Archie Miller Dec. 16.
Mike Brey will return to Delaware, where he coached for five seasons before arriving at Notre Dame, on Dec. 9. Former Irish assistant Martin Inglesby is the current head coach at Delaware.
Today's release is centered around the ACC portion of the schedule. Notre Dame will face North Carolina, NC State, Georgia Tech and Boston College at home in Purcell Pavilion and also on the road. Other home match ups include Louisville, Miami (Fla.), Florida State, Virginia Tech and Pittsburgh.
Along with its four home-and-home opponents, the Irish will travel to face Duke, Syracuse, Virginia, Wake Forest and Clemson. Virginia closes out the regular season for the Irish before heading to Brooklyn for the ACC tournament.
"Since we joined the ACC I have said, 'This will be the toughest schedule we have ever faced,' and this year is no different," Brey said in an university announcement. "I wonder what our schedule will look like when we get to 20 league games."
All 31 of Notre Dame's regular season games will be broadcast nationally with 19 being on the ESPN family of networks including Monday matchups against Duke (Jan. 29), at North Carolina (Feb. 12) and a home game against Miami (Feb. 19). All three games are part of ESPN's Big Monday package.
ACC Network Extra will carry 12 Irish games this season.