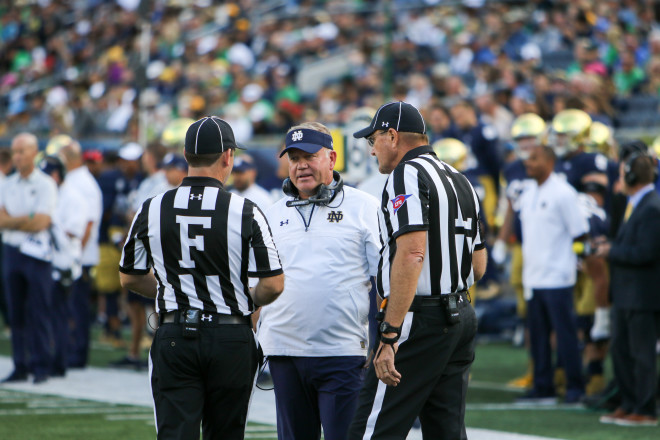 Notre Dame's 49-16 win last Saturday over defending American Athletic Conference (AAC) champion Temple caught the attention of Irish fans, media around the program and the country a little as well.
Given Temple's status in the Group of Five, it is easy for fans and media to wonder whether the Irish's performance Saturday was just a glimpse of what's to come or a byproduct of the team on the other sideline. Those questions also arise when a nationally ranked Georgia team is the next opponent.
No matter if the Irish continue their play from Saturday or not, head coach Brian Kelly doesn't see Saturday as a validation of the work put in the offseason and changes made to improve from last season.
"This not a validation game in any way, shape or form," Kelly explained. "This another step for us as we continue in a process for this football team to continue to shape themselves. It's too early to talk about validation games. We have a long way to go. Our football team will continue to grow and continue to work towards the things we asked them to work towards."
Kelly is happy about what transpired on Saturday and knows he'll see positives against the Bulldogs. But a win is no cause for celebration or stamp that all is right.
"We're only in our second game," Kelly continued. "I like what I saw in the first game. We'll do some good things in the second game, there's no question. We expect to win the game. Coming out of here, when I stand in front of you and we've won the football game, we're not uncorking the balloons in here. We have a long way to go."
SMYTHE
Senior tight end Durham Smythe went through concussion protocol in the fourth quarter against the Owls and did not return. Smythe isn't expected to miss any time.

"Excellent," Kelly said of Smythe's progress. "He was cleared for full participation and had a really good day the last couple of days. He was cleared to play Saturday. I think we're going to roll with him. I think he looked really good. His volume, clear load was up to what it normally be, so there's no need to change his role."
FRESHMEN DEFENSIVE TACKLES
Both freshmen defensive tackles Kurt Hinish (24) and Myron Tagovailoa-Amosa (20) saw snaps in Notre Dame's season opener. Kelly sees that first action as a stepping stone to improving and learning.

"I think they've been a build up from where they were last week," Kelly stated. "I think Kurt learned a lot. I think the benefit of both those guys playing in the first game against Temple, with a pretty good offensive line, they'll be better for it. Their volume was pretty high in terms of the snaps they took. It was a valuable first game experience for them. They'll continue to be in the mix, there's no question. We've got Micah practicing this week and we'll see what he can do to add to the rotation as well. We just seem them continuously making progress on the field."
DEXTER WILLIAMS
On Wednesday evening, Irish running back Dexter Williams referred to himself as a better teammate this year compared to last season. Kelly offered an explanation as to why he thinks Dexter feels that way.
"I think what Dexter is referring to is he got two carries and his first two carries were in the third quarter," Kelly said. "If you remember, the first carries got us inside the five-yard line and I took him out and someone else scored. That could have been the last time he touched the ball and may not have had a chance to score again. Leading up to that time, he was alert, locked in, ready to play and provided our football team with a huge play in getting us down to the scoring area. When I took him out, there was no what about me? This is my chance. It was all about the team.
"Subsequently gets a big run and gets two more chances to score a touchdown. Much more about what I can do for the team and I think that's probably what he was referring too. His preparation has been very intentional in everything he does. His attention detail, his focus, his traits. He's really locked in. If you look at his wrist bands, he has all of his power statements on his wrist bands and has really helped his talent come out in a fashion that is going to be fun to watch him play this year."

DOUG RANDOLPH LAWSUIT
Former Notre Dame linebacker Doug Randolph, who played for the Irish from 2013-2015 and was a student assistant in 2016, is suing the university alleging the training staff concealed MRI results which should have ended his football career, per a report by Laken Litman and Mark Alesia of the Indy Star.

According to the lawsuit and the Indy Star, Randolph alleges he experienced numbness in his upper extremities after being hit during a practice drill in September 2015. The lawsuit says Randolph informed trainer Rob Hunt of the issue, but Hunt dismissed Randolph's claim of injury and returned him to practice shortly after. Irish head coach Brian Kelly was also named in the lawsuit.
Randolph was diagnosed with spinal stenosis following the 2015 season.
"I was surprised," Kelly said of the lawsuit. "I think my comments would be centered on the release we saw today from the university. I'm there every day. I know the quality health care we provide. We have outstanding doctors and trainers. That's out mission here to provide the very best health care to our student-athletes and whatever is in their best interest. I think that's important to note as well. I think I stick with that statement that was issue today. The rest is litigation, so I wouldn't have any comment."