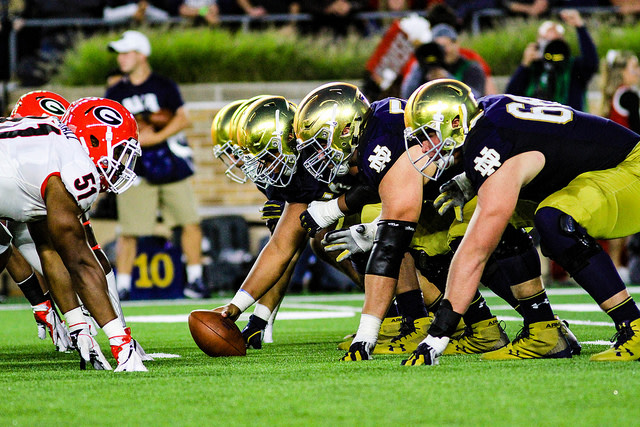 Don't miss out on any of our exclusive football, basketball and recruiting coverage. Click here to get your 60-day free trial!
After losing five games last season in which it held a fourth-quarter lead (and a sixth when it was tied), No. 24 Notre Dame's inability to finish continued in Saturday night's 20-19 defeat versus No. 15 Georgia.
Fighting Irish junior junior kicker Justin Yoon converted all four of his field goal attempts, the last from 28 yards to give Notre Dame its final lead at 19-17 with 10:21 remaining in the contest.
However, Georgia kicker Rodrigo Blankenship's 30-yard field goal with 3:34 left gave the Bulldogs the advantage for good, and then the fierce and supremely quick Georgia defense withstood two opportunities by Notre Dame from making the game-winning march. Notre Dame also had possession with the 19-17 lead, but the dominant Bulldogs defense remained stout.
The Irish ground attack that accumulated 422 yards a week earlier against Temple was non-existent with only 55 yards, with 53 coming on 19 carries by junior Josh Adams. The longest run among Notre Dame's 37 rushing plays (designed or otherwise) was eight yards.
Junior quarterback Brandon Wimbush completed 20 of 40 passes for 210 yards, but lost fumbles on two of the three sacks the Bulldogs recorded. The second strip sack came at his 25 with 1:27 left.
Adams was the top receiver with six receptions for 60 yards. Meanwhile, the Bulldogs limited top Irish target junior Equanimeous St. Brown to two catches for 16 yards. Georgia's dominance on defense was best reflected by holding Notre Dame to 3 of 17 on third-down conversions.
Notre Dame's defense put forth its own fine effort, allowing the Bulldogs only a 4 of 17 conversion rate on third down. Freshman quarterback Jake Fromm was 16 of 29 for 141 yards in a controlled attack that protected him for the most part. The dynamic running back tandem of Nick Chubb (13 carries, 63 yards) and Sony Michel (13 carries, 73 yards, one touchdown) were held in relative check with 136 yards on 26 attempts.
Here's a rundown of the game:
FIRST QUARTER: Notre Dame 3, Georgia 3
Top Moment: After the Irish took a 3-0 lead at 12:48, Georgia sophomore Elijah Holyfield returned the kickoff inside Notre Dame's 10-yard line — but holding brought the ball back to the Bulldogs' 18.
Top Performer: Notre Dame junior safety Nick Coleman made a touchdown-saving tackle at midfield after a 30-yard run by Chubb. The Bulldogs were limited to a field goal on that drive. On the next Georgia series, Coleman knifed through to stop Mecole Hardman for no gain on third-and-two from the Bulldogs' 48.
Stats: Georgia ran 15 plays for 91 yards, rushing eight times for 38 yards and completing 4 of 7 passes for 53 yards.
Notre Dame's 16 plays netted 46 yards. The 10 rushes managed 12 yards, including a sack, and Wimbush was 3 of 6 for 34 yards.
Georgia committed four penalties for 51 yards, while Notre Dame had two for 12 yards.
Items: Yoon converted his first field goal this year, from 39 yards, with 12:48 left, after a 53-yard drive on the initial possession. Blankenship matched that with a 27-yard field goal at 6:36 to cap a 70-yard march.
Junior Irish punter Tyler Newsome flipped the field in the closing minute with a 57-yard punt from his 16 that resulted also in a four-yard loss on the return, backing up the Bulldogs to their 23.
SECOND QUARTER: Notre Dame 13, Georgia 10
Top Moment: With 6:45 left, Georgia wideout Terry Godwin made a spectacular one-handed catch on third-and-goal from the five for a touchdown. It was originally ruled out-of-bounds, but the replay crew on the challenge determined he had one foot in. The score and extra point knotted the game at 10.
Top Performer: Wimbush (9 of 16 for 114 yards in the first half) completed 32-yard passes to Adams and junior tight end Alize Mack on two separate scoring drives, the former ending with Wimbush's one-yard scoring run.
Stats: Notre Dame had only 141 yards total offense in the first half (114 passing, 27 rushing). Georgia wasn't much better with 155 (86 rushing, 69 passing). The Irish outgained the Bulldogs 95-64 in total offense during the second quarter.
Despite a 2-0 advantage in turnovers, Notre Dame led only by three at halftime because it was 0 of 8 on third-down attempts.
Items: The game's initial turnover, a fumble by Fromm, resulted in a 32-yard touchdown drive by Notre Dame to move ahead 10-3 with 12:24 left on a one-yard run by Wimbush.
Yoon's 42-yard field goal with 4:14 left put Notre Dame on top again, 13-10.
Senior rover Drue Tranquill intercepted a Fromm pass at his 47 with 26 seconds left, but the Irish were unable to capitalize.
THIRD QUARTER: Georgia 17, Notre Dame 16
Top Moment: Georgia took the lead for the first time on a six-yard Sony Michel run, plus the extra point, with 4:34 remaining. The drive was aided by two personal foul calls on Notre Dame, most notably on third-and-16 from the Irish 19 by sophomore end Julian Okwara for hitting Fromm out-of-bounds.
Top Performer: The two players who wear number 7 for Georgia — running back D'Andre Swift and outside linebacker Lorenzo Carter — made the crucial plays. Swift's 40-yard dash on a jet sweep set up the Bulldogs' go-ahead TD. On the next series from the Irish 35, Carter sacked Wimbush for a 12-yard sack, forced the fumble and recovered at his 47.
Stats: Through three quarters, the Irish had only 202 yards total offense (32 rushing), 51 in the third quarter. The Bulldogs had 256 (164 rushing), with 101 in the third.
Items: On the opening drive of the half, Blankenship's 44-yard field goal attempt sailed wide right with 11:22 left.
Yoon made it 3-for-3 on field goals by converting from 37 yards to expand Notre Dame's lead to 16-10 at the 6:22 mark.
FOURTH QUARTER: Georgia 20, Notre Dame 19
Top Moment: Trailing 20-19, Notre Dame had one final shot when it took possession at its 19 with 1:57 left. Three plays later from the Irish 36, outside linebacker Davin Bellamy sacked Wimbush from the blind side, forcing a fumble that Carter recovered at the 25. The Bulldogs then ran out the clock.
Top Performer: The Georgia defense collectively was superb, limiting Notre Dame to 265 yards total offense (55 on the ground), 63 in the fourth quarter. The Irish had three possessions in the final 8:30 but couldn't close the deal.
Stats: Georgia finished with 326 yards of offense (185 rushing and 141 passing). Both defenses were superb on third down, with Notre Dame's offensive converting only 3 of 17 chances and Georgia 4 of 17.
Items: Yoon hit his fourth consecutive field goal at 10:21 to regain the lead for Notre Dame, 19-17.
Georgia took the lead for good on a 30-yard Blankenship field with 3:34 left to cap a nine-play, 63-yard drive.
After forcing three straight incomplete passes by Wimbush while leading 20-19, Georgia took possession at its 25 with 3:08 remaining (two timeouts left for Notre Dame) but the Irish held, used their final two timeouts and got the ball back at their 19 with 1:57 for the final opportunity at victory.