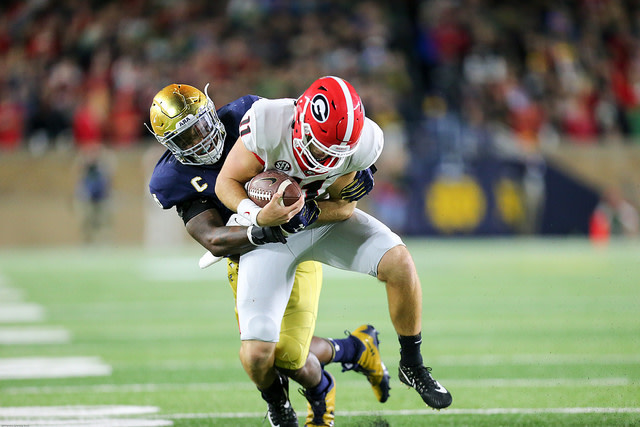 By The Numbers
1 Georgia quarterback Jake Fromm, replacing the injured Jacob Eason, became the first freshman quarterback in history to defeat the Fighting Irish in Notre Dame Stadium in his first collegiate start. In last year's opener at Texas, the Longhorns' Shane Buechele also had his first start in college versus the Irish, but that 50-47 double-overtime victory was at home.
Joining Fromm and Buechele as freshmen quarterbacks who have started in wins over Notre Dame are three others since 2009: Michigan's Tate Forcier (38-34) and USC's Matt Barkley (34-27) — both in 2009 — and Louisville's Reggie Bonnafon in 2014.
2-0 Since the turn of the 20th century, Georgia became only the sixth team to win its first two meetings against Notre Dame, with the first coming in the Jan. 1, 1981 Sugar Bowl (17-10) to clinch the national title. The other five since 1900 were Iowa (1921, 1939 and 1940 for a 3-0 start), Michigan (which started 8-0 from 1887-1908), North Carolina State (2002 Gator Bowl and 2016), Oregon State (2000 Fiesta Bowl and 2004 Insight Bowl), and Wisconsin (3-0 from 1900-05).
5 Last year during its 8-5 season, Georgia won five games (North Carolina, at Missouri, at Kentucky, Auburn and TCU in the bowl game) in which it trailed or was tied in the fourth quarter. Conversely, Notre Dame in 2016 lost a school record five games when it led in the fourth quarter (Texas, Duke, Stanford, Navy and Virginia Tech), and also fell in a sixth in which it was tied (North Carolina State).
The trend continued when Georgia fell behind 19-17 in the fourth quarter at Notre Dame before pulling off the conquest.
7 Georgia became the seventh different opponent to play at Notre Dame Stadium in a night game. Michigan has the most such appearances (5), followed by USC (3), Michigan State and Stanford (2 apiece) and then one by both Miami and Texas.
The Fighting Irish all-time record in home night games — with the first versus Michigan in 1982 — now is 10-5.
9-9 Represents Sept. 9 (ninth month, ninth day), which has become infamous in Notre Dame Stadium history for the invasion of "Sea of Red" by the opposition.
On Sept. 9, 2000, No. 1 Nebraska eked out a 27-24 overtime victory against the No. 23 Fighting Irish, with an estimated 25,000 or so Cornhuskers fans in attendance chanting "Huskers Home Game."
Seventeen years later versus No. 23 Notre Dame, Georgia's No. 15-ranked Bulldogs' contingent invaded in similar (if not greater) droves while their team rallied to a 20-19 triumph.
17 Consecutive games — including the road outing at Boston College on Sept. 16 — in which Notre Dame failed to win back-to-back contests, which ties the school record. Two wins in a row have not been achieved since November 2015 when the Fighting Irish defeated Wake Forest (28-7) and Boston College (19-16), both of which finished 3-9, to improve to 10-1.
Since then the Irish have gone 16 straight contests without consecutive wins, and Boston College next week will make it 17 — the final two of 2015, all 12 in 2016 and the first three in 2017. The original record of 17 was achieved during the 1958-59 seasons, the last eight games of the Terry Brennan regime in 1958 and the first nine under Joe Kuharich in 1959.
75 Different opponents who have played at Notre Dame Stadium since its opening in 1930, with Georgia becoming the most recent. The Fighting Irish are 59-15-1 against first-time visitors to the edifice — and the Bulldogs became the sixth team since 2009 to win in their initial appearance at Notre Dame Stadium. The others were UConn (2009), Tulsa (2010), South Florida (2011), Louisville (2014) and Virginia Tech (2016).
2010 The last time Notre Dame defeated a first-time visitor ranked in the Associated Press poll after just missing in the 20-19 loss to No. 15 Georgia. In Brian Kelly's first season back in 2010, the 4-5 Irish defeated No. 15 Utah, 28-3.
Turning Point
The rhythm of the third quarter was flowing Notre Dame's way. The Irish defense had just forced a three-and-out, and the Notre Dame offense responded with a field goal to take a 16-10 lead.
On the ensuing series, another three-and-out loomed when Georgia faced third-and-16 from its 19 and completed a pass short of the first down … until sophomore drop end Julian Okwara was called for a personal foul after hitting Georgia freshman quarterback Jake Fromm near the out-of-bounds area just as he released the ball.
From fourth-and-short at the Bulldogs 33 to first-and-10 at their 48, Georgia was in the end zone six plays later to take a 17-16 lead with 4:34 left in the third quarter. It was the lone TD of the second half, and proved to be game changing.
It was shades of the home game versus Pitt in 2008 and UConn 2009 when the Irish built a comfortable two-score lead — until a personal foul call changed the tied and saw the two foes win in overtime.

Stat Of The Game
Normally, Notre Dame converting only 3 of 17 opportunities on third down would receive the nod. In this case, there was a cause-and-effect situation that resulted in that data — namely a paltry 55-yard rushing effort by the Irish that came on the heels of a 422 output on the ground a week earlier against Temple.
The inability to generate any ground attack and relying way too much on junior quarterback Brandon Wimbush — 16 carries for one yard — to help jump-start it consistently put Notre Dame into constant third-and-longs. Among those third-down chances, 12 were third-and-eight or longer, which the extremely quick, physical and veteran Georgia defense exploited with pressure that yielded three sacks, three passes broken up and seven hurries.
Brian Kelly Says:
"We played well enough defensively for us to go into a game like this and say, 'Look, we've put our defense now in a better position that we can go and play with anyone.' "[Offensively] We had three possessions with eight minutes and 30 seconds to go. We had our chances to win the game. Georgia was better than us up front. They deserve the credit. They made the plays when they needed to."