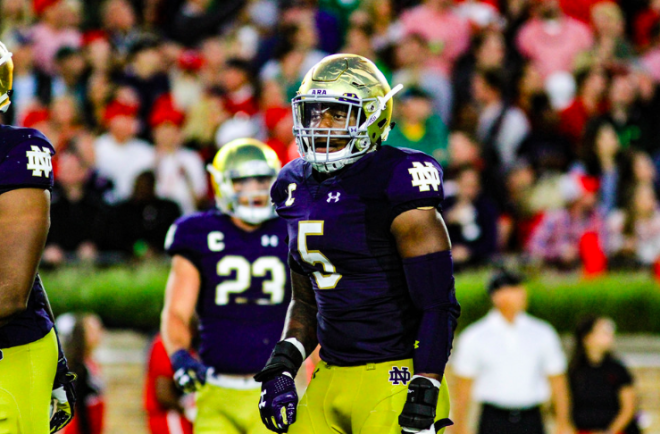 Notre Dame suffered a disappointing 20-19 loss to Georgia. It was a game Notre Dame led for much of the night, but in the end the Irish simply could not make enough plays to come away with the victory.
A look at the top players from the game, and a few things that worked - and didn't - from the game.
TOP PLAYERS
Offense: RB Josh Adams
Picking a player of the game for a unit that had just 55 rushing yards and 265 yards of offense isn't easy, but the junior running back is the pick for the second straight game.
Adams rushed for only 53 yards on 19 carries (2.8 per rush), but he led the team with six receptions and 60 yards. His 32-yard catch and run on a screen in the second quarter set up Notre Dame's only touchdown of the game.
Defense: LB Nyles Morgan
A case could be made for several Notre Dame players, including rover Drue Tranquill, defensive end Jay Hayes and defensive end Andrew Trumbetti, but Notre Dame's best defensive player in the game was the senior Mike linebacker. He was physical inside and helped slow down the Georgia ground game.
Morgan tied for the team lead with seven tackles and 1.5 tackles for loss, while adding a sack and a quarterback hurry. He played downhill but also contributed a number of plays in pursuit, making it hard for the Bulldogs to get much going offensively.
Special Teams: PK Justin Yoon
After missing both of his attempts in the opener against Temple, the junior kicker bounced back with a strong performance against Georgia. He set a career high with four made field goals, and his kicking accounted for 13 of Notre Dame's 19 points in the game.
Yoon got Notre Dame on the board early, drilling a 39-yard field goal to end the team's first drive. He converted a 42-yard field goal in the second quarter, made a 37-yarder in the third quarter and gave Notre Dame 19-17 lead in the fourth quarter with a 28-yard kick.
WHAT WORKED
Run Defense Holds: Georgia's rushing numbers were good in the game, with the Bulldogs pounding out 185 yards on 43 carries (4.3 per rush), but that total is boosted by a 40-yard run and a 30-yard carry.
The talented Georgia backs ran the ball 35 times in the game, and 17 of those carries went for two yards or less. Gaining 70 yards on two carries proved impactful, with Georgia scoring after both long runs, but on the other 33 carries the Bulldog backs had just 128 yards (3.9 yards per carry).
When Georgia was having success against Notre Dame, it was getting movement against the interior of the line. When Notre Dame was able to have success against the Bulldog ground game, it was able to crash the edges with its defensive ends, and its linebackers were able to get downhill.
Senior rover Drue Tranquill and senior defensive ends Jay Hayes and Andrew Trumbetti were both a big part of the successful ground defense by being aggressive setting the edge and forcing the Georgia backs to make early cuts, which allowed the back-side defenders and linebackers to fly to the ball.
Hayes was especially effective playing on the edge, finishing with a career-high seven tackles, including a crucial third-and-two stop late in the game that gave Notre Dame its final shot to take the lead.
Getting Off The Field: Notre Dame's defense gave the team a chance to win the game, and a big reason why was its ability to get off the field. Not including the final possession in which Georgia took a knee on three straight plays, the Bulldogs had 15 possessions in the game. Notre Dame forced a three-and-out on eight of those. Seven ended in punts and a late second quarter series ended when Tranquill picked off a pass by freshman quarterback Jake Fromm.
Notre Dame held Georgia to just 4 of 17 (23.5 percent) on third-down, and two of those conversions came on Georgia's first scoring drive of the game.
Defensive coordinator Mike Elko was able to design a number of pressures that kept Fromm off balance, and there were other instances where the defense would show a blitz before the snap, only to drop into coverage once the ball was put in play.
The changing looks made it hard for Fromm to get into any kind of rhythm on third down. Georgia's freshman quarterback completed just 4 of 8 passes for 21 yards on third down, and only one of his completions actually picked up first-down yardage.
WHAT DIDN'T WORK
First Down Woes: Notre Dame was abysmal on third down, converting just three of 17 chances (17.6 percent). It did pick up two first downs thanks to Georgia penalties, but even at 5 of 19 (26.3) the third-down offense was poor.
The issues for Notre Dame began well before third down, because the Irish struggled mightily on first down. Notre Dame lined up 19 times facing a third-down situation, and on 12 of those snaps the Irish were facing third-and-eight or longer with six being third-and-10 or more situations.
Junior quarterback Brandon Wimbush completed just 6 of 18 passes on first down, which meant 12 times the Irish immediately went to second-and-10. One of his completions went for minus-one yards and another went for just one yard.
The ground attack wasn't any better. Notre Dame averaged just 2.8 yards per rush on its 13 first-down rushing attempts, and eight of those rushes went for three yards or less.
Pocket Pressure Stalls Offense: Part of the reason Notre Dame was so ineffective on both first and third down was its inability to protect Wimbush. The junior signal-caller had his share of mistakes in this game, and his play must improve in a big way moving forward, but he didn't get much help from his offensive line.
Wimbush was sacked three times in the game, including on Notre Dame's final offensive play when fifth-year senior preseason All-American left tackle Mike McGlinchey was beaten badly around the edge by Georgia senior outside linebacker Davin Bellamy, who drilled Wimbush and knocked the ball out, ending the game for the Irish.
Three sacks isn't a terrible number, but Georgia also had seven quarterback hurries and harassed Wimbush all game long. The Irish quarterback could not get comfortable in the pocket, and the constant pressure forced him to make mistakes even when Georgia wasn't in his face.
Notre Dame's wideouts worked themselves open enough to do damage against the Georgia secondary, but Wimbush simply was not able to go through his progressions and get the ball out enough to his pass catchers because of the constant pressure from the Georgia defense.