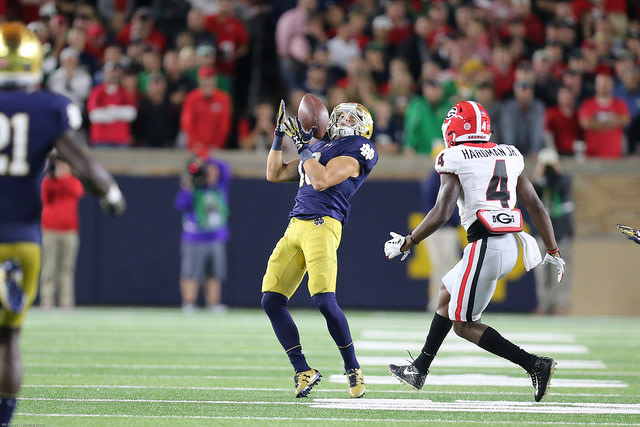 Don't miss out on any of our exclusive football, basketball and recruiting coverage. Click here to get your 60-day free trial!
While acknowledging that Georgia's defense provided a demanding challenge in the now No. 13-ranked Bulldogs' 20-19 victory this weekend, Fighting Irish head coach Brian Kelly is looking for answers on offense beyond the nucleus of Josh Adams at running back and Equanimeous St. Brown at receiver.
Adams had 19 of the 20 carries distributed among the running backs. Sophomore Tony Jones Jr. had the other attempt — a one-yard loss. Junior Dexter Williams, whose six carries netted 124 yards in the opener against Temple, was never inserted.
Per Kelly, every week is different predicated on the opposing defense. Georgia was specifically adept with stunt blitzes, and Adams is much more proficient in that area than the others, so he needed to stay in the lineup.
"Depth" is not merely about numbers, but people who are able to consistently contribute in all facets of the game.
"We have high regard for Dexter but we like Josh Adams too," said Kelly. "I don't think it's very unusual to go with what you consider your top back. So we'll try to get [Williams] in. They're all really fine backs, but it's hard to get them all in the game.
"We'll see what happens next week."
At receiver, St. Brown is far and away the top option for junior quarterback Brandon Wimbush, and Georgia recognized it, too. The Bulldogs scheme centered on getting physical with him and employing two-deep coverage that helped limit him to two catches for 16 yards, not unlike the job Clemson did in 2015 with future first-round pick Will Fuller when in inclement conditions he caught only two passes for 37 yards.
The difference was that in 2015, Notre Dame had other senior playmakers at Clemson such as C.J. Prosise (four catches, 100 yards, one TD) and Chris Brown (four catches, 83 yards), among others, who averaged about 23 yards per their eight receptions.
So far this season graduate transfer Cameron Smith's seven catches average only about 8.0 yards, and fellow grad transfer Freddy Canteen's one reception in two games gained seven yards.
"They were going to force us to throw it to somebody else," said Kelly of Georgia's coverage, likely to be copied by future opposition until proven otherwise. "We needed to be better in the running game, and somebody else had to pick us up.
"We had that kind of emerging, where we made some catches with other receivers because they were taking a lot of their efforts towards EQ. We just weren't consistent enough. We needed to make one more or two more plays and score one more touchdown, and we just couldn't find a way to do that."
Junior Chris Finke caught all three of his passes in the fourth quarter, including a couple of 17-yard gains crossing the middle into dangerous hitting territory, and could emerge as an option.
"Based on what happened last night, we're begging for somebody," said Kelly of finding a consistent complement or two for St. Brown. "We've been rolling guys out there, waiting for guys to kind of just show themselves and make some plays…
"We're going to keep rolling them out there. I think Chris showed himself as being a guy now that has made some plays. I thought he was excellent and maybe a little bit too daring in some of his punt return fair catches, or lack thereof. But I thought he showed some of those big-game-kind-of-catches that you need."
Likewise, the question begs on what happened to the receiving corps that has a dozen players on scholarship, never mind five tight ends, led by highly heralded junior Alize Mack, who did grab a 32-yard pass to set up a score but has been rusty with in-game action after sitting out last season.
Sophomore Kevin Stepherson, whose 25 catches last season averaged 18.5 yards is reportedly sidelined the first four weeks because of a suspension that the University can neither confirm or will deny.
Meanwhile, junior C.J. Sanders, who caught 24 passes last year, classmate Miles Boykin and sophomore Chase Claypool either have not appeared at all on offense or played sparingly, with Claypool owning the lone catch (16 yards).
"Just attention to detail," replied Kelly on why the aforementioned trio have not been significant in the rotation, if at all. "Assignments, getting lined up, just every day in practice. They're going to get there. It's a long season. You'll see them. But it's just taken a little bit longer for them to get those traits where they need to be, but they're getting better each week."
News & Notes
• There was a hesitant pause when Kelly was asked about his assessment of the offensive line before viewing it as a comprehensive evaluation.
"We've just got to keep working," he said. "Our kids are committed to it, and we'll get back at it Monday, and we'll get better because of this game."
• The protection for Wimbush is not always based on just the line but post-snap reads, running back assignments, or even Wimbush sometimes holding on to the ball too long, among other factors.
"It's never generally one thing," Kelly said. "It's a combination of everybody doing their job."
• The secondary received a solid collective grade, especially in tackling, with junior safety Nick Coleman lauded for "his best game since he's been here," per Kelly. In the first quarter alone, Coleman saved a touchdown by coming across the field to tackle Nick Chubb after a 30-yard run, and later he knifed through to make a solo stop on third-and-two for no gain, forcing a punt.
Kelly also noted that sophomore cornerback Julian Love bounced back with a quality game while junior cornerback Shaun Crawford is playing better while still bouncing back from an Achilles injury last season.