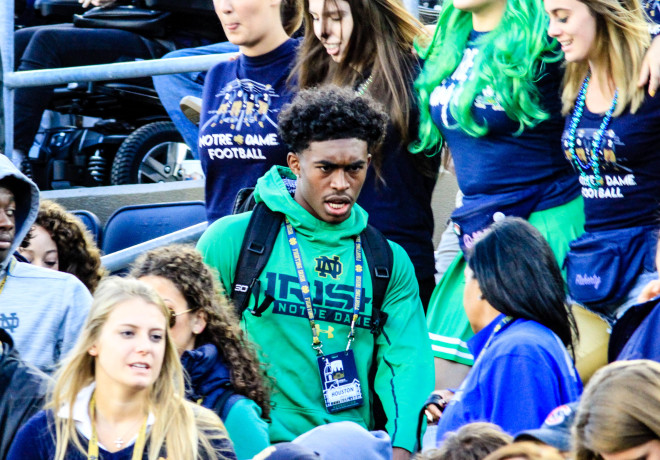 One of the more intriguing visitors on campus at Notre Dame last weekend for the Georgia game was Bradenton (Fla.) IMG Academy defensive back Houston Griffith.
In recent months, the situation had faded significantly between Griffith, who is listed as Rivals' No. 47 overall player nationally, and the Irish.
However, thanks to the continued efforts of the coaching staff and a revamped Notre Dame defense, Griffith decided to give the Irish another look and headed to campus for an official visit.
He was not disappointed.
"I thought it was a really good trip overall," Griffith said. "It was another good time in South Bend hanging out with the coaches and getting to know the players a little bit more."
Possibly the biggest reason Griffith started reconsidering the Irish is because he watched the Temple game and realized defensive coordinator Mike Elko had made good on his promise to turn the defense around.
Griffith saw that same defense in person over the weekend, and was just as impressed.
"The defense played really good," he said. "They were just out there competing and making plays against Georgia, who's a really good, top-25 team. I thought they did pretty well, and it just shows that they've made a lot of progress from last season into this year.
"It was good to be able to see Coach Elko's defense up close and personal."
After the trip, Griffith has Notre Dame back near the top of his list, thanks in large part to that defense.
"They stand in pretty good position," he said. "I wouldn't take the visit if they didn't. Overall, it was a good visit, and it was good to see the new defense in person and understand where I fit in the defensive scheme."

Ht: 6'1.0"
Wt: 192.0
Class: 2018
Commitment status:
undecided
During the trip, Griffith not only got to get a closer look Elko's defense, but also had a one-on-one meeting with the first-year defensive coordinator. He said Elko let him know exactly where he is on the coaching staff's priority board during that meeting.
"He was just letting me know that I'm the defensive back they want in the class," Griffith said. "I'm the priority defensive back they want, and if I decide to come to Notre Dame I'll have the opportunity to come in as a freshman and make plays right away."
Griffith also met with head coach Brian Kelly.
According to Griffith, Kelly laid out a clear picture of what his future in South Bend would look like.
"Coach Kelly told me if I come to Notre Dame he thinks I could be a captain and help lead the team to a national championship," Griffith said. "He knows the number three is important to me so right away he told me, 'If you decide to come here, you can wear that number."
The four-star said it was exciting to realize how much the Irish coaching staff wants him to be a part of their program.
"It makes me feel good just knowing that a program like Notre Dame thinks really high of me and thinks my play on the field can translate to their school," Griffith said.
This weekend was one of many visits Griffith has taken to Notre Dame, but that doesn't mean it didn't come with a few firsts.
For starters, this was the first time Griffith had been on campus since the completion of the Campus Crossroads Project.
Griffith said a few aspects of the project caught his eye during the trip.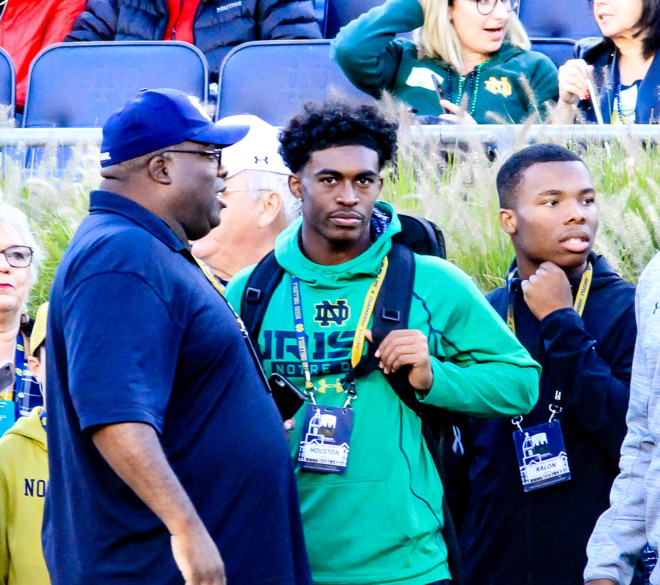 "They just built that new center by the stadium, and it's pretty impressive," Griffith said. "I want to study communications, so it was also nice seeing that they have that NBC studio on campus. That would be a really good opportunity for me."
This was also the first chance for Griffith to hang out with his longtime friend Isaiah Robertson, a freshman defensive back with the Irish.
Robertson was Griffith's host on the trip, and reportedly told him all about everything Notre Dame has done for him in the short time he's been on campus.
"It was good being able to hang out with him," Griffith said. "I've known him for so long, and he just told me the real deal about why he chose Notre Dame and what you're going to get out of Notre Dame."
Griffith also spent a good portion of the visit getting to know Notre Dame safety commit Derrik Allen.
According to Griffith, the coaching staff wanted the two of them to get familiar with one another, believing they could make a formidable duo in the defensive backfield in the future.
"The whole weekend I was hanging out with Derrik Allen," Griffith said. "The coaches made sure we hung out because they think I decide to play safety there or they put me at safety, me and him could be one of the best safety tandems in the country when we get there."
Going forward, Griffith will take some more visits, including a trip to Florida State in the coming weeks
A decision is expected sometime before the end of his senior season at IMG, and Notre Dame has certainly put itself right back in the conversation.