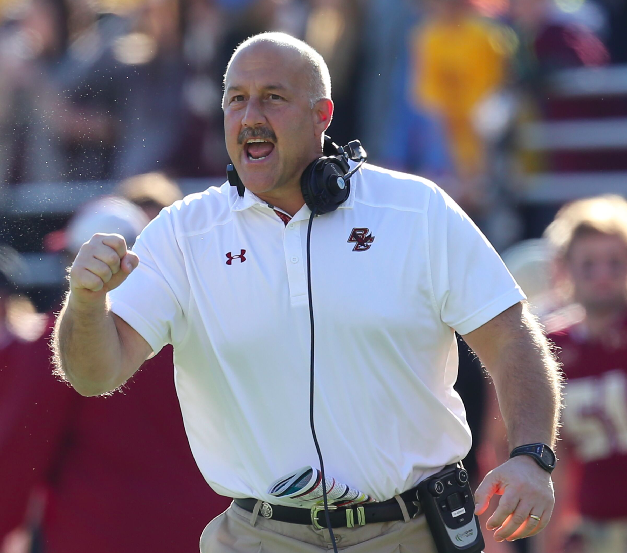 Notre Dame and Boston College renew their rivalry this weekend, and both programs are coming off tough losses to drop their season records to 1-1. While Notre Dame suffered a 20-19 defeat at home to Georgia, the Eagles were blown out 34-10 by Wake Forest.
The last time these two teams met, the Irish held on to beat Boston College 19-16, and the programs have played in some exciting games over the years. Boston College head coach Steve Addazio knows the rivalry that exists for the two teams, and how important getting back on track is for his program.
"There's a buzz because yes, it is Notre Dame and we're not going to deny that there is a natural rivalry there," Addazio said on Tuesday. "We played them two years ago and it was the same way, but there's also a buzz because our team is not happy.
"They're not happy about what happened [in the loss to the Demon Deacons]. How do you put that to bed? You have a great week of practice and you charge your opponent. We're going to charge this opponent."
For Boston College, getting back on track involves getting redshirt freshman Anthony Brown comfortable and rolling within the offense. Through two starts, Brown has completed just 37 of 71 passes for 310 yards with three touchdowns and four interceptions.
Addazio is confident his young quarterback and his offense that is averaging just 16.5 points per game through two weeks can pick up the pace. Part of that will be learning to strike more of an effective balance on that side of the ball.
For Addazio, that means everyone on offense must step up their game.
"The throw game is phenomenal, but you've got to catch and make your plays or you're just behind," explained the fifth-year Boston College head coach. "To be good in the run game, you've got to run. If you're throwing a bunch of balls and you're not completing them and you're doing a little less pounding the rock in the run game, the risk you run is neither of them are really getting going.
"We've got to find that balance. We've struck a far greater balance in run-pass ratio than we've ever had here, but the productivity of that has got to increase. That's part of this balance strike we're trying to get right now that we all have to realize now — make your plays so that we can move the chains and get another set of downs."
Boston College has run the ball 87 times through two games and thrown 83 passes, which is the kind of balance Addazio mentioned he wants for his offense that has moved to a more up-tempo style of attack. The issue for the Eagles, however, is that the unit has 39 incompletions on its 83 attempts and its running backs and quarterbacks are averaging just 2.9 yards per rush.
Despite the loss to Wake Forest and the troublesome numbers, Addazio remains encouraged, and believes his young offense isn't that far away from getting where it needs to be going into its matchup with Notre Dame.
"We're pretty close, probably a lot closer than we all think," Addazio noted. "But this isn't darts, so we have to go, it's got to happen. We've seen glimpses of it, but I need to see it consistently, and I think some of these young players we all love are moving along pretty good, and the older players have to rise up and make sure they're highly accountable.
"I have to do a great job helping Anthony and some of these other young guys with the style of things we're trying to do so it doesn't become too cumbersome for them, especially in the hype atmosphere of this game."
Boston College enters the matchup with a scuffling offensive line that is on its third center of the season. Projected starter Shane Leonard was injured late in fall camp, so Addazio and line coach Justin Frye moved 2016 starting center Jon Baker — who was projected to start at guard — back to center, but Baker was lost for the season in the opener, which thrust true freshman Ben Petrula into the starting spot.
"He's a talented guy and he's really had a great camp, but what happened is we lost two centers," Addazio said. "Now we have to go to the next guy and the next best offensive lineman is Ben. … We're getting ready to play some pretty big men, so we have to get a big man ready to go."
Petrula is 6-5 and 300 pounds, while the only other center — freshman Alec Lindstrom — is just 260 pounds. The Freehold, N.J., native got off to shaky start against the Demon Deacons, snapping a ball over Brown's head, which resulted in a 24-yard loss, but Addazio liked what he saw from his young center after that play.
"He did some really good things in that game," Addazio said of Petrula. "He had one errant snap, but to think that wasn't going to happen would be naïve. And then he had some issues that any young guy is going to have, but he's a ballplayer.
"He had a heck of a day here today, so he's just going to get better and better."
Addazio knows his young offensive players will need to improve quickly against a Notre Dame defense that is playing a much better brand of football than it did a season ago. After giving up 378.8 yards per game and 5.4 yards per play a season ago, Notre Dame has held its first two opponents to just 328.0 yards a game and 4.6 yards per play.
"I think they play really hard on defense, even more so than I remember two years ago. … They're big and they're talented," Addazio said of the Irish. "I think they've done a really fantastic job of getting their guys rallied back and they're playing hard. … I think the challenges posed to us are taking care of the football on offense and making the plays that are very available to be made."
Notre Dame struggled offensively in its loss to Georgia, averaging just 3.4 yards per play while putting up just 19 points. Despite those issues, Addazio knows the Irish are an offense that can give his defense — which has plenty of talent in its own right — some problems if his group doesn't play to its ability.
"They also have a really good offensive line with future NFL players in it," he said. "They've got two really good backs and they've got some really good receivers. This is a talented team we're playing right now.
"… I think these are going to be two teams that are going to play really hard against each other, and the one who has the ability to care of the football and execute, I think that's going to be the team that has the success on Saturday."