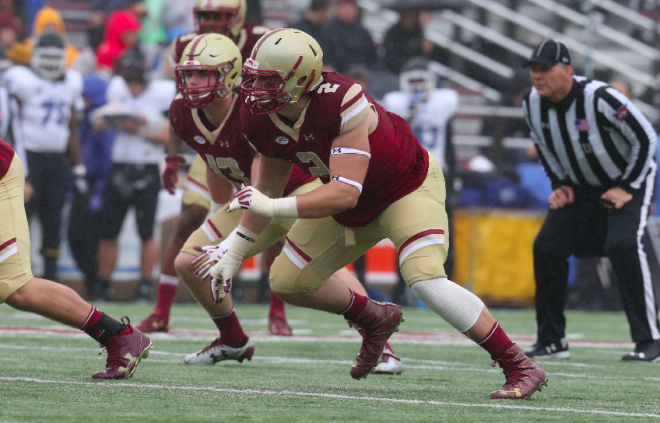 Notre Dame and Boston College each dropped their first game of the season on Saturday, with the Irish losing to Georgia (20-19) and Boston College getting beat by Wake Forest (34-10). Both games were at home, and the Fighting Irish will travel to face the Eagles on their home field this Saturday.
We begin our look at Boston College by comparing how the two teams stack up on paper.
BOSTON COLLEGE RUN GAME vs. NOTRE DAME RUN DEFENSE
It wasn't that long ago — 2014 in fact — when Boston College was one of the best non-option running teams in the country. The Eagles had a punishing ground game that season, averaging 254.7 yards per game and registering a 452-yard performance in a 37-31 victory over USC.
Boston College has nose dived in the last two seasons, rushing for 164.7 yards per game in 2015 and 149.1 yards per game last fall. Last year's average ranked 96th nationally, and the Eagles' average of 3.42 yards per carry ranked 116th in the country.
The Eagles aren't any better through two games in 2017, rushing for just 145 yards per game in a win over Northern Illinois and a loss to Wake Forest while averaging just 3.19 yards per attempt.
Rushing for 860 yards as a true freshman in 2014 raised expectations for Jon Hilliman, but injuries derailed his career the next two seasons. He rushed for just 740 yards (3.1 yards per attempt) the last two seasons, and getting him back on track is key for the Boston College offense. Through two games this season, Hilliman has just 81 yards on 33 attempts.
True freshman AJ Dillon rushed for 20 yards in the opener, added another 43 against Wake Forest, and is expected to be a key part of the running back rotation this season. Dillon is the grandson of College Football Hall of Fame receiver Thom Gatewood, who led the Irish in receiving every season from 1969-71.
Through two games, Boston College's ground attack has been led by wide receiver Thadd Smith, who has 101 yards on 11 carries (9.2 per attempt). To make matters worse, Boston College will enter the contest with its third center in the lineup, true freshman Ben Petrula.
Notre Dame's run defense wasn't very good in 2016 itself, with the Irish ranking 82nd nationally with an average of 182.4 yards allowed per game. Notre Dame's average of 4.14 yards allowed per carry was respectable, ranking 50th in the country. That number looks even better when one considers the defense only had 14 sacks on the season, and sack totals count towards rushing statistics.
Defensive coordinator Mike Elko looks to turn this statistic around more than any other. The Irish will be a more aggressive defense under Elko, and the hope is the increased pressure will result in improved rushing statistics.
If that is going to happen, Notre Dame needs to get good play from junior nose tackle Jerry Tillery, who had four tackles in the opener and five more against Georgia, and a trio of veteran linebackers in Nyles Morgan, Greer Martini and Te'von Coney.
Notre Dame held Temple to just 85 yards on the ground, and though Georgia rushed for 185 yards in its win over the Irish, the run defense played well throughout the game, allowing 70 of those yards to come on two carries.
Advantage: Notre Dame
BOSTON COLLEGE PASS GAME vs. NOTRE DAME PASS DEFENSE
For the fifth straight season, Boston College has a new quarterback under center. The latest is redshirt freshman Anthony Brown, who has completed just 37 of 71 passes through two games (52.1 percent) while throwing for 310 yards, three touchdowns and four interceptions.
Brown is young and inexperienced, and the hope was he would be surrounded by a veteran group of offensive players. He is at wide receiver and tight end, which returns a veteran group while adding talented redshirt freshman Kobay White to the mix.
The offensive line entered the season with three returning starters while adding West Virginia graduate transfer Marcell Lazard. A season ending injury to Jon Baker has sapped the Eagles of some of the experience, especially considering he is being replaced by a true freshman.
Brown should learn to rely on talented junior tight end Tommy Sweeney, who hauled in 26 passes for 353 yards in 2016. Sweeney has just one reception on the season, something the Eagles offense needs to change.
If the line can keep him up in the pocket and if the receivers can help pick him up, Brown should be able to improve upon Boston College's average of 143.8 passing yards per game last season, which ranked 120th in the country.
Notre Dame ranked 21st in the land a season ago, giving up just 196.4 yards per game through the air. Temple passed for 245 yards in the opener, but Notre Dame mostly held the talented Temple pass catchers in check. Seniors Keith Kirkwood and Adonis Jennings — who combined for 235 yards against Elko's Wake Forest defense in 2016 — were held to just 90 yards in the 2017 opener.
Georgia had just 141 yards while completing 16 of 29 passes, but the Bulldog receivers did win some one-on-one balls down the field.
Under Elko, the hope is that Notre Dame can provide more pressure on opposing quarterbacks. Registering three sacks in the 49-16 victory over Temple was a good first step, and the Irish got two more sacks against Georgia. Notre Dame already has three sacks from its defensive line, which matches the 12-game total from the group a season ago.
Advantage: Notre Dame
NOTRE DAME RUN GAME vs. BOSTON COLLEGE RUN DEFENSE
If Notre Dame can run the ball even close to as effectively as it did in the season-opening 49-16 victory over Temple, it will dramatically improve on the No. 80 ranking in rushing offense it had last season. The Fighting Irish racked up an impressive 422 yards (9.6 per carry) against a Temple defense that ranked No. 25 in the country last season.
That was followed up by an incredibly disappointing 55-yard performance against Georgia has raised questions about just how good the Irish ground game is this season. Success against Boston College would ease those concerns, while more struggles will only raise more concerns.
In its victory over Temple, three different Notre Dame players topped the 100-yard mark on the ground. Junior running back Josh Adams led the way with 161 yards, classmate Dexter Williams added a career-high 124 yards on just six carries and junior quarterback Brandon Wimbush rushed for 106 yards in his first career start.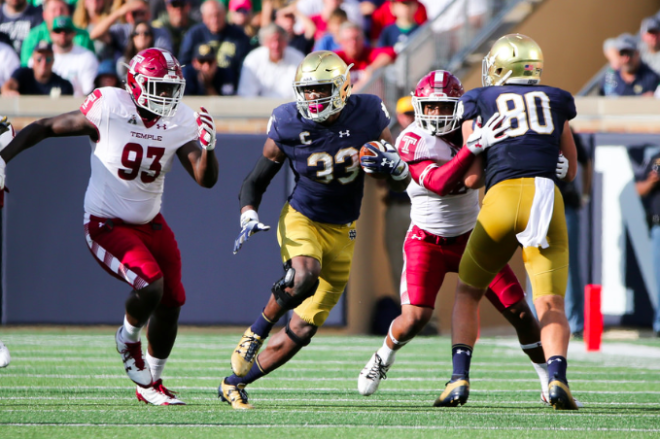 Boston College was very good with its run defense in 2016, ranking No. 7 nationally at just 108.5 yards allowed per game. The Eagles were also No. 11 in the country in yards allowed per attempt (3.34).
The Eagles are a disruptive defense that puts a lot of pressure on opposing ground games. Boston College ranked ninth in the country in tackles for loss last season, racking up 106 stops behind the line in 13 games.
It all starts up front with consensus preseason first-team All-American defensive end Harold Landry, who posted 22 tackles for loss last season. The end on the other side — junior Zach Allen — had 10 stops for loss as a rotation player last fall, and he tallied nine tackles against Northern Illinois.
Through two games, the Eagles are limiting opponents from a yards per carry standpoint (3.7), but it has allowed 161 yards per game. Northern Illinois racked up 164 yards (4.7 avg.), and Wake Forest tallied 158 yards, although the Eagles had just 3.04 yards per attempt.
Notre Dame certainly got off to a fast start against the Owls, but it must show that it can have success on a consistent basis, and until it does the Eagles still hold the advantage on paper.
Advantage: Boston College
NOTRE DAME PASS GAME vs. BOSTON COLLEGE PASS DEFENSE
Boston College was a stingy pass defense in 2016, ranking 34th in the country by giving up just 205.6 yards per game. The Eagles' main success in the pass game came from its dominating pass rush, which registered 47 sacks to rank fourth nationally.
Landry led the nation with 16.5 sacks a season ago, and he's expected to be one of the nation's top pass rushers again this season, although he has just one sack in the first two games. Losing cornerback John Johnson to the NFL sapped Boston College of its best cover man, which hurts a secondary that ranked 111th in touchdown passes allowed (28) and 74th in yards per catch allowed (12.6) in 2016.
Through two games, Boston College has held opponents to just 172 yards per game through the air and opponents have completed just 50 percent of its passes.
Notre Dame's pass offense ranked 48th in the country a season ago in terms of yards, but the Irish were 29th in yards per completion (13.6) and 35th in yards per attempt (7.9).
Wimbush replaced 2016 starter DeShone Kizer, who is now the No. 1 signal-caller for the NFL's Cleveland Browns. Wimbush passed for 184 yards and two touchdowns in his first career start versus Temple, but he struggled against Georgia, completing just half of his 40 passes while passing for just 210 yards.
Notre Dame has a deep group of pass catchers, but through two games the group has yet to step up and show itself. Junior wideout Equanimeous St. Brown, fifth-year senior wideout Cameron Smith, fifth-year senior tight end Durham Smythe and junior tight end Alizé Mack are expected to be Wimbush's top targets.
The key for Notre Dame is whether or not its offensive line can contain Landry and Allen, who combined for 22 sacks last fall. Notre Dame's line allowed 28 sacks in 2016, and Georgia's pass rush made life very difficult for Wimbush.
Advantage: Even
SPECIAL TEAMS
Based on 2016 numbers, the Eagles hold the advantage over Notre Dame on special teams. Boston College ranked 12th nationally in punt return average, 24th in kick coverage, 26th in punt coverage and 33rd in kick returns last season.
Sophomore placekicker Colton Lichtenberg entered the 2017 season just 3 of 8 on field goals in his first two seasons, but he was clutch in Boston College's season-opening victory over Northern Illinois. Lichtenberg made field goals of 42 and 32 yards in the first quarter, and his 37-yard field goal with 2:13 left in the game proved to be the difference in Boston College's 23-20 victory.
Notre Dame's special teams performed well in the opener against Temple and Georgia, but the Irish still have a lot to prove under new coordinator Brian Polian. His special teams units will have to play sound football against an Eagles group that plays hard and disciplined with its special teams.
Advantage: Boston College
COACHING
Head coach Brian Kelly is 60-32 at Notre Dame and 231-89-2 for his career. A native of Massachusetts, Kelly has gone 4-1 against the Eagles, with his only loss coming in 2006 when he was the head coach at Central Michigan.
Boston College head coach Steve Addazio has a 38-39 career record and a 25-28 mark with the Eagles, who have never been better than 7-6 under his leadership.
Elko has plenty of experience against Boston College, having coached against the Eagles in each of his three seasons at Wake Forest. Elko's defense held Boston College to 167 yards of offense (2.7 per play) last season and just 270 yards (3.7 per play) in 2015.
Advantage: Notre Dame
INTANGIBLES
Notre Dame has won five straight contests against Boston College, though all but one game was competitive. Notre Dame beat Boston College 31-13 in Kelly's first season, but the Irish won by just two points, three points and 15 points in its next three matchups.
Boston College is easy to overlook, but the Eagles are a tough, blue-collar team that always seem to play at its best against Notre Dame. Ironically, the last two games played in Chestnut Hill, Mass., resulted in a pair of double-digit victories for Notre Dame.
At the end of the day, Notre Dame has too much size, too much speed and too much talent for Boston College.
Advantage: Notre Dame