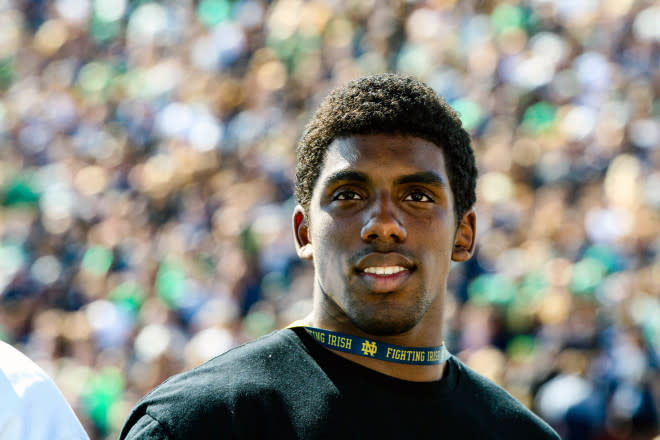 Notre Dame has long been considered one of the top contenders for Baltimore Gilman School defensive end Thomas Booker since offering in February.
The Irish continue to be one of the top choices for Booker as the 6-foot-4, 280-pounder released a top five this evening: Notre Dame, Stanford, Harvard, Princeton and Pennsylvania.
Stanford and Notre Dame are the perceived for the Rivals250 prospect.
Ht: 6'4.0"
Wt: 280.0
Class: 2018
Commitment status:
undecided
Booker has made two trips to date including his official which he took for the Temple game earlier this month. His first trip came in the spring. The official made quite the impression as Booker and his family were able to see everything Notre Dame has to offer in-depth.
"I think what Thomas got out of it is that he won't be thought of as just a Notre Dame football player," Tom Booker, Thomas's father, told Blue & Gold Illustrated. "But a kid who will be able to pursue other things that interest him along with football, and it'll all be at a high level. It's not going to be him saying wishing he could do more in a physics class or wishing could pursue a business interest of his. They're all getting after it in all phases and the football guys are participating. It was great to see because Thomas is a busy kid."
Given his football schedule over the next few weeks, other visits are expected for Booker later this fall, according to his father following his Irish official, closer toward the end of his football season.
Booker ranks as the nation's No. 15 defensive tackle and No. 212 player nationally. Notre Dame likes Booker at defensive end.
Thank you to the coaches, colleges, and universities that have recruited me, and given me an opportunity to represent their institutions! pic.twitter.com/8ajXgzuJD8

— TB7 (@TheThomasBooker) September 13, 2017