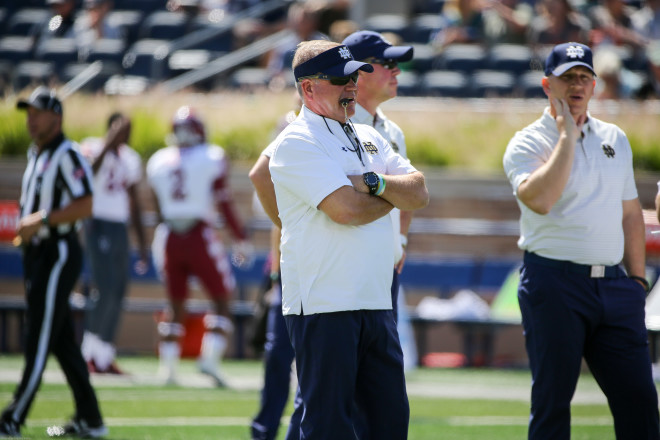 Notre Dame is 5-11 in true road games since the 2013 including a 0-3 mark last season losing to Texas, NC State and USC.
Saturday's matchup against Boston College will present the Irish their first true road test of a season which includes five total: Michigan State, North Carolina, Miami (Fla.) and Stanford.
Head coach Brian Kelly likes what he's seen from this group as far as having confidence this group will reverse the road woes and knows a win will go a long way to instilling confidence.
"The best roads team I've had are teams that love to play, enjoy the moment, have that ability to muster up the grit necessary to win close games because you're going to have those types of games on the road," Kelly explained this afternoon. "You're going to have to overcome adversity, the crowd and things of that nature.
"The best teams that I've had have had those traits and this group has that. It'll be a team that like this that'll go on the road and have success. Quite frankly, they need to win. It's been awhile, so they need to have some success. And I think once they do they'll be in a pretty good place."
The Irish will look to leave Chestnut Hill with a victory to build some momentum before a showdown with rival Michigan State looking to avenge last season's 36-28 defeat.
BRANDON WIMBUSH GROWING FROM GEORGIA EXPERIENCE
A lot of talk this week has centered around Brandon Wimbush and how he will bounce back from the Georgia game. Kelly again touched on the progress Wimbush has made this week preparing for the Eagles.

"I thought this was a real good week for him in terms of him learning to handle the positon of quarterback at Notre Dame in the sense of it's not always going to go right for you," Kelly explained. "You have to be able to bounce back in a sense that you've got to learn from what happens and take that and move forward. I thought he took the coaching well."
Kelly also wants to ensure Wimbush knows the pressure isn't solely on him to help the team get back into the win column.
"I think it's important still that he knows that he doesn't have to be the reason why we win games," Kelly continued. "He has a great supporting cast. It's that we do a good job coaching him and that we don't say 'hey you have to go out and win these football games for us.' It's about clearly articulating to him that you don't have to go out there and be spectacular. You need to go out and be Brandon Wimbush after two starts and that is pick up on the little things, keep growing there, still a learning curve out there for you, so we don't expect you to have everything down after this week. Let's grow on what happened last week. And I thought that happened this week."
KELLY TALKS TIGHT END PLAY & ROTATION
Depth at tight end is not a concern for the Irish with veterans Durham Smythe and Nic Weishar to go with the little bit of experience Alize Mack possesses and the young guns Brock Wright and Cole Kmet.
Kelly likes what he's seen from the unit so far and wants more consistently. He also discussed the rotation plan.
"They've all graded out very well in terms of blocking and catching the football," Kelly said. "We want to be a little more consistent certainly. We've had a couple of drops here and there. I think you're going to continue to see at least three and a specialist with Brock.
"Cole is the kind of guy that has great athletic ability, but we don't want to duplicate because now we're pulling reps from someone who has similar traits. I guess the easiest way to answer the question would be: we love them all, but it's a long season. I think we're going really continue to play all four of them with the fourth being in certain situations and kind of slowly integrate Cole into the mix."
DISCUSSION ON KICKER JONATHAN DOERER OCCURRING SOON
Freshman kick Jonathan Doerer was expected to begin the season as the kickoff specialist before he hit a little bit of the freshman wall. Kelly plans to have a discussion about Doerer's future on the field real soon.

"I'm going to sit down with Brian [Polian] tonight when we get into Boston," Kelly stated. "We'll make that decision. Here's what I can you tell you: he had a really good week."
FORMER IRISH LB INSPIRING TEAM
After 18-plus months, former Irish linebacker Jaylon Smith started a meaningful football this past Sunday when the Dallas Cowboys opened their 2017 season with a 19-3 win over the New York Giants.
It was the first regular season or postseason game for Smith since he suffered a devastating knee injury during the 2016 Fiesta Bowl against Ohio State. Smith fared well in just 36 snaps recording seven tackles and a forced fumble.
Kelly's kept in touch with Smith and commented on the inspiration Smith has provided with his comeback.
"I didn't see the game, but I've followed him and been in contact," Kelly said. "He's been terrific with our players and staying in contact with them. I can't think of one guy that has been more motivating to our players in watching his comeback from injury and then the way he's handled himself. I saw something on SportsCenter about his attention to detail and I was really happy to see that because we talk a lot about that. I sent him something regarding attention to detail and he was all over it … We're following him quite regularly."