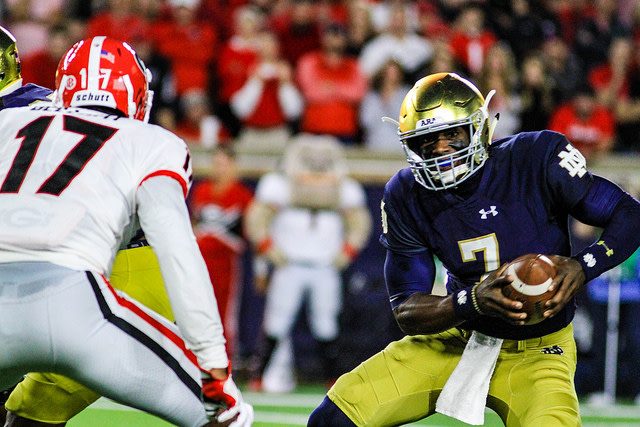 From 1999-2008, Boston College was a remarkable 7-1 versus Notre Dame with six consecutive victories from 2001-08 to tie the all-time series record at 9-9.
The Fighting Irish have won the last five since — including 4-0 under eighth-year head coach Brian Kelly — but three of the outcomes were decided by four points or less.
As the lone two Catholic schools in the Football Bowl Subdivision, Boston College has reveled in its role as the "little brother" or underdog figure to Notre Dame, consistently producing strong competitive efforts against the Irish. The intangibles, most notably the feeling that they can compete with the far more publicized Catholic school, have favored BC.
There are at least three reasons to believe the Eagles can manufacture another such effort:
• Since 2013, Notre Dame is 3-10 in its last 13 outings in the opponent's home stadium. Alumni Stadium in Chestnut Hill, Mass., has been a snake pit in the past, although Kelly is 2-0 there while outscoring the Eagles 52-19 in his old stomping grounds.
Prior to Kelly's arrival, Notre Dame was only 2-4 in Alumni Stadium, highlighted by a goal-line stand in the closing seconds of a 31-26 victory in 1998.
This marks the first time since 2011 Notre Dame will have a stretch of three true road games in a four-week period, with the Irish traveling to Michigan State next week and North Carolina on Oct. 7. Building that road resolve begins now.
• Junior quarterback Brandon Wimbush will be making his first true career road start, typically a challenging rite of passage for a college signal-caller. Even Malik Zaire, who opened the 2015 season by scorching Texas with 19-of-22 passing for 313 yards at home in a thrashing of Texas the next week was 7-of-18 at sub.-500 Virginia before seeing his season end with an injury.
"That's probably the biggest learning curve for all young quarterbacks, is that at times … they think a little bit too much instead of just trusting it and going with it," Kelly said. "Just trust your teaching. I think [Wimbush] learned a lot from [the Georgia] game. I think it will be a springboard for him."
Calling protections and managing the game might be more difficult in an unfamiliar environment with more crowd noise when he's on offense — although he faced that some last week.
"I thought this was a real good week for him in terms of him learning to handle the positon of quarterback at Notre Dame in the sense of it's not always going to go right for you," Kelly explained. "You have to be able to bounce back in a sense that you've got to learn from what happens and take that and move forward. I thought he took the coaching well."
Above all, his job is to recognize that it's not all on him to win a game.
"It's about clearly articulating to him that you don't have to go out there and be spectacular," he said. "…Pick up on the little things, keep growing there, still a learning curve out there for you, so we don't expect you to have everything down after this week. Let's grow on what happened last week."
• Notre Dame will be coming off the emotion-laden home contest against Georgia, so going on the road to face a team of less stature can result in the human nature "L word" — letdown.
Boston College knows all about catching the Irish in such situations, i.e. defeating No. 1 and 10-0 Notre Dame in 1993 and the 8-0 and the No. 4-ranked Irish in 2002. Both occurred the week after Notre Dame was at a fever pitch in victories against favored Florida State teams.
Fortunately, the lone "L" the Eagles have experienced versus the Irish under Kelly has been less.