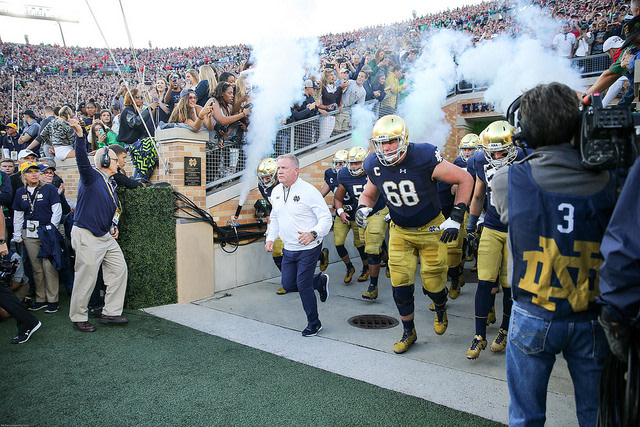 Don't miss out on any of our exclusive football, basketball and recruiting coverage. Click here to get your 60-day free trial!
10 Points scored by Boston College in last week's 34-10 loss to Wake Forest. It also marked the 10th time in its last 17 Atlantic Coast Conference games in which the Eagles scored 10 or fewer points. They are 2-15 in their last 17 ACC games, 0-8 in 2015, 2-6 last year and now 0-1, mainly because of an inability to generate offense.
9 Notre Dame has scored on all nine of its trips into the red zone this year — seven touchdowns and two field goals. It is one of 13 teams in the FBS to be perfect there with at least nine trips inside the opponent's 20-yard line.
8 Games played between Notre Dame and Boston College at the Eagles' 44,500-seat Alumni Field. The series is tied 4-4 there, with Notre Dame winning each of the last two in 2010 (31-13) and 2012 (21-6). The Fighting Irish are 3-10 in their last 13 trips to another team's home stadium, and were 0-3 last year.
7 No. 7 — senior defensive end Harold Landry — is the man to watch for the Eagles. The one-man wrecking crew led the nation last year in quarterback sacks with 16.5 (22 tackles for loss overall) and fumbles forced with seven. His presence helped the Eagles finish second in sacks per game last year with 3.62 (47 in 13 games) and is a prime reason why Athlon ranked BC's defensive line the 11th-best nationally this season. Landry will be going after another No. 7, junior quarterback Brandon Wimbush, who is making his first career start on the road.
6 Senior Tyler Newsome's 11 punts this season for Notre Dame have averaged 48.0 yards to place him No. 6 nationally. Six of them also have traveled at least 50 yards. More important is that the net averaged of 44.09 is No. 19 in the country after finishing 106th last year with a 35.28 figure, a nine-yard difference per punt.
5 Consecutive victories by Notre Dame in this series since 2009 — after Boston College had evened the rivalry with six straight from 2001-08. The current Irish winning streak is the longest they have produced in the series, eclipsing the four in a row from 1975-92 (the first four games in the series) and four more from 1995-98. The Eagles' six-game string is the longest one overall in the rivalry, but Notre Dame can tie that today.
4 Head coach Brian Kelly is 4-0 against Boston College, with victories in 2010 (31-13), 2011 (16-14), 2012 (21-6) and 2015 (19-16). The only school he has a better record against in his time at Notre Dame is the 5-0 ledger versus Purdue from 2010-14.
3 Quarterback sacks recorded by Notre Dame linemen (sophomores Daelin Hayes and Julian Okwara, and senior Jonathan Bonner) through two games this season. Irish linemen had a total of two during last year's 4-8 campaign, and the first team sack wasn't even registered until the fourth game — and the first by a lineman in game 7. Boston College has allowed only two sacks this season to rank 24th nationally.
2 Notre Dame and Boston College are the only two Catholic Institutions among the 130 current FBS teams. The winner of the contest is the recipient of the Frank Leahy Bowl. Leahy coached at Boston College in 1939-40 and led the Eagles to their highest finish ever in the Associated Press (No. 5) with an 11-0 record. In 11 seasons at alma mater Notre Dame from 1941-43 and 1946-53, Leahy won four consensus national titles and finished unbeaten in three other seasons.
1 This will be Notre Dame's 17th consecutive football game without recording back-to-back victories — a dubious streak that ties for No. 1 at the school with the 1958-59 Irish teams. It needs to win this week against the Eagles and next week at Michigan State to not stand alone with 18. The Irish have not won two in row since November 2015 when it defeated Wake Forest (28-7) and Boston College (19-16).