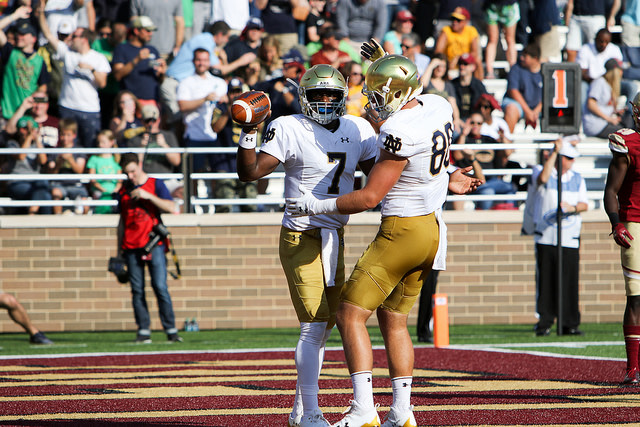 Don't miss out on any of our exclusive football, basketball and recruiting coverage. Click here to get your 60-day free trial!
After going from feast in the 49-16 opening game win over Temple with 422 yards rushing to famine in the 20-19 loss to Georgia last week with 55 yards on the ground, Notre Dame had an all-you-can eat smorgasbord running the ball in its 49-20 win at Boston College Saturday afternoon.
Junior running back Josh Adams and junior quarterback Brandon Wimbush became the first tandem in school history to surpass 200 yards rushing in a game. Adams' 18 carries netted 229 yards, while Wimbush accumulated 207 yards on 21 carries and tallied four touchdowns. Wimbush's yardage total was a school record by an Irish quarterback, and his four touchdowns rushing were the most since Allen Pinkett in 1984.
The Irish netted 515 yards rushing on 10.1 yards per carry, and finished with 611 yards total offense.
Notre Dame held only a 14-10 lead at halftime, and Boston College had cut the score to 14-13 and had the ball at the Irish 30 early in the third quarter before a fourth-and-one stop by the defense changed the momentum dramatically.
Here is the quarter by quarter summary:
FIRST QUARTER: Notre Dame, 7-3
Top Moment: On third-and-two from his 27, Adams kept his balance through the middle for a 65-yard romp to set up Wimbush's two-yard scoring run at 6:25 to put the Irish ahead 7-3. Adams' run surpassed the 55 yards rushing total the Irish had versus Georgia the previous week.
Top Performer: Both punters had three apiece in the quarter, with Boston College's Mike Knoll twice pinning Notre Dame near the 10-yard line and a 52-yard punt by Irish senior Tyler Newsome flipping the field too.
Stats: Three of Notre Dame's four possessions were three-and-out — and the scoring drive was four plays. The 12 Irish plays outside Adams' 65-yard run netted 18 yards.
Items: Boston College tallied first on a 38-yard Colton Lichtenberg field goal with 7:52 left. The Eagles had three false start penalties on offense in three different series
SECOND QUARTER: Notre Dame, 14-10
Top Moment: Adams' second 65-yard run of the half propelled a 92-yard Notre Dame drive that concluded with Wimbush sneaking in from one yard to put the Irish ahead 14-10 at the 1:57 mark.
Top Performer: Adams' nine carries for 167 yards in the half were only 13 yards short of his career high 180 yards on the ground at USC last year. Boston College running back Jon Hillman also had a productive half with 16 carries for 94 yards.
Stats: Notre Dame totaled 38 plays for 271 yards, with the 22 running plays netting 218 and Wimbush going 7 of 16 for 53 yards.
Boston College's 44 plays were good for 228 yards, 117 rushing and 111 passing.
Items: Boston College drove 85 yards in nine plays, capped with a 22-yard touchdown pass from Anthony Brown to a leaping Charlie Callinan in the end zone to give Boston College a 10-7 advantage with 11:59 remaining until halftime.
A 19-yard interception return by Eagles safety Lukas Dennis to Notre Dame's 43 with 18 seconds left was squandered when Boston College let the clock run out despite having two timeouts.
Notre Dame's eight series in the first half began from its own 14-, 25-, 11-, 15- 25-, 11-, eight- and 10-yard lines.
THIRD QUARTER: Notre Dame, 28-13
Top Moment: Leading only 14-13, the Irish stopped Boston College on fourth-and-one at the Notre Dame 30. On the ensuing possession with the Irish facing third-and-10 from their 45, Wimbush side-stepped a strong rush and scrambled 46 yards to the BC nine, setting up a one-yard touchdown run by sophomore running back Tony Jones Jr. and building the Notre Dame lead to 21-13 at 5:04.
Top Performer: Notre Dame's defense, led by senior linebacker Nyles Morgan, limited Boston College to 58 yards on 17 plays in four possessions in the quarter. The fourth down stop was the game changer.
Stats: The Irish totaled 157 yards in the third quarter (114 rushing, 43 passing).
Items: After a Wimbush fumble at his 32 on the opening possession of the second half, Boston College was limited to a 41-yard Lichtenberg field goal to narrow its deficit to 14-13 with 11:25 left.
Junior cornerback Shaun Crawford intercepted an Eagle pass to begin a 75-yard touchdown drive that concluded with Wimbush's third score, this one from three yards, to make it 28-13, at the 2:38 mark.
FOURTH QUARTER: Notre Dame, 35-13
Top Moment: For the third time in the game, the Irish broke a 65-yard run — this time by Wimbush for a touchdown to up the cushion to 35-13 with 13:41 left in the contest.
Top Performer: With that aforementioned play, Wimbush set the school record for most rushing yards in a game by a quarterback and TDs tallied
On defense, Crawford recovered a fumble forced by sophomore end Julian Okwara, and recorded an interception on back-to-back series to set up 35- and 34-yard touchdown drives, ending with a three- and 15-yard scoring runs by junior running back Dexter Williams to up the margin to 49-20.
Stats: Notre Dame outgained Boston College in the second half 340-171, basically 2-to-1, while outscoring the Eagles 35-10.
Items: Boston College scored on fourth-and-goal from the 14 with 9:02 left to make it 35-20.