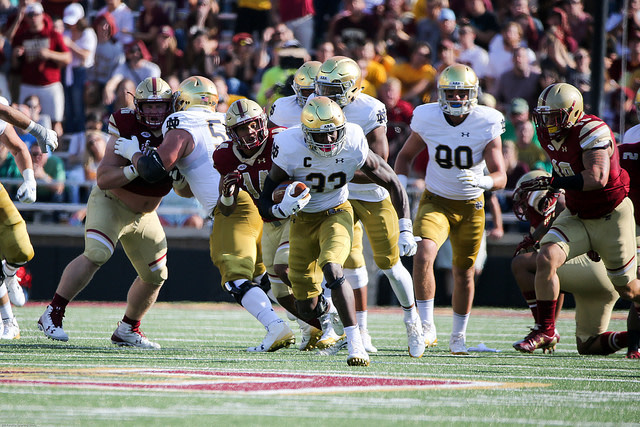 Don't miss out on any of our exclusive football, basketball and recruiting coverage. Click here to get your 60-day free trial!
3 Takeaways by junior cornerback Shaun Crawford while intercepting two passes and recovering a fumble in the second half. It was the first time a Notre Dame defender came up with three turnovers in a game since the 2010 Sun Bowl, when future first-round NFL safety Harrison Smith intercepted three passes during a 33-17 win versus Miami. Crawford was sidelined all year as a freshman in 2015 with a torn ACL and played in only one full game last season before seeing it end with a torn Achilles.
4 Touchdowns scored by junior Brandon Wimbush, a school record by an Irish quarterback. Everett Golson most recently scored three times during a 49-39 victory versus Navy in 2014.
It was the first four-touchdown effort by a Notre Dame player since receiver Maurice Stovall scored that many in a 49-23 victory versus BYU on October. 22, 2005. However, it was the first time a Fighting Irish player ran for four touchdowns in a game since November 17, 1984, when running back Allen Pinkett achieved that during a 44-7 trouncing of Penn State.
5-0 Record of head coach Brian Kelly against Boston College, with victories in 2010 (31-13), 2011 (16-14), 2012 (21-6), 2015 (19-16) and this season (49-20). Especially notable is his teams have outscored the Eagles 101-39 in Alumni Stadium.
The 5-0 ledger versus Boston College ties his 5-0 mark against Purdue from 2010-14 for the best against any opponent he has faced while at Notre Dame.
6 Consecutive victories by Notre Dame in this series since 2009 — after Boston College had evened the rivalry at 9-9 with six straight from 2001-08.
The current Irish winning streak is the longest Notre Dame has produced, eclipsing the four in a row from 1975-92 (the first four games in the series) and four more from 1995-98.
15-15 Notre Dame has scored on all 15 of its trips into the red zone this year — 13 touchdowns and two field goals. It was 6-for-6 in touchdowns against both Boston College and Temple while scoring 49 points apiece. Entering the Boston College game, the Fighting Irish were one of 13 teams in the FBS to be perfect there with at least nine trips inside the opponent's 20-yard line.
49 Points scored by Notre Dame, the third-most it ever tallied in the 24-game history versus Boston College. The standard is the 54-7 demolition against the then No. 9-ranked Eagles in 1992, followed by a 52-20 win in 1997, both at home. This is especially notable because in the 12 previous meetings against Boston College since 2001, Notre Dame averaged only 18.4 points per game, with the 31-13 victory in Kelly's first season in 2010 the most.
207 Yards rushing by signal-caller Wimbush, shattering the 48-year record of 146 yards on 11 carries held by reserve quarterback Bill Etter during a 47-0 victory versus Navy on Nov. 1, 1969. The closest that standard had come close to be broken was two years ago when DeShone Kizer rambled for 143 in a 24-20 comeback win against Temple.
229 Yards rushing by junior running back Josh Adams. He became the first Notre Dame running back to break the 200-yard barrier in a game since Nov. 28, 2003, when Julius Jones had 218 yards (23 carries) during a 57-7 rout of Stanford. Two weeks earlier in a 27-24 win versus Navy, Jones amassed 221 yards on 33 attempts. He also set the single-game school record that year with 262 during a 20-14 win at Pitt.
2,200 Career yards rushing for Adams after his all-time high of 218 versus Boston College. Officially he became the 17th Notre Dame player to surpass 2,000 career yards rushing, and the first since Cierre Wood in 2012.
Turning Point
Leading only 14-10 at halftime, Notre Dame had an inauspicious start to the second half when on the opening series Wimbush lost a fumble at his 32 to set up a Boston College field goal.
After a three-and-out and Irish punt on their second series, the Eagles faced fourth-and-one at Notre Dame's 30, eschewing the field goal attempt that might have given them the lead. Freshman defensive tackle Myron Tagovailoa-Amosa had excellent penetration that led to running back Jon Hilliman getting stopped for no gain, with junior linebacker Te'von Coney (game high 13 tackles) finishing the play. On the turnaround, a 46-yard scramble by Wimbush on third-and-10 to Boston College's nine-yard line set up sophomore Tony Jones' one-yard touchdown run with 5:04 left in the third quarter and a 21-13 lead.
Notre Dame scored again 2:26 later after an interception by Crawford, and the floodgates opened from there.
Stat Of The Game
The 515 yards rushing by Notre Dame were the most since Nov. 1, 1969, when the Irish set the modern-day school record of 597 during a 47-0 victory against Navy. The overall mark of 629 was set Oct. 17, 1931 during a 63-0 crushing of Drake.
However, the 10.09 yards per carry — 51 for 515 yards — edged out by .09 the previous single-game record of 10.0 with 250 yards on 25 carries on Dec. 5, 1942, a 13-13 deadlock with World War II service team Great Lakes. Notre Dame almost eclipsed that standard in the opener against Temple, a 49-16 win, when the 44 rushing attempts netted 422 yards, a 9.6 average, which is now third on the all-time Irish chart
The 330.6 yards rushing per game so far this year is still off the single season school record of 350.2 by the 1973 national champs, but it is mitigated by the 55-yard effort in the loss to Georgia.
Brian Kelly's Take On Brandon Wimbush's record-breaking performance as a rusher while completing only 11 of 24 passes for 96 yards:
"He's going to develop in the passing game. That's just a matter of time. But we know that he's a great competitor … he's going to keep fighting, and our guys love that. It really creates a positive feeling on the sideline when they know they've got a guy who's never, ever going to back down.
"…There's a couple of catches out there that some of these guys need to make for him. I think there's a little bit of inaccuracy there…
"Look, I feel we can craft things. We should be smart enough as coaches to figure out what his strengths are at this point and where he's going to develop moving forward."