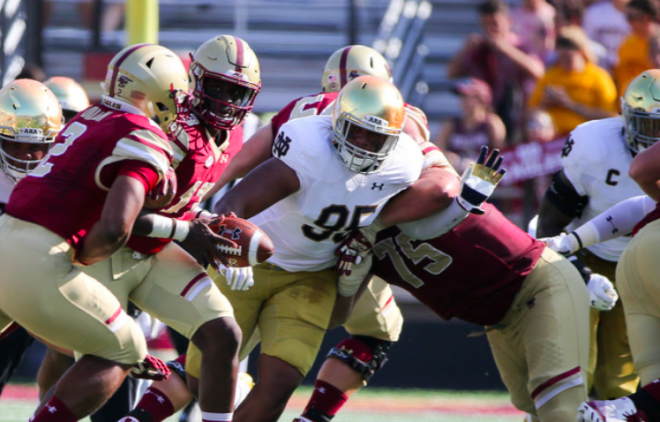 News and notes from Notre Dame's 49-20 victory over Boston College.
Irish Finish Strong
The first 30 minutes of Notre Dame's 49-20 win over Boston College was filled with plenty of sloppy play. Junior quarterback Brandon Wimbush completed only 7 of 16 passes, and the offense went just 3 of 9 on third down.
Defensively, Notre Dame allowed a Boston College offense that came in averaging just 3.19 yards per rush to rack up 117 yards on the ground and 4.5 yards per carry.
It looked like that level of execution would continue for the Irish in the second half when the offense fumbled the ball on the opening possession, giving Boston College the football at the Irish 32-yard line. A short punt following Notre Dame's next possession gave the Eagles the ball near midfield at its own 46-yard line.
Memories of Notre Dame's 2016 collapses were obvious, but the Irish proved they are not the same team.
The defense held Boston College to a field goal following the fumble and stoned the Eagles on fourth-and-one after the short punt.
"It's what I was hoping for relative to having fight," head coach Brian Kelly said. "We exhibited that fight in the second half in terms of the way we battled and took over the football game.
"There weren't a lot of those occasions last year. That's what I was hoping for."
Notre Dame dominated Boston College in the final two quarters, outscoring the Eagles 35-10 and outgaining them 340-170 in total yards.
"Great second half for Notre Dame, certainly," Kelly said.
All-American senior left guard Quenton Nelson and the Irish line took over the game in the second half. Notre Dame dominated a Boston College unit that finished the 2016 season ranked seventh nationally in rushing defense.
"I think we started to execute more, having five-for-five, our five offensive lineman on the five guys we wanted to block," Nelson explained. "We started running the ball a little more consistently in the second half."
Eventual national champion Clemson rushed for 230 yards against Boston College last year, the most rushing yards it allowed all season. Notre Dame racked up 297 yards on 29 attempts against the Eagles … in the second half.
When senior linebacker Nyles Morgan and junior linebacker Te'von Coney stopped Boston College running back Jon Hilliman short on fourth-and-one early in the third quarter it seemed to ignite the offense, which took off.
"It's so special and so awesome for us," Nelson said of the fourth-down stop. "We've counted on our defense a lot this year through all three games we've played. They've been playing together and doing very well. … It's been special what they've been able to do.
"We try to play for each other, the offense playing for the defense because of how well they're playing."
Third-Down Defense Proves Impactful
Despite giving up a lot of yards early in the game, Notre Dame was able to limit Boston College to 10 points in the opening half thanks to its ability to get off the field on third down. The Irish held Boston College to just 4 of 17 on third-down conversions, forcing eight punts.
Third-down defense was an area of major concern in 2016, with the Irish defense ranking 60th in the nation by allowing opponents to convert 39.0 percent of those opportunities. In 2014, the Irish ranked 79th in the country in third-down defense, giving up a 41.1 percent conversion rate.
Boston College finished with a 23.5 percent conversion rate, marking the third time in three games that Notre Dame's defense has held the opposition to less than 30 percent. It's a big reason Notre Dame has allowed just 18.7 points per game.
"There are a lot of different things that I could point to. I think that our kids are communicating so much better," head coach Brian Kelly explained. "They really are tuned into what we're doing defensively, and we're getting better at the packages that we're running.
"We're not running a lot of things. [Defensive coordinator] Mike Elko is not teaching a lot of things, but what we are doing, we're doing very, very well. Just executing a lot better."
Notre Dame's pass rush was abysmal last year, with only 14 sacks on the season.
The Irish already have six sacks through three games and are getting more consistent pressure on the quarterback.
Boston College's signal-callers completed 58.5 percent of their passes, but many of the throws were within five yards of the line. The ability to disrupt the pass game with the pass rush was a key factor in Notre Dame's third-down success.
"One of the areas that we've been really good is that we've been able to get some pressure on the quarterback on third down," Kelly said. "They've been forced to get the ball out quick.
"I think our pass rush is better, and we've tackled better on third down."
Hit Or Miss
Junior quarterback Brandon Wimbush made a lot of plays with his legs, rushing for 207 yards and four scores in the game, but as good as he was on the ground he was equally ineffective throwing the ball.
The junior competed just 11 of 24 passes for 96 yards, including an interception late in the second quarter. Making just his third start, Wimbush continues to be hit or miss. Head coach Brian Kelly knows Wimbush must play better, but he praised the effort his quarterback showed in the win.
"We've got a fantastic competitor," Kelly said. "The kid has terrific grit and toughness.
"As we move into the season now, we're starting to develop a little bit more of who we are offensively and what he can do and what his skill set is.
"He's going to develop in the passing game. That's just a matter of time. But we know that he's a great competitor and is going to keep fighting. Our guys love that.
"It really creates a positive feeling on the sideline when they know they've got a guy who's never, ever going to back down."
Career Day For Shaun Crawford
Shaun Crawford was expected to be Notre Dame's starting nickel back as a true freshman in 2015, but a fall camp knee injury cost him the entire season.
The Lakewood, Ohio, native battled back from that injury, earning a starting cornerback spot in 2016, but early in the second game against Nevada Crawford was again lost for the season, this time after tearing the Achilles tendon in his left foot.
Crawford has once again battled back, and he was rewarded with a career day against Boston College, picking off a career-high two passes and coming up with the first fumble recovery of his career.
"It felt great, but I just have to thank Coach [Mike] Elko and his scheme and all the work we did during the week," Crawford said. "Those plays I made, both the interceptions, we went over those plays a number of times throughout the week, and I was in perfect position."
Crawford's first interception came after Notre Dame took a 21-13 lead in the third quarter. The Irish offense answered with a touchdown, and the game was never competitive again.
"We really love the way he competes, even at his size," head coach Brian Kelly said of the 5-8 cornerback. "He puts himself in really good positions to attack the football."
Miscellaneous Notes
• Notre Dame's 515 yards on the ground was its highest output since a 597-yard performance against Navy on Nov. 1, 1969. The Irish averaged 10.1 yards per rush, breaking the modern record of 10.0 yards per attempt set against Great Lakes on Dec. 5, 1942.
• The 515 rushing yards were also the second most against Boston College in its history, with only Army's 516 yards in 2012 surpassing the Irish effort.
• In head coach Brian Kelly's first seven seasons, the Irish rushed for more than 400 yards just once, against UMass (457) on Sept. 26, 2015. In just three games this season, the Irish have already topped the 400-yard mark twice. They also had 422 yards in the opener against Temple.
• Sophomore running back Deon McIntosh saw the field for the first time in his career. He rushed for 24 yards on four carries.
• Junior tight end Alizé Mack led Notre Dame with five catches in the game, a career-high mark.
• Fifth-year senior wide receiver Cameron Smith — a starter the first two games of the season — did not play against Boston College due to an injured ankle he sustained during practice the week before the game.
• Sophomore running back Tony Jones Jr. was carted off the field late in the fourth quarter and needed an X-ray following the game, but there was no major damage.