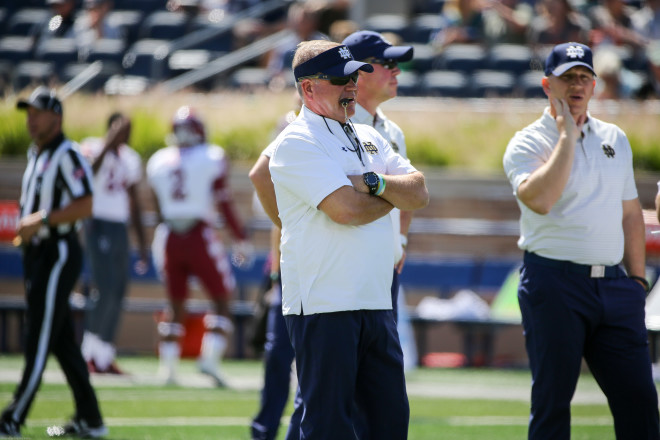 From the beginning of the season, Brian Kelly and his staff have been stressing the ability to refocus each week and prepare for the next opponent.
Kelly is happy with the progress the Irish have made in that department and the routine they've built.
"I think our guys have done a good job," Kelly said this evening. "They know what that routine is of refocusing back and preparing for the next opponent. I think they've done a really good job."
In Kelly's eyes, the Irish have continued their rebound from game-to-game and put together another solid week of preparation before they head to East Lansing to face Michigan State.
"They've had a good week of practice," Kelly explained. "They prepared today in very hot conditions which they'll need because it's going to be hot on Saturday. It's been good. Our preparation in terms of our intensity level, and I don't physical intensity, I mean on mental intensity has been good. That's where I thought we lapsed a couple of times against Boston College. Not necessarily in physical intensity but our mental intensity lapsed a little bit. I thought we picked that up this week.
"I really like the progress Brandon [Wimbush] made this week in terms of what we're doing offensively. So, you know, as the head coach I like our preparation. I like what we've done. Our coaches have prepared our football team. I think I've prepared them from a practice plan and we got one more day tomorrow to clean up some things. But I feel good about going into the Michigan State game."
INJURY UPDATES
Kelly addressed the status of a few Irish players including running back Tony Jones Jr. and wide receiver Cameron Smith.
"He's making progress," Kelly said of Jones. "It'll be a game day decision.
"It's just Tony really. We haven't had anything. We've had some guys with the normal 'let's be careful with their load.' But nobody that would be out for Saturday's game … [Cam Smith] should be fine."
KELLY ON WR KEVIN STEPHERSON'S PROGRESS
Wide receiver Kevin Stepherson has yet to see the field this season and Kelly has harped on Stepherson displaying the traits he wants out of his players. Stepherson is making progress.
"He's had a good month," Kelly stated. "His last month has been pretty good. He's been pretty consistent working to do the right things in the classroom and has exhibited the things I have been looking for. He's been working out with us for the last week or so … So, we'll see how that goes. He still has a way to go, but he's making progress."
KELLY TALKS WR C.J. SANDERS
Last season, wide receiver C.J. Sanders caught 24 passes and was thought to be a bigger factor in the offense in 2017. That hasn't come to fruition just yet for Sanders as he's only played five snaps. But Kelly said Thursday afternoon that will change.
"Well, C.J. last year was much more of a slot receiver for us. We've moved him out on the perimeter, which has put him in a position where with Cam, Cam's just physically a better blocker," Kelly explained. "That's kind of eaten some of his reps out there. Then we've moved Chase out there as well. It's really a matter of if all things were equal we would play C.J. over Michael, the true freshman.
"It's so do you move him back into the slot? We're pretty comfortable with moving guys around at this point and at that position because of our need to put bigger body guys in the offense with the tight end at that positon. It's not that he's done anything from last year to this year wrong. He's actually stronger, I think he's a better football player. You're going to see him on the field. You haven't seen him obviously up to this point, but as the season progresses he's going to contribute."
NO CHANGE AT PUNT RETURNER
In eight punt return attempts, wide receiver Chris Finke has only mustered two total yards.
Despite the lack of production to date, Kelly doesn't see a need to make any changes.
"I'm really happy with Chris," Kelly said. "One caveat: we've been in a number of fourth down situations where we've asked for a fair-catch and he hasn't fair-caught it. We have to be better there. He has to fair catch those balls. He's very confident back there catching the football.
"Other than that, we have to do a better job on one of our gunner's got to do a better job on hold up. We think we had an opportunity for a couple good returns. We're pleased with him. There won't be a change there. If there's a change it'll be with one of the gunners."
KELLY TOUCHES ON FRESHMEN
A few true freshmen are already making a contribution for the Irish whether its defensive tackles Kurt Hinish and Myron Tagovailoa-Amosa on defense, tight end Brock Wright on offense or safeties Isaiah Robertson and Jordan Genmark Heath and tight Cole Kmet on special teams.
Kelly doesn't anticipate others pushing their way into the mix this season, but stated their futures are still bright.
"They're all developmental guys," Kelly said. "I think they are all going to be talented players for us, but I think without having the chance to develop a lot of the teaching, you would have to be a specialist in some fashion or someone we had to delve into that position because of a glaring weakness. We don't have that. I would say right now unless something drastic changes, you won't see any of those guys on the field this year."