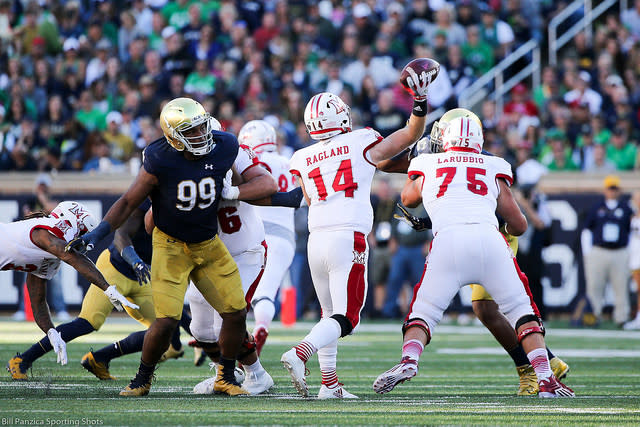 2 Times this season that junior running back Josh Adams has scored a touchdown on the game's second play. He tallied from 37 yards in the opener against Temple and tore off a 73-yard run against Miami (Ohio) on play number two. This also marked the second straight week Notre Dame was ahead 14-0 less than 4:27 into the game.

Adams moved up to No. 7 on the all-time Fighting Irish rushing list with 2,426 yards. The all-time leading rusher is his coach, Autry Denson, who had 4,318 from 1995-98 (not including bowl games).
3 Catches for 55 yards by Miami (Ohio) senior tight end Ryan Smith, who is the grandson of Notre Dame 1953 Heisman Trophy winner John Lattner.
9.01 Yards per carry averaged by Adams this season with his 73 carries for 658 yards. He has had five runs that covered at least 59 yards. The Notre Dame single-season record for yards per carry (minimum 100 attempts) is 8.11 by George Gipp in 1920, followed by Reggie Brooks' 8.04 in 1992.
Adams currently is No. 2 on the all-time career chart (150 minimum) at 6.97 yards per carry, behind Brooks' 7.6.
10 Touchdowns scored by Notre Dame among the 11 turnovers it has forced this season. The Irish have out-scored their opponents 70-3 this season off turnovers. Last year the Irish defense generated only 14 turnovers in 12 games, and likewise 14 in 13 contests in 2015.
12 Years since Notre Dame has won three straight games by a minimum of 20 points: Boston College (49-20), Michigan State (38-18) and Miami (Ohio) (52-17). The last time that occurred was in head coach Charlie Weis' first season in 2005: 41-21 versus Tennessee on Nov. 5, 42-21 against Navy Nov. 12 and 34-10 versus Syracuse on Nov. 19.
It also is the first time since 2006, Weis' second year, where Notre Dame tallied 38 points in three consecutive contests. In 2006 it was 45 versus North Carolina, 39 at Air Force and 41 against Army on Senior Day.
21-3 Record under eighth year head coach Brian Kelly when not having a turnover, and 2-0 this year with the back-to-back wins over Michigan State and Miami (Ohio). Notre Dame was 0-3 last year in games where it did not have a turnover.
22-22 The Fighting Irish have scored on all 22 of their possessions in the red zone (the opponent's 20-yard line), keeping them tied for No. 1 nationally. Particularly impressive is 20 of them have been touchdowns, a .909 percentage. Notre Dame tallied touchdowns on all three opportunities versus the RedHawks.
60-15-1 Record of Notre Dame against first-time visitors to Notre Dame Stadium, which opened in 1930. Miami (Ohio) was the 76th such team and the second this year, after Georgia (Sept. 9). North Carolina State on Oct. 28 will be the third.
84.3 Percent of games won by the late Ara Parseghian as the head coach at his alma mater Miami (Ohio) from 1951-55 (39-6-1) and then Notre Dame from 1964-74 (95-17-4), highlighted by consensus national titles in 1966 and 1973. Parseghian's widow and wife of 69 years, Katie, presented the colors before the game prior to the National Anthem.
301.2 Yards rushing averaged by Notre Dame during its 4-1 start this season. At this pace that would be the most since the school-record 350.2 by the 1973 national champions.
900 All-time victories in football for Notre Dame after the conquest of Miami (Ohio). The Fighting Irish became the second Football Bowl Subdivision team to reach 900, with Michigan the first.
Unfortunately, the elephant in the room is the NCAA has informed Notre Dame it must vacate its 21 wins from the 2012-13 seasons because of the use of ineligible players. The ruling is under appeal by Notre Dame, but should it remain, then the victory total will be reduced by 21.
Turning Point
For the second week in a row, our selection is going to come at the point when Notre Dame was leading 21-7 — and then a turnover blew it open.
Last week at Michigan State, junior nickel Shaun Crawford's forced fumble at the Irish one-yard line that he recovered in the end zone for a touchback prevented the Spartans from reducing the margin to 21-14, and Notre Dame quickly made it 28-7 on that ensuing series..
Versus Miami (Ohio), the RedHawks trailed 21-7 but were beginning to find a rhythm, including making a stop, and then taking possession in good field position at their 43. Three plays later, junior nose guard Jerry Tillery pressured quarterback Gus Ragland into a fumble that senior end Jay Hayes recovered at the Miami 30. Notre Dame was in the end zone shortly thereafter on a touchdown pass to sophomore Chase Claypool, and the floodgates opened.
Stat Of The Game
The 45 first-half points were the second-most scored in the modern era of Notre Dame football, behind the 49 points in sophomore quarterback Joe Theismann's first career start during a 56-7 win at Pitt on Nov. 9, 1968. The unbreakable record is the 111 in the first half of Notre Dame's 142-0 victory versus American Medical on Oct. 28, 1905, but that's why record books have to be separated some in context to the modern era, which is often either defined as since the start of the Associated Press poll in 1936 or the aftermath of World War II, when NCAA statistics began to be kept more meticulously.
In the modern era, the 1977 national champions also scored 48 second-half points in a 69-14 romp over Georgia Tech, which had upset the Irish the previous season in Atlanta.
Brian Kelly's Take On Winning Three Straight Blowouts
"I don't even know that they look at it in that respect. I think it's really about how they approach the game and how they come out. I think what they're more excited about is I challenged them on Monday to show me mental toughness … that's really what their focus is about, how they're preparing and how they play the game, more so than what the point differential is."