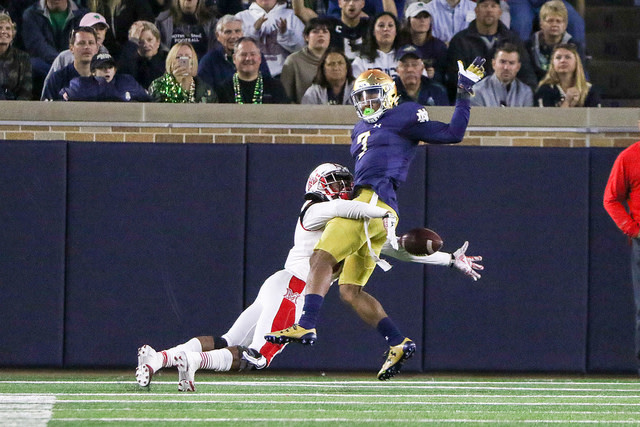 A great cornerback can be like a superb referee: The less you notice him, the better he likely is at performing his job.
Through the first four games of Notre Dame's 2017 campaign, senior boundary cornerback Nick Watkins was maybe the most inconspicuous figure on the Fighting Irish defense, which is not necessarily a negative at his position.
Teams seldom challenged the rangy 6-1, 207-pound Watkins. When they did, rarely were the results positive. Any catches also usually resulted in an immediate take-down for minimal yardage, and virtually no yardage after the catch.
That changed this weekend in Notre Dame's 52-17 victory versus Miami (Ohio). The RedHawks' lengthy and physical 6-4, 216-pound wide receiver James Gardner went against Watkins on the boundary side and enjoyed a productive afternoon with five catches for 115 yards, highlighted by scoring both Miami touchdowns on 34- and 14-yard receptions. He also drew an interference call on another long pass . The coverage by the highly skilled Watkins wasn't poor, but sometimes the life of a cornerback has these kind of days.
On the first touchdown — from 34 yards on a third-and-10 — Watkins had one-on-one work against Gardner on a deep toss that just went over his fingertips right at the goal line. Watkins turned to look for the ball near the 17-yard line (after a pump fake by quarterback Gus Ragland), and looked back for the ball again near the seven — while engaged in hand-fighting and position with Gardner for several yards.
That second turn back by Watkins resulted in Gardner getting a half step on him, forcing Watkins to have to spin around. That mere bit of separation allowed the ball to be perfectly deposited at the goal line over the left shoulder for the score as Garland was falling down.
"The first touchdown pass, he was in off-coverage," explained head coach Brian Kelly of Watkins' technique. "We would have preferred that he have played over the top of the route and made a play on the ball. The proper technique and off coverage for him would have been to stay on the left field shoulder and make a play on the ball."
On the second scoring pass, from 14 yards on first-and-10, Watkins and Gardner were engaged in some hand fighting for about 10 yards before a perfect back-shoulder throw by Ragland allowed Gardner to snare the ball just inside the sideline, which can serve as an extra defender. It's the occupational hazard of being a corner, where everyone sooner or later is going to get beat. That is why a short memory often is described as the most valued asset for a corner.
"The second one, just a difficult play," Kelly said. "He played it the right way with the right technique and it was just a ball that was thrown in a location that he couldn't have got to. … Just the world of being a corner, where teams like to throw the back shoulder. They are difficult to defend."
Watkins had his share of wins too, including two passes broken up, one of them in the end zone.
At the field corner, where sophomore Julian Love starts, there is more room to work with because there is more quarter coverage involved to that side, which has prompted more throws in that direction. Meanwhile, the nickel spot is the ideal spot for junior Shaun Crawford, who has been a standout playmaker there. KeiVarae Russell and Cole Luke, current Irish alumni now in the NFL, also worked some at nickel for the Irish, but were glad to return to field corner because of so many varied responsibilities involved.
"The nickel gets thrown at more, which is more fun to me," Crawford said. "College and the NFL are moving mostly to the spread, so the nickel is going to be needed almost every down now.
"It's like my home really. I'm comfortable at corner as well, but it's not as fun. It's away from the ball more."
The game has evolved to a point where defense is usually more about damage control than domination, especially at cornerback. It's akin to even the greatest hitters in baseball failing seven out of 10 times.
"There are no lock-down corners in football," said Kelly earlier this year. "They all can get beat."
The past weekend proved it again.