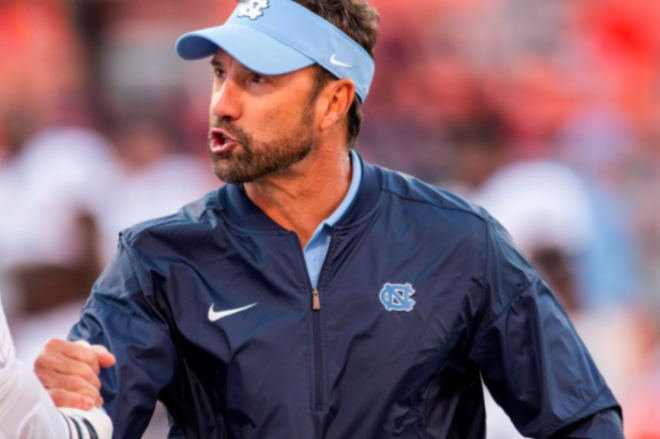 The 2017 campaign wasn't supposed to be a great one for North Carolina, which entered the year picked to finish fifth in the ACC's Coastal Division by both Lindy's and Athlon in their preseason publications.
The Tar Heels lost their starting quarterback Mitchell Trubisky — the No. 2 overall pick by the Chicago Bears — a year early to the NFL Draft, and more than 90 percent of its rushing yards and more than 70 percent of its production at wide receiver from last season.
Overcoming those losses was going to be difficult, but things have gone even worse for the Tar Heels than expected. On top of those departures, North Carolina is down an astounding 13 players to season-ending injuries, draining the Tar Heels of any chance it had to be a surprise team in the Coastal.
UNC has been close, taking leads into the fourth quarter against California, Louisville and Duke, but in the end it lacked the ability to finish games. However, the Tar Heels most recent loss, a 33-7 defeat at Georgia Tech, wasn't nearly as competitive.
Under head coach Larry Fedora, the Tar Heels have succeeded when their offense has been a dynamic unit. North Carolina averaged 40.7 points and 486.9 yards per game during its ACC Coastal Division championship run in 2015.
This season, the lack of experience and injuries has sapped the Tar Heels of their explosiveness on offense. North Carolina enters its matchup against Notre Dame averaging 28.4 points and 395.2 yards per game, numbers that are inflated by a 53-point, 511-yard performance against Old Dominion.
Fedora believes his team has the ability to be better on offense, but it won't get to that point until it starts to do its job at a higher level.
"Offensively, just a lack of execution," Fedora said of the woes this season on that side of the ball. "Like I've said before, it's not one guy here, it's one guy here and on the next play it's somebody else. What I mean by lack of execution … it would be different if on each of those plays we were out-numbered and can't block the people that are there.
"It's more about not being out-numbered, but doing your job and executing your job. Somebody's breaking down on most of these plays. We've got to get where we are executing better on offense."
Fedora refuses to use the lack of experience or injuries as an excuse for his team's struggles on offense.
"Any time you're putting together a game plan, it doesn't matter whether you've got all 11 starters and they're all seniors," he said. "You're always trying to decide how much to do and you're always trying to figure out what is the lowest common denominator and let's don't do more than that.
"When you start changing out a lot of personnel and you've got multiple issues that you have to deal with, you start paring it down. And then you start thinking we don't have enough. But it doesn't matter. If you don't execute what you have, you're not going to have success anyway."
Fedora doesn't dispute that his offense is carrying less into each game from a schematic standpoint, but he believes the game plans have been good enough to win.
"It's limited," he acknowledged. "There's enough in the game plan to be successful. It's not that we're so limited that there's no way we can be successful. It's just execute the plays that are called against the defense that you see."
A key to North Carolina getting back on track is better play from redshirt freshman quarterback Chazz Surratt, who took over for LSU transfer Brandon Harris early in the season.
Surratt is an athletic left-handed quarterback, and there are moments when he has really impressed with his throwing skills and ability to make plays with his leg.
The issue is Surratt — like Notre Dame starting quarterback Brandon Wimbush — is far too erratic as a passer. Unlike Wimbush, Surratt doesn't have the supporting cast around him to overcome his lack of experience.
Fedora knows getting Surratt on track is the primary key to an offensive resurgence in Chapel Hill. He's not thinking about the future when it comes to developing Surratt; Fedora knows he and the offensive coaches need to get him going right now.
"I'm not thinking about down the road with him," Fedora said of Surratt. "All I'm doing is trying to make sure we have a plan in place that he can execute for this week; that's it. I'm not looking at long-term development. Long-term development will come over the long haul, over all the banked reps and the things that happen in a game.
"We've gotta make sure we're putting him in position to make good decisions — he's still growing."
Fedora is well aware of the tradition that Notre Dame will bring into the matchup, but according to his comments this week it is not something he cares much about at this point.
"I'm sure our fans love it and it will be great for Chapel Hill, it's good for everybody," Fedora said of Notre Dame and its fans coming to town. "For us, it's the next game, and we've got so much to worry about within ourselves to make sure we're right.
"We don't have a lot of time to spend thinking about who our opponent is or what our opponent is. They're traditionally a great program. It's a great opportunity for our team, to have them coming here."
Fedora wants to focus on what Notre Dame is this season, and he's well aware of the success the Irish offense is having with its run game.
"Very well coached and playing really well," Fedora said of Notre Dame. "Running the ball really, really good. Play-action pass and throwing the ball when they need to. Their defensive front is as good as anybody we've played."
Notre Dame enters the matchup averaging 301.4 yards per game on the ground, while the Tar Heel defense is giving up 221.8 yards on the ground.
Stopping the Irish ground game will be difficult, but it's something North Carolina must do if it wants to compete with Notre Dame.