A trio of Notre Dame's captains addressed the media today as the Irish prepare to travel to Chapel Hill to take on the North Carolina Tar Heels.
Read below to see what running back Josh Adams, linebacker Greer Martini and linebacker Nyles Morgan had to say to each question asked.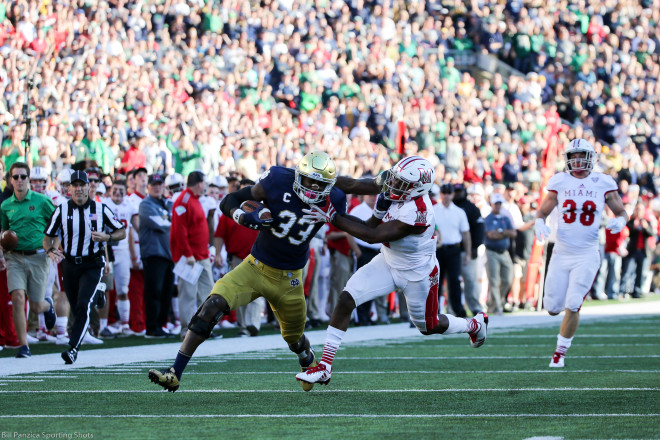 RB JOSH ADAMS
Q: Josh, first of all, your injuries, how you feeling? Second question I have for you is who has been the biggest influence in your development as a running back? JOSH ADAMS: "First question, feeling pretty good. Allergies are acting up a little bit this morning, so that's never too good, but took some vitamin C. Other than that, body is feeling very well. Of course, you've always got that after-the-game bruises, so it's kind of normal. Just going through the week progressing, trying to get ready for the next game. "In terms of my progression as a running back, I think that this team has made me a better player overall of course we have Coach Denson who has stuck with me since I got here to make sure that I become a better running back along with the other guys in that room. Of course, the offensive line always make it easy on me becoming a better runner. So, I would pretty much say it's a combination of all those things, from my teammates to my coaches."
Q: When you were being recruited and you had an ACL your senior year, when did that occur in the season?
ADAMS: "My junior year, about four games in."
Q: Some schools backed off, Notre Dame did not, or how do you remember all of that unfolding?
ADAMS: "A lot of schools backed off. But Notre Dame was always there for me. So I probably heard from Notre Dame like I did my sophomore year. Ever since then started to build a relationship with the coaches."
Q: Other schools that did not back off after the injury?
ADAMS: "I don't know. They don't really matter anymore now because I'm here, but I don't know. Just Notre Dame has always been there with me. I felt like it was family here. Came, visited a couple times even through my injuries, so it was just a great experience for me just to know that, you know, the type of people that are here are different from everywhere else."
Q: When did you take your official visit and what do you remember from that weekend? I assume it was tied to a home game here.
ADAMS: "So. I unofficially came to Irish Invasion and I brought my parents down here. We had a lot of fun here. My official visit was to the Stanford game, I believe, a couple years ago. Great game. It was a cold one, but we ended up winning the game late in the fourth quarter. I believe I was here with Equanimeous St. Brown and Brandon Wimbush, we all took the same official, that was a lot of fun, just me and those guys. That was the start of something special."
Q: Who finished number two?
ADAMS: "I'm sorry?"
Q: Who finished number two among the schools who considered, or was there no clear cut number two?
ADAMS: "No, I mean, I think every school that I was looking at, I had good reasons for why I wanted to go there. You know, I don't think it was number two. I think they were all in consideration."
Q: Who were some of the other ones?
ADAMS: "Of course, we had Notre Dame, we had Pitt that was up there. I remember I was about to go take a visit to Stanford before I came here, but that clearly didn't happen because this place is amazing. No, but those are some of the schools. I think they were all, you know, I had my reasons like I said."
Q: I'm sorry. I don't remember exactly how everything unfolded. Did you commit when you were here, did you commit after you went home?
ADAMS: "No, I committed when I went home. My parents wanted me to do it on the spot because, obviously, you can't say no to this place."
Q: Did you get caught up in the moment?
ADAMS: "Yeah, yeah, yeah. I had to go home, get my mind right, think about it, kind of make a big-boy decision. That's where you're going to spend the next four years of your life. So it's a big decision for any man. Had to get home, think about what I wanted, and not too long after I made that phone call."
Q: And you made that phone call to Coach Kelly?
ADAMS: "No. At the time it was -- I just blanked. It wasn't Coach Denson. Coach Alford was here at the time, so he was my recruiter. Called him, called Coach Hiestand, he was my recruiter for the area, so I met him. He was the start of the process. So met Coach Heistand, and then after that Coach Kelly."
Q: Through five games this season, I'm curious, where's your satisfaction level with what you guys have accomplished to this point?
ADAMS: "I think as an offense, I think we know we can do more. I think we have guys that want to do more. We're never just satisfied with where we're at. We always want to do better. We always want to improve. I don't think we're even close to being at the level we know we can be at. So that's why we come in each week after practice and we work hard and we try to perfect our craft. "This week we're preparing for UNC. We're working on our game plan and we're going to attack that."
Q: When someone looks at your numbers and what you've been able to do with actually relatively few carries in some games, I'm curious, where wouldn't you be satisfied with what you've done?
ADAMS: "Where wouldn't I be?"
Q: I'm looking at your numbers, the yards per carry, the big plays. Where can you be better, I guess, because your numbers are outstanding?
ADAMS: "I have to do a better job playing without the ball, anybody can run the ball, especially behind this fantastic offensive line. So I have to do a better job of kind of playing without the ball, you know, in the pass protection, carrying out my fade, stuff like that, running routes full speed. The little things you can always do better at. Even running the ball, you might have missed a read on one run, but that is what it is. But like I said, just playing without the ball and doing everything full speed."
Q: Is there such a thing as a perfect game for you? What would that look like? ADAMS: "I'm not sure. I haven't had it yet. Hopefully I can get there. Like I said, all those areas, when you can put all those things together, then you're getting close to a perfect game. When you can run pass protect and play without the ball, I think then you're getting close to what looks like a perfect game. I'm still working on it. I attack each and every week the same, just trying to get better, trying to improve and learn from my mistakes."
Q: You had two big runs last game. The second one is a big stiff arm down field where you're able to break the tackle and get in the end zone. What kind of goes through your mind when you're in that position when there is a guy to beat and it's going to be kind of a physical challenge? Somebody's going to win it and somebody's not?
ADAMS: "I mean, I almost got caught from behind again. So that wouldn't have been too good if I didn't finish that one. That happened to me a couple times this year. No, the only thing that's going through my mind is finishing the run, trying to put points on the board. You don't want to go all the way down there and do that much work to just stop short. Definitely want to finish every run. That's mainly what I was trying to do. Just make sure I can get in the end zone this time and not get taken out and not be able to get in there, you know what I mean? "It was a fun game. Just watching the different guys get in there, just having fun with my teammates and just enjoying the sport of football."
Q: You mentioned getting caught from behind. Is that something that gets brought up in the film room? Do you end on the wrong side of some ribbing when that happens?
ADAMS: "It should get called out in the film room. You're doing so much hard work and you didn't finish the run. So as running backs, you want to finish everything. We take it upon ourselves, every guy in that room, to get in the end zone. I mean, that's how we can contribute to the offense. Number one name of the game is scoring points on offense. So, we want to help in any way possible. If we get that close, we want to finish."
Q: If Brandon can't go this weekend and Ian Book starts, what gives you confidence that you can go on the road and run the offense first, primetime, or first real start for him?
ADAMS: "I think he's here for the same reasons that Brandon's here, to become a great player and academically, you know, be outstanding. We want to excel towards excellence in both of those areas, and I think Ian's here for the same reason we're all here is to get better and progress as players. He goes out there and works every week like the rest of us do, and from the moment he got here, he's progressing. He's having fun. He goes out there and practices and knows he might make mistakes. But he still comes back the next day trying to get better and trying to improve. "Just like the rest of us, he wants it just as bad. We're all here together. We're all here as brothers and all on the same team. So we want to see each other succeed. He wants to contribute to the offense just like everybody on the offense wants to. So, I think he has the right mindset."
Q: How well do you know him off the field?
ADAMS: "I mean, we hang out a couple times here and there whenever we get some free time. I think the whole offensive unit as a whole has a good relationship with each other. We do spend a lot of time off the field. I've known him since he came in last year. Obviously he didn't get a lot of action last year. But, you know, the start of knowing different players on the team, and I feel a fairly good relationship with him. Yeah, I mean, if he's out there, he's working just like everybody else."
Q. How was practice for him yesterday. He was getting reps at a different level than usually?
ADAMS: "I think he looked pretty good. He looked confident. Like I said before, he's a guy that doesn't seem like he has a lot of worry. He just goes out there and trying to have fun. I think that's pretty big at the quarterback position and not forgetting to have fun with it, because a lot of pressure falls on those guys. Looked like he did that yesterday. He just went out there and tried to be as comfortable as he could be. As his teammates. We've got to try to make it easy for the guy in that position. So we're taking it one day at a time. Today's Wednesday, so we're going to attack it and try to do better than we did yesterday.
"It's just guys doing their job, not trying to do too much. Knowing he has a job just like the rest of us. We all can't do each other's job, we have to trust in each other. Try to do the best we can, knowing that you're going to make mistakes and moving on to the next play and just playing football. So I think that that confidence comes with each and every rep. Just being patient with the timing."
Q: From your freshman year to this year, what kind of improvements have you seen in the offensive line? Is there a better cohesiveness that maybe the offense has run as well as it has so far?
ADAMS: "In the offense or the offensive line?"
Q: The line.
ADAMS: "No, since I've gotten here, those guys have always been great. It just seems like no matter who you put in there, they're always working. Coach Hiestand does a great job with those guy, and they do a great job taking that coaching and putting it on the football field of course they have a great connection with each other. They don't go anywhere without each other. So they constantly build that relationship with each other and it shows on the field. So those guys do a fantastic job each and every year. They come out and they give it all they have."
Q: Is it comforting to have a quarterback like Brandon Wimbush who can run so well to kind of help alleviate your workload a little bit?
ADAMS: "I think if you called (indiscernible) run plays, he'd find a way to run the ball. That's amazing. Just to see him going out there and having a fun evening, he tried to make something out of nothing. It's amazing what that guy can do. It's just a lot of fun to go out there and just play football with him. Not forgetting that we have a job to do. It's just amazing the things you can do."
Q: You get enjoyment out of your touchdown runs. But Saturday you had that pass out on the flat that you just misconnecting with. How much did you want that one? ADAMS: "I had a wheel that I dropped. I think that's what you're referring to, dropped the wheel ball. It's something that we practice almost every week, you know, throwing that ball. I didn't catch it when I needed to. So you never want that to happen, but that was on me. I've got to finish that play. If not for me, for him. He threw a good ball. He's getting hit in the pocket, so we can't let him down like that. "No, we joke about it, but it's definitely a play that I need to make."
Q: Coach Kelly was telling us earlier this week how he made an effort to (Indiscernible) how do you feel like that's helped with camaraderie?
ADAMS: "I think it's really cool. It's definitely something new. Definitely helped, you know, different guys get to know each other. For instance, I'm next to Brandon Tiassum who is a defensive lineman. In past years I probably wouldn't have even spoken to him if I wasn't next to him, you know what I mean, that type of deal. But I did speak to him. He's in my class. We're cool. But just as an example. "It helps you build relationships with different guys on your team, and it kind of forces that bond, you know? That's something that we needed. It makes us closer as a team. I love that you're getting to know different guys from first year players to walk ons, to guys that are seniors and about to leave. I love how we're all connected in a way, and we all get to speak to different guys that we might have never spoken to before. So it was a lot of fun. It was an adjustment that we needed, but I'm glad that it happened."
Q: So previous years it was as position? That's how it was organized?
ADAMS: "Yeah, it was kind of by position and then by units. So we were offensive guys were in the general area of other offensive players. But, no, this year's definitely something new. It's a part of the process. So that's what we're sticking with.
Q. Make new friends?
ADAMS: "They're all my best friends. I love them all."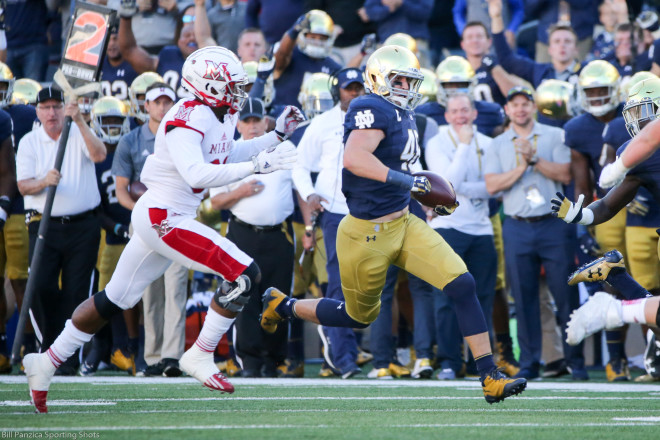 LB GREER MARTINI
Q: North Carolina might be starting a young, mobile quarterback. Does the fact that you practice against those kind of guys, do you think that helps you in a way? GREER MARTINI: "Yeah, I think it helps a lot, especially seeing Brandon and Ian and those guys that can move really well. For us, it's just we've seen that a lot throughout playing our offense, and we'll be comfortable with playing a quarterback like that.
Q: Off topic, but now that you're in your remaining days as a Notre Dame football player, can you reflect on your recruiting process here and what some of the more memorable moments of that were like?
MARTINI: "Yeah, so I think some of the memorable moments in my recruiting was I was up here when Notre Dame beat Stanford on the goal line. It was that Rainey game. It was super cold, and we all got to get on the field afterwards. That was a memorable moment, for sure. I think that one of the actually most memorable moments of my recruiting process was they got us all in this room, and they put up this history of Notre Dame football. It was really neat and it was pretty awesome for me to see what I was getting myself into just like from an historic perspective."
Q: At that point you were uncommitted?
MARTINI: "I think, actually, I was committed at that point, yeah."
Q: And what, I mean, as you look back on it what were the determining factors that ultimately helped you choose Notre Dame?
MARTINI: "I committed pretty early. As well as I wanted the best combination on a business school in football, and Notre Dame just fit that mold."
Q: Anyone influence you to lead in this direction?
MARTINI: "Well, I had two of my high school teammates. CJ and Doug were both hear, so that was a great influence. When I came I was really comfortable. I always knew someone on the team, so that was definitely an influence."
Q: Your Top 5, or your top schools remaining when you chose Notre Dame? MARTINI: "That's tough. Obviously, Notre Dame was one. I had some local schools. I like UVA a lot, Michigan, Stanford were some of the schools that were up there. But once I got the Notre Dame offer, I kind of committed right away."
Q: So there was no clear-cut number two? MARTINI: "No, I didn't take any other visits other than Notre Dame. This is my school."
Q: Curious, at this point in the season, how satisfied would you guys say you are with the way you're playing at this point?
MARTINI: "I think we're satisfied, but we're always like -- we always want to get better. We know each week with the rest of our schedule we have to continue to get better because we've got a tough schedule coming ahead of us."
Q: What do you think you guys have done best so far on defense?
MARTINI: "I think it is like every week I feel like I'm a little bit better. Gotten a little bit more comfortable with the scheme and just playing fast. I think each week we've gotten just more comfortable with it, which I think is the biggest thing."
Q: You guys have done well keeping points down, causing turnovers. What do you think is the biggest area of growth still remaining for you guys?
MARTINI: "It's just executing for four quarters. Not taking any series off. Just being locked in throughout the entire duration of the game. There can't be one series where we have a couple sloppy plays. We just need to be more consistent throughout the entire game."
Q: BK referenced a personality test you guys took during breakfast time. Can you describe what you got out of that format of the test? What questions you learned? MARTINI: "I think it's just a generic personality test that most people take. I think what we got out of it is we saw the ways that we related to people. And for me, it was like about relationships and like I think my second one was like love or something like that. So my thing is that I can be close to teammates with intimate relationships when someone else could have seen something different, but that's what I got out of it."
Q: Were the results a surprise to you, or, yeah, I kind of figured I was that way? MARTINI: "Well, they give you your Top 5 things, and I was a little bit surprised with some of them, but it made sense when I sat down and kind of thought about it."
Q: How did it sort of impact you as a captain or how you related to your teammates moving forward, just sort of having that information?
MARTINI: "Yeah, I think that you can see what you're good at, what you're not good at. So I wouldn't use a tactic that I wouldn't be good at just based on that personality test. That kind of narrows it down to the way that you should lead."
Q: I guess, could you give me an example of a question on the test that you remember?
MARTINI: "Actually, there's like 40 different questions and they're kind of all similar, and I couldn't tell you one specific one. But do you get more pleasure from hanging out with a good buddy or sitting in a room reading a book, like something like that. So it deciphers between whether you're a people person or if you like to be a recluse or whatever, yeah."
Q: So what did the test reveal that you weren't good at? What was the last of your traits?
MARTINI: "Let me think back. This was a long time ago. I would say probably more along the lines that, for me, I wasn't so good about being in a room and being like that demanding guy. Like being the loudest, most vocal guy. It was more so the relationship aspect of it, and kind of one-on-one stuff rather than in a big group setting."
Q: So, have you never done that before, like stood up in front of a room?
MARTINI: "No, it's more so just like that's not what I'm -- obviously, there are times it presents itself, but that's just something I had to work on. Yeah."
Q: Just to follow-up to that then. So you're not a guy that's going to be knocking over chairs and screaming at your teammates pregame?
MARTINI: "No, that's not me, no."
Q: Who would be that guy?
MARTINI: "I think probably Quenton Nelson, Nyles Morgan, those are two guys I think of right off the top of my mind."
Q: Coach Kelly was telling us how he reorganized the locker room in the off-season. Do you think that's helped camaraderie?
MARTINI: "Yeah, for sure. You used to sit with your position group now it's all types of guys. Like Avery Davis is beside me right now. So, it's just someone that I wouldn't have had a relationship with or even seen on a daily basis. Just seeing only linebackers and we do so much stuff together, I think it brings us closer because you know a variety of guys better."
Q: Do your lockers change periodically?
MARTINI: "So it's changed twice so far. So in the spring we had a certain locker group, and now it's different during the fall. So I've had two different rotations. I feel like during the spring it will change again and then again in the summer. So I think that's just what Coach Kelly has been doing, and I think it's been effective."
Q: Do you think that's overall boosted team morale heading into the season? Do you think you can tell the difference maybe?
MARTINI: "Yeah, I think we're more united as a team. And I think everyone's saying the offense, defense feeds off each other. That's a big part of it as well."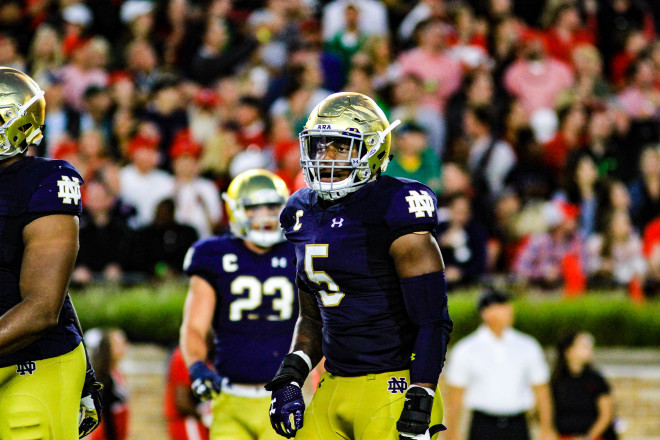 LB NYLES MORGAN
Q: They may have a change in quarterback to a kid by the name of Surratt who is a dual-threat athletically, kind of quarterback, throws left-handed. The fact that you've gone against quarterbacks like that in practice, will that help you with not having a lot of film on him?
NYLES MORGAN: "I would say yes, you know. Just having worked with Leap before with (indiscernible), but we have a game plan and we're going to stick to that probably."
Q: Totally off topic, but I'm wondering as you enter your final games playing for Notre Dame, what you recall about your recruiting process here?
MORGAN: "Which part?"
Q: Official visit here? Your interaction with any of the assistant coaches or whatever. MORGAN: "I would say I took my official at the USC game, and that was like one of the most amazing things I've ever seen because we won that game, and it was like this place just kind of just erupted. You know, that's what pretty much sold me here."
Q: What other schools did you strongly consider and what put Notre Dame over the top in addition to that USC experience?
MORGAN: "I think my top 5, geez, that's four years ago. Top 5 was Notre Dame, Vanderbilt, Ole Miss, Michigan State, and Florida. And what put Notre Dame over all those schools was the fact that, one, obviously, the academics here are topnotch, alumni connections, things like that. Also realized that I wanted to go to a school that would help me mature and become a better human being and a better person. A place where I can learn and develop. Not saying I couldn't at any of those other schools, but I thought Notre Dame would give me the best chance to do that. And it's pretty cool having my family go to pretty much all my games, because I'm from Chicago, and that's maybe an hour or two away."
Q: Was there a clear number two?
MORGAN: "Not really."
Q: I'm curious how satisfied you guys are with how you played to this point in the season?
MORGAN: "Never satisfied."
Q: So you're not satisfied?
MORGAN: "We are satisfied, but we're never satisfied."
Q: Let me rephrase this. What do you think you guys have been able to do well to this point that's helped get you to where you are?
MORGAN: "Stop offenses from scoring."
Q: What are you guys working on this week and the rest of the year? Where do you see the biggest need for improvement on your side of the ball?
MORGAN: "I would say the biggest need for improvement is stopping them from scoring all the way around. Every game, doesn't change."
Q. Nyles, BK mentioned a personality test that you guys took before the season talking about leadership abilities or just traits in general. What did you get out of that? Could you describe what that whole test was like?
MORGAN: "I liked it because you kind of got to look at -- I liked it because it's psychology and that's my major and I was like, oh, taking a test by myself and see where I lie. And I liked it because guys got a chance to see, you know, like their strengths, their weaknesses, and I guess look at themselves in the mirror and see who are you?"
Q: When did you guys take these tests?
MORGAN: "I'm not really sure. I would say some time during the off-season."
Q: Spring time?
MORGAN: "Around there."
Q: Could you describe the test itself? What are they trying to get you to answer, what format, how long did it take, that kind of stuff?
MORGAN: "They were survey-based questions. It's like they were actually kind of like what you do in certain life scenarios and certain situations. Then they would track all your traits, like 20 traits like honesty, toughness, bravery, courage, things like that. They would track it in order from like what you are the most to like the least."
Q: Do you remember what you were the most?
MORGAN: "Honest."
Q: The least?
MORGAN: "Did not look at that."
Q: Coming out of that, did it change the way you look at it, like I can lead this way or this is my role on the team? How did you apply that to actual football?
MORGAN: "Knowing my results, it kind of, what's the word I would kind of look at it and say this is pretty accurate of me, so keep doing that."
Q: More like a confirmation of it?
MORGAN: "Confirmation of it, yeah."
Q: Coach Kelly was telling us the other day how he reorganized the locker room in position groups. Do you feel like that enhanced camaraderie?
MORGAN: "Yes, at first I didn't like it because I was bought in to it being LBs, just linebackers. Yeah, it's just linebackers. But then as things got rolling and we started going through our workouts with Balis and even through that we're forced to interact with other teammates, that was like the best thing we could have ever done, because now you get to know your O-linemen, you know your running backs, your receivers, quarterbacks, corners, versus just getting stuck in one section. It definitely builds our team camaraderie."
Q: Who is your locker next to?
MORGAN: "My locker is next to -- because right now it changed three times. Right now I have Josh Adams in front of me, Jeremiah Owusu next to me, Nicco, Jerry, Brandon Tiassum, Jalen, all kinds of people."
Q: Is it constantly changing or did it change before the season started?
MORGAN: "I wouldn't say constantly, but it changed probably twice."
Q: So you think it's helped you get to know teammates you didn't otherwise know very well? MORGAN: "Yes."