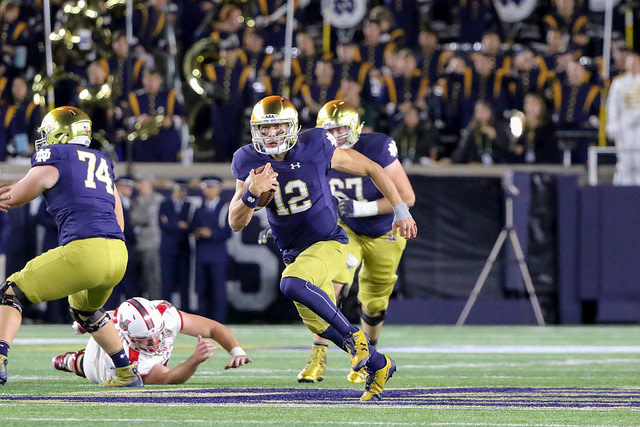 After Thursday's practice, Notre Dame head coach Brian Kelly could draw two conclusions about starting quarterback Brandon Wimbush's playing status at North Carolina this Saturday.

One, Wimbush should be available to play. Two, whether that will be as the starter or as the potential relief man for sophomore Ian Book remains up in the air, no pun intended.
"He practiced today, did some good things," said Kelly of Wimbush. "We'll go day to day and make the decision on game day.
"If he doesn't start … he's going to be able to do something."
Wimbush has been hampered by a Grade 1 foot strain that limited his practice time this week.
Per Kelly, Wimbush on Tuesday did only upper body work — stretching, keeping the arm limber, but he took no reps with the offense. On Wednesday he advanced to doing tracks and fits with the running backs, and some light throwing. Today, he took some reps.
"He's in a good place," Kelly summarized. "We've got two more days. He'll get some more rehab … He's where we hoped he would be and we expect more progress to be made over the next couple of days."
Nevertheless, Tuesday and Wednesday are the prime installation days of the game plan, and Book taking the lion's share of reps there could ostensibly enable him to see his first collegiate start this weekend. The sophomore from El Dorado Hills, Calif., took his expanded role this week in typical fashion, according to Kelly.
"He's very accurate with the football," Kelly said. "He's got a good grasp of the offense and he elevates the play of the guys around him. They all know that he is a really good quarterback. In the times that he's played real football, in the spring game, he was really effective moving his squad.
"Every time he's gotten the chance to scrimmage with his unit, he's been effective moving the ball. It's what we thought."
Kelly reiterated that the No. 2 quarterback in general takes about 40 percent of the reps throughout the season, so it's not like the game plan, reps or overall team concept is foreign to him.
Book, who redshirted as a freshman last season, has played in four of Notre Dame's five games this season, completing 3 of 8 passes for 51 yards, with all the completions coming against Miami (Ohio) last week. He also has five carries for 40 yards, with a 26-yard run against the RedHawks.
Through his five starts, Wimbush has completed 69 of his 132 passes (52.3 percent) for 782 yards, six touchdowns — a career high three versus Miami (Ohio) last week — and two interceptions. His 114.0 pass efficiency rating ranks 106th among 119 Football Bowl Subdivision quarterbacks who have attempted enough passes to qualify in this individual standing.
However, Wimbush's effectiveness has been maximized with his legs. His 68 carries have totaled 402 yards for a 5.9 average per carry. His eight rushing touchdowns tie him for ninth place nationally and second among quarterbacks, behind only Georgia Tech's Taquon Marshall's nine while operating a triple-option attack.