A trio of Notre Dame's captains addressed the media this afternoon to review the team's 49-20 win over Boston College and preview their upcoming road game against the Michigan State Spartans.
Read below to see what linebacker Greer Martini, offensive tackle Mike McGlinchey and rover Drue Tranquill had to say earlier today.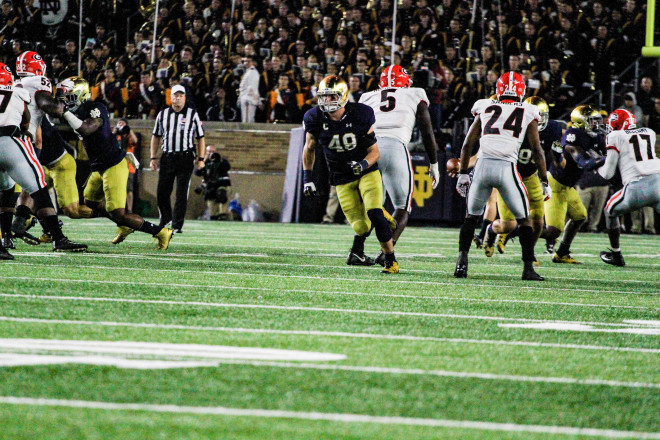 LB GREER MARTINI
Q: Being the first road game, what traits did you see from your team that you liked on Saturday?
GREER MARTINI: "Yeah, I think we went out, had great energy. It was a little bit of a slow start, but eventually once we got things going, we were fine, and I felt like we were pretty professional and we did a good job with it being our first away game.
Q: What do you have to do better on the road this Saturday in a tougher environment at Michigan State?
MARTINI: "Yeah, it's going to be a hostile environment, but this is a bigger game, bigger stakes, so I think we're going to get ready and we're going to have the energy to go out there and just go out and play to the best of our ability."
Q: Off of what happened last year in the Michigan State game, how do you think you guys are approaching this year's game?
MARTINI: "Yeah, we have a point to prove. Obviously we didn't like the outcome from last year, but it's just all about taking each day at a time and getting prepared for this game, giving them our best performance on Saturday night."
Q: It was obvious leading up to the start of the season that you guys had changed a lot of things and were better prepared to start the season; where do you think you've improved defensively with three games under your belt now?
MARTINI: "I think that just the understanding of the scheme each week, you kind of get better with it, just less missed assignments, better communication, like the clarity of what we're saying to each other, we're on the same page. I think that just improved from week to week with us."
Q: What in your career so far are you most proud of here? I'm guessing availability and versatility are among those things, but what are you most proud of so far? MARTINI: "In my personal –"
Q: Yes.
MARTINI: "At times I felt like I was just used as a specialized player, whether that was against the option or not, and I think that for me to show the coaches that I can be an every-down linebacker I think is the proudest I've had in my career."
Q: What are your aspirations or plans after Notre Dame?
MARTINI: "So I would love to continue my football career after here, but I'm a finance major, and I don't really know what I want to do yet, but I'll figure it out, and I'll let you know once I get that -- yeah."
Q: How would you evaluate or how has your inside linebacker crew with Te'von, you and Nyles been evaluated by the coaching staff up to this point?
MARTINI: "I think we've played well, and I think that we've gotten better each week, but there's a lot of things that we can still improve on, and I think about the biggest thing with BC was kind of there was -- at a point it was like, I don't know what the score was, but they had 13 points at a time, and we could really step on their throats there and just end the game, and we let them have a long drive, so just kind of staying locked in all the time for linebackers and never really ever taking a series off."
Q: And for you individually, maybe a technical thing or two that you feel you need to improve upon?
MARTINI: "I think that just as the game progresses, as I get more and more tired, just running my feet on tackles and kind of finishing plays."
Q: You kind of talked a little bit about Michigan State, wanting to kind of avenge last year's, but what are you and the guys kind of talking about, what this rivalry means to you, and what have the coaches made it mean to you guys?
MARTINI: "Yeah, so I mean, this is a big game. It's one of our rivals. They have the traveling trophy right now, and we take a lot of pride in that, and we want to get that back. But ultimately, it's just about as this team progresses throughout the season, we just have to get better each and every week, and this week it's MSU, so we're going to give them our best game."
Q: Does it add a little more motivation for you guys, even though it's a rivalry game, there's already plenty of motivation there for you, but just to be able to have the opportunity to possibly beat them in their house like they did last year?
MARTINI: "Yeah, and I think that everyone understands coming into a game like that, coaches always say it's not a big game, but as a player you know it's a little bit of a bigger game, and sort of the atmosphere there is going to be great, and it's just an opportunity for us to go out and beat a good team."
Q: What are some of the challenges that MSU's offense is going to present to you guys this weekend?
MARTINI: "Yeah, I think that they're good. I think the offensive line is improved from last year. I think they're a great team. They've got good running backs, and they've got a dual-threat quarterback, so all those things we've kind of got to defend against."
Q: I think that's interesting you saying that because they have four new starters on their offensive line; how are they better than last year's line, which was a little bit more experienced?
MARTINI: "Just from watching it, I think that's just kind of what the coaches have told us, and so I'm just kind of relaying that. I don't really -- yeah."
Q: When you guys made that stop on 4th down in the BC game, Coach Kelly talked about that play as being one that really gave the whole team some confidence. With having made that stop last game, does that give you guys as a defense confidence that you can make that stop in key situations going forward?
MARTINI: "Yeah, I think it's a great confidence boost to have big plays, come up with big plays at big times in the game, and that was kind of when the offense at that time really hadn't gotten anything going at that point, and then that drive they went down and scored, so I think as a defensive unit it shows us that we can change the momentum and that we can come up with big plays."
Q: You mentioned their quarterback being a dual threat. Just what are some of the challenges that come with when you're kind of preparing for a dual-threat quarterback, and what specifically have you seen from him?
MARTINI: "So I think with a dual-threat quarterback, obviously you've got to be sound in pass responsibility, but at the same time, you have to be aware of his ability to leave the possibility and run for 1st downs and extend plays, so as a defense, you've got to be aware of that and play it smart. And you just have to have guys rallying down to the ball when he takes off."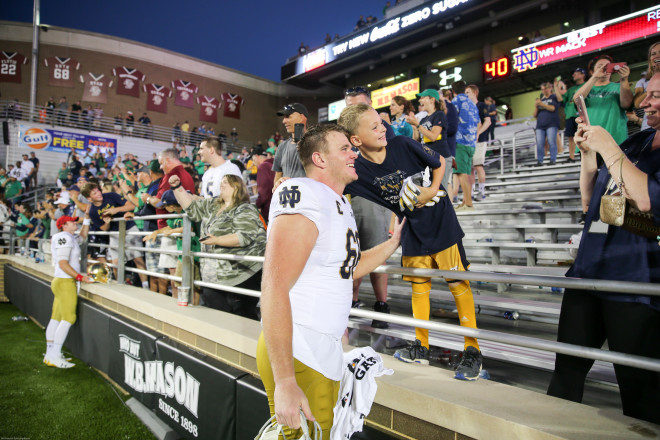 OT MIKE MCGLINCHEY
Q: I know that you have a big family tie to Boston College where you were last week. I'm just wondering, how big was the family turnout for that game?
MIKE McGLINCHEY: "You know what, it was rather small. It was about like 15, so yeah."
Q: What was that experience like? I know it was your first time playing there; obviously with the history in your family, what was it like to have success in that kind of atmosphere?
McGLINCHEY: "Well, it was definitely cool. I had my uncle back with all his college roommates and buddies and all those people that I grew up hearing stories about and meeting and kind of growing into my own as a kid, and we walked through the stadium on Friday after our practice over at Harvard, and it was the first time I've gone in there and seen Matt's name retired and number retired, and that was pretty cool going in there and looking up and seeing his name in the rafters up there. You know, just kind of brings you back full circle of when I was a kid and who I looked up to and why I do what I do, obviously to make my family proud.
"And it was cool to play against Matt's school and talk a little smack back and forth with him and his wife, who had played basketball there, and obviously my uncle, as well. It was a cool experience and definitely glad that we came out on the winning side."
Q: I know you mentioned your uncle who was a QB at Boston College; was he wearing BC stuff or Notre Dame stuff for that game?
McGLINCHEY: "You know what, I was actually kind of pissed at him because he showed up to give me a hug after the game wearing a BC hat. You know, one of those things that you've got to stay loyal to who you are, I guess. No, it was a good joke.
Q: Other than getting a win, what's the best part of playing on the road? McGLINCHEY: "You know, it's just kind of a different atmosphere. The first two games you get obviously as big as it's been here for this season specifically, our new stadium, all the new things, bells and whistles that we've got going on over there, and the second game was obviously as big as it's going to get here. But it's a new atmosphere, it's a change of scenery. Just cool beating people at their own place, and you kind of get a feel of -- it's just one of those things, it's just good to win in college football in general. Winning on the road, it definitely provides a different bit of a challenge, and so I guess it makes it a little bit more gratifying in that way. But other than that, there's not really much to it."
Q: How do you approach a road game like this weekend where you have no reference of Michigan State, never been there, never played there?
McGLINCHEY: "Well, we've played places like there. It's not like we haven't played in loud stadiums or haven't been to a loud stadium before. I've been to the Big House, Doak Campbell down at Florida State and Clemson, and I played in that game, so I've got experience playing in a crowd like that, and we're working on it. We've been working on it since camp started. We knew we were going to have to go on the road and play some teams that we're probably not going to be able to hear too well. But other than that, you just wait for the silent count, wait for the calls to come in as best as they can, and other than that, you've just got to go play football."
Q: What do you remember about last year's Michigan State game here and where that might come into effect Saturday night up there as far as them defensively? McGLINCHEY: "Well, I mean, the same coaching staff -- not all the same players, but there's some guys back from their team. You know, Michigan State does what they do, and they do it very, very well, and they've done it very well for a great period of time. Coach Dantonio and his staff up there have done a great job, and it brings who they are and sticking to what they do, and they know that they can work on that as best they can and be better at it than you can be blocking it or playing against it. They've had a lot of success over the years doing that, and same -- it's going to be a lot of the same things as last year that we've seen. Obviously they're going to have some new wrinkles for us because they're not going to just sit there and do the exact same things that they've done. But we know what we're going to expect from Michigan State, they know what they're going to expect from us. We've played them numerous times since I've been here. I think this is the third match-up, and four out of the last six. We've got a long history, rivalry with them. They know us, we know them, and that's what it's going to be."
Q: We spoke with Coach Kelly yesterday about the running game specifically, the various aspects of the running game, what works against certain fronts, et cetera. Everybody has their favorite portion, I guess, of the playbook. What is yours? McGLINCHEY: "My favorite?"
Q: Yes. McGLINCHEY: "When I get to clean up a guy that Q. Nelson, has already set up for me. That's pretty easy. That's definitely my favorite, just any combination block I get with Q is normally a pretty good one, and he makes my job a lot easier, and it's a lot of fun to just be able to come off the ball with reckless abandon."
Q: Over the course of 60 minutes against BC, I think as a whole your team's stamina and improved strength started to show itself. Do you feel that individually, that as you get into the fourth quarter, you feel better or different than you did previously? McGLINCHEY: "Absolutely. And you know, with games, it's actually a lot easier than it is throughout the week because with games, we get breathers when the defense goes on to the field, and in the week we're just going back to back to back. We're still keeping up with our football conditioning and that aspect every week, but yeah, absolutely feel strong, feel conditioned, and feel just ready to go snap by snap for four quarters. That's a big bonus for us this year and getting Coach Balis and his staff. Our team certainly was able to utilize that in the fourth quarter against Boston College, and we got nine more games here so far so we can hopefully continue that trend as we go for the rest of the season."
Q: You're likely going up against a defensive end that is a former walk-on; do you allow that to be any part of your psyche going into a game, whether positively, or do you just eliminate that from your thought process and just do what you're supposed to do?
McGLINCHEY: "Absolutely, I didn't even know that to be honest with you. But he's out there. If he's starting for Michigan State, he's probably a damned good football player. No matter what -- who the guy is, whether it's a Harold Landry from Boston College or Little Sisters of the Poor, I'm still going to be -- I still have to do my job to the best of my ability, and going out week to week, day in and day out, you've got to prepare like you're playing the best player on your schedule every single day. That's what playing O-line is about. You always look at yourself first and then you look at the defense for what they do and what they're going to bring. But other than that, you're in control of everything, and if you don't practice that way as if I'm going to -- like if I'm not practicing to get the All-American or the first-team all-pro, then I'm probably not doing my job the right way."
Q: Speaking of Landry, he had one tackle, wasn't credited with a pressure, let a lone a sack. Talk about the game plan going in for him, going into the game for him, and how you executed it.
McGLINCHEY: "Well, I really can't take a whole lot of credit for it. I saw him in the 1st and 2nd downs, the majority run game. I had a couple pass pro snaps on him, but it wasn't an obvious pass. You've got to give all they credit in the world to Tommy Kraemer and Rob Hainsey. The two of them came out, odds against them, first the two of them with their third game plan each, and getting the NCAA sack leader across from him on an obvious pass is a pretty daunting task, and the two of them stepped up in a big way, got their jobs done, they trusted the technique, they trusted their coaching, and they trusted themselves, and you've got to be really, really proud of them for that, and I know I was going back and watching the film with them on Sunday and then obviously more throughout the week. The two of them stepped up in a huge way, and I guess -- I don't know if you want to call it negating Landry, but the two of them were largely responsible for what happened there."
Q: They did get a little bit of help, but the scheme --
McGLINCHEY: "But it was them. They absolutely got help. They got some chips from the running back, the tight end, the slides were obviously going to the best player on their defense, but for the most part when you go back and watch the film, it was Tom and Rob that really stepped up in a big way and got their hands on him when they needed to get their hands on him and stayed in front of him as long as they could and gave Brandon enough time to make some throws out there."
Q: Going into the game, did you anticipate that you weren't going to be head-to-head with him on passing downs, 3rd downs?
McGLINCHEY: "I didn't really know. I knew the year prior most majority of his snaps came from the left defensive end side, but he had mixed it up in the first two games, and we weren't really sure what we were going to see. I knew that probably in the obvious situations like 3rd and long when they knew we were going to throw the ball, he probably wasn't going to be on my side just because of the way they lined up on their defense. But like I said, you've got to prepare like you're playing the best player on your schedule every week, and I guess he's probably in the top of that category for the 12 games that we've got."
Q: What are some obvious and maybe not so obvious ways that you've noticed the defense improving over the last three weeks?
McGLINCHEY: "Well, obvious, they haven't let up as many points, so that's always definitely helpful. But the not so obvious ways you've seen since January. I think I've said this multiple, multiple times, I was expecting great things out of our defense coming up this season, and a lot of people were not. The way that they've worked since we got back here in January, since the end of last season, you knew there was something that was going to be better, and it's the way that they come to work, the kind of guys that they are, and the trust that they have in our new staff over there. The staff and the players have worked tremendously hard to get in sync, to get in unison and prepare the right way and have great game plans for our opponents, and the players for the most part have executed those game plans.
"I can't be prouder of our defense and they way that they have stepped up. They've kept us in games the entire time -- the entire season so far, and I only expect more of that to come from them and the group that they have over there."
Q: Is there an example you can give that I don't know if you noticed during a game or even in practice where you see someone, one of your teammates, make a play, and you're like, that would not have happened last year.
McGLINCHEY: "Well, I think that we went over it in our team meeting on Monday. It was a 14-13 game at halftime -- what was it, 14-10 or 14-13 at halftime against Boston College, and you know, typically in situations like that, we went 3rd and out a bunch of times against BC to start the half or to end the half and didn't get points when we wanted to get points and stalled drives, and a lot of times last year that didn't really equate to good things for Notre Dame. And our defense stepped up, whether it be Sean Crawford with his turnovers that he created, whether it be Julian Okwara, Daelin Hayes, Jay Hayes with a sack, or the middle guys like Nyles, Te'von or the four interior linemen like Myron had a huge play on a 4th-and-1 stop that comes out of a true freshman 3 technique that you kind of just sit there and say, okay, we've got something going here.
"It's one of those things that you're really, really pleased to see and really happy for those guys because they've put in that work, and it's finally starting to pay off a little bit."
Q: In your career I was curious how you've learned to deal with nerves, jitters, like the mental side of things, not necessarily just like overcoming a mistake, but just big stages, hostile crowds, all that kind of stuff. When did you get comfortable with that?
McGLINCHEY: "I don't even know if I am to be honest with you. You always have those pregame jitters. It doesn't matter who the opponent is, whether it be Temple, Georgia, Boston College or Michigan State going up there. You always have that pregame or that Thursday night/Friday/Saturday morning kind of like, okay, we're getting ready to play a football game again. I guess I deal with it okay because I can go out and play, but you never really get rid of that emotion. You can't really -- it's just about, I guess, learning to put it aside and learning how to focus on what you really need to control, and that's your job, blocking everything else out, and then the more you get into the game, the more the nerves start to settle down. You know that first drive you always feel a little antsy, a little something extra behind it, and then as soon as you get that first hit on your body, like as an offensive lineman or a first catch as a receiver or something like that, you know, it kind of starts settling down for you.
"It's definitely a nervousness, it's definitely an excitement that you deal with from Thursday on. It starts to build up even more. But the way you've got to control it and the way that I've learned to control it is just through preparing the best that you can and knowing that you've done everything that you can throughout the week to make sure that you're going to be okay on Saturday -- not just okay but thrive on Saturday. So that's kind of where I've -- in the preparation and then just by focusing on the smallest things that you can focus on, and then that kind of takes care of itself."
Q: Sort of in context with Brandon because he's got a lot more to look at and process every play, how do you think he's dealt with that, and how do you try to help him as an offensive lineman besides the blocking part of it?
McGLINCHEY: "You know, I try not to involve myself too much with how guys deal with what they're dealing with, especially with the quarterback. He's got so many voices in his head -- not in his head but in his ear on our football team that he doesn't need mine. Brandon has done a great job with leading our football team. When things haven't gone his way, his demeanor is flawless, and he's just one of those kids that you love being around, especially in times like that.
"You know, he certainly had his lumps on Saturday in the first half, and then took over the football game. You know, so it's just one of those -- he's just one of those guys that he's in full control at all times, and I don't need to say anything to him. In fact, more of the time it's him saying something to me to calm down than it is me saying something to him."
Q: This is the last game in probably a while for Notre Dame and Michigan State. There's no future games scheduled. Is this a series that you think Notre Dame should try and continue and find a place for it, and if so, why?
McGLINCHEY: "Absolutely. I think all the big rivalry games and the trophy games that we have are so important to our tradition and what Notre Dame is and who those other programs are. Like I said, as an offensive lineman, I love playing against Michigan State. I love the kind of game that it is. It's always the toughest game -- one of the toughest games, one of the biggest fist fights that you're going to have to be in just because of the way they play and who they are as a team. You know, it's just something that you don't like to see fade away. You want that kind of a game and that kind of an atmosphere and that kind of a tension to continue. It's good for the programs. It's good for the sport. It's just good for you as a player individually, to get to be able to have these kinds of experiences. But whatever scheduling happens is not my call, it's way above my pay grade, and Notre Dame gets the best of the best every year, and no matter who we're playing, it's going to be a good year."
Q: How does a night game on the road differ from a day game on the road or night game at home?
McGLINCHEY: "I guess it gives a lot of opposing fans a lot more time to drink, so maybe it makes it a little more challenging, a little more rowdy because of that. But you know, it's challenging -- Michigan State is one of those schools that's just a huge fan base, Big Ten school, rowdy group. You know, and their team reflects it. It's is a lot of fun to be able to go on -- like the true test that I ever had was Clemson in my junior year. I saw what Florida State was like. I saw what the Big House was like. And going there, it just provides a lot more of a different type of feel and a different type of emotion that is injected into the game just from the crowd. And it makes it more fun. It makes it a little bit more distracting if you let it.
"You know, you never have a lack of energy, that's for sure."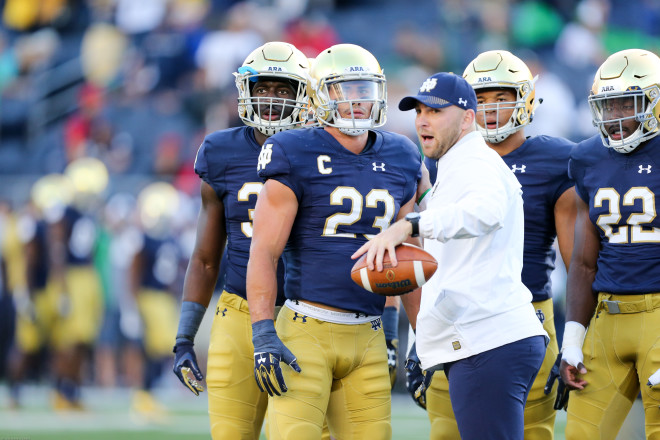 ROV DRUE TRANQUILL
Q: What does a road win last week do for the confidence of the team going on the road again this week?
DRUE TRANQUILL: "You know, it was our first road game, so I think for the young guys to get the experience and old guys to experience a win on the road after not having many in a while, I think was big, and we'll learn from it and move forward into this road game."
Q: What do you feel you still have to do better?
TRANQUILL: "I think we just need to play from start to finish. We showed flashes of brilliance, and we showed flashes where we're up 35-13 and we let their offense march right down the field and score, and that's not acceptable as a defense. So just playing with a laser focus throughout the entirety of the game I think is definitely an area we've been focusing on this week."
Q: What's part of your road routine where you go on the road and you feel like you need to do this, this and this before kickoff?
TRANQUILL: "What's my what?"
Q: Your road routine, what you do away from here before a game.
TRANQUILL: "I mean, I don't change up too much from road to home. I think we do a good job of we go to the Doubletree downtown and stay in a hotel, so it feels similar. Obviously you have the plane and the travel, but in terms of my routine, I don't really change much up. I like my Epsom salt bath the night before, and I like taking my cold shower before the game. Just kind of stays consistent."
Q: Except you don't get a plane this week, you get a bus.
TRANQUILL: "Exactly, we get a bus."
Q: Playing a night game on the road, is there a little change to playing a day game on the road, and does that move up your Epsom salt bath?
TRANQUILL: "Yeah, my Epsom salt bath is going to be Friday night like usual, but I think we've already had a night game this year. We kind of stick to our routine of having a walk-through and meetings, and so the schedule of the day stays pretty consistent from week to week. We like to develop that as a team, have a routine game in and game out."
Q: It was obvious leading up to the season that you guys were a better defense entering the season; now that you've played three games in this defense for Coach Elko, what do you think that you've improved upon as a unit defensively? TRANQUILL: "I mean, I think back to this past game, and it just seems like I like guys' preparation a lot more. I think when big moments arise in the games, we're able to execute, and we haven't allowed the moment to get the best of us. I think back to sudden changes when we come out in the second half against Boston College and our offense fumbles the football and we're faced with we have to bow our necks and we were able to make them kick the field goal; I think the 4th down stops with Te'von and Myron getting incredible penetration there and coming up with the 4th down stop. So I think just our execution in big moments and our ability to get off the field and sudden change and not allow the other team to get momentum I think has been huge. But it's a consistent message. We just want to execute within our role, execute within the defense on a week-to-week basis."
Q: How about in terms of stamina and strength as you go into the fourth quarter? Do you feel a difference now compared to the past?
TRANQUILL: "Absolutely. I remember walking around telling guys as the fourth quarter came this past week, I was like, I feel great, and guys were absolutely in agreement with that. We feel strong. Our legs feel -- obviously you don't feel fresh in the fourth quarter, but you feel good and you feel ready to go, and that's definitely different than maybe how we felt in some games last year."
Q: It's also obvious that collectively you guys are a better tackling team, but Coach Kelly mentioned when we talked to him on Sunday that he was not real happy with some of the missed tackles along the way. How difficult is it to be a consistent tackling team series after series, game after game, different style of athlete you're going against, et cetera?
TRANQUILL: "Yeah, I think it's more difficult when you're under duress and under fatigue, definitely. Tackling is. It's all about body position and making sure your pad level is low. And so as you get fatigued, I remember talking to Greer, and he's like, man, I missed a tackle, I was just so fatigued. So I think learning to play under duress and under fatigue is key for that, and I think our coaches do a great job of putting us in those situations during practice, which is probably why we've seen better results in the game. We play with a higher intensity. We play more physical in practice. We really emphasize fitting the ball carrier, and that can be eight guys on a given play fitting the ball carrier, whether it's in pursuit, and so shout-out to our scout team running backs. They do have to take a beating when all the guys are fitting the ball, but I think emphasizing that has really shown in the games and our ability to tackle well."
Q: Two weeks ago you had the one-two punch with Georgia, Michigan State will use three. How do you assess those three backs, and are there significant differences among them, or are they -- they're all pretty powerful backs.
TRANQUILL: "Yeah, you know, they all bring their traits. L.J. Scott is going to be a little more downhill, want to get north and south, whereas their other backs may be a little bit more shifty, but they definitely complement one another well, and it's definitely -- whenever you play a team with multiple backs, I think you see it on our offense, they're able to potentially wear the defense down by keeping each other fresh, and so we're definitely putting an emphasis on being physical and tackling yet again this week as we go to face great backs again. We've already done it this year on multiple occasions, and so we're looking forward to the next challenge, and they obviously present that."
Q: Michigan State Coach Dantonio likes to do -- they had R.J. Shelton last year where they kind of like jet sweep action --
TRANQUILL: "Believe me, I know, I missed a tackle."
Q: They've got a new guy this year, Stewart, who is probably even faster. TRANQUILL: "Yeah."
Q: What are the keys to containing them?
TRANQUILL: "I think it's just guys understanding their assignment and playing with great leverage. When guys want to get their eyes in the backfield, that's when you tend to get reached and tend to lose your leverage and the ball gets outside. So as long as each guy does their role, we'll have a guy for the jet, we'll have a guy for the zone, and if those guys execute, we'll be fine."
Q: You mentioned Greer a moment ago; he seems to fly under the radar a little bit outside of around here, but what is his value on that defense, and what kind of teammate is he?
TRANQUILL: "Well, first, he's an incredible teammate. He's a guy that I think everyone on the team absolutely respects in the highest regard. He's a guy that relates well with absolutely every guy and is an incredible support and rock for every guy on the team.
"In terms of his playing ability, he's almost as versatile as they come: Fast, physical, can line him up at multiple spots, and he can get the job done. I mean, geez, he had, what, 10 tackles last week, played on three of the four special teams, is just making plays all over the field for us. And so he really brings a lot of value to our defense. Extremely smart kid, able to teach the young guys, and just continues to thrive in his role defensively. He's a guy that doesn't necessarily want to be in the spotlight or want a lot of praise, he just wants to get the job done and do it with his boys.
Q: What are your memories of last year's game?
TRANQUILL: "With Michigan State? I mean, it was one of my worst games in my career, I think, and so I have a bigger, I think, chip and mentality going into this game. I was very disappointed with the way I played against them last year and disappointed at the way we played against them as a team. But we can't control that. We can control what happens this Saturday, though. We can control our preparation heading in. So our focus isn't so much on the outcome of last year's game as it is controlling what we can control heading into this game."
Q: How far do you feel you and this defense have come from that point a year ago? TRANQUILL: "That would take some reflection on my part. I think we try to focus on the moment and focus on daily improvements on being better than we were yesterday. So if I reflected and looked back on how we've improved day-to-day from last year, I think I would see significant improvement, and we all see significant improvement, obviously, in the results that we're getting defensively.
"But we're focused with getting better today. We've got gritty Wednesday today, and we've got to go make our improvements from attitude Tuesday yesterday in order to be the best team we can be coming out this Saturday."
Q: This series is going away for a little bit, obviously a while because there's no future games scheduled. Do you think this is a game that's important to be on the schedule in the future, and if so, why?
TRANQUILL: "I mean, I've enjoyed playing Michigan State in the time I've been here. It's a great rivalry, a great game. I know guys enjoy it. But in terms of scheduling, that would have to be taken up with Jack Swarbrick and crew. I don't really speak too much to that. I know they do a terrific job of putting together great games and putting us on great stages in a year-to-year basis, but Michigan State is a great program, historic program, and we always enjoy it when we get to play them.
Q: What do you enjoy about playing them?
TRANQUILL: "I mean, I think they're just a tough, physical football team. It's what you come here to do. They're a perennial big Power Five school, and to have the opportunity to play them, just a great coach, a great program, it's always a great game, and so we always look forward to playing teams of that caliber, and we'll look forward to the rest of the season the rest of our career."
Q: You were asked about the difference between a road night game and home night game, but what about atmosphere-wise, the difference between being in a road game at night versus a road game during the day or a home game at night? Is there a difference in that do you think?
TRANQUILL: "I mean, maybe the fans come in a with a little more excitement for night games just because it's primetime or whatever. So you'll definitely feel the energy of the crowd a little bit differently. But as games tend to go on, it seems to level out, whether you're playing at 3:30 or whether you're playing at 8:00. The consistency of everything kind of coming in -- I said it last week, but equilibrium, it always tends to happen. You definitely feel a different type of energy early, but it tends to kind of level out."
Q: Another guy who had a great game against Boston College, Shaun Crawford, two picks. From what you've seen from him in practice, was it just a matter of time until he had a big game?
TRANQUILL: "Yeah, he's playing -- this is his fifth game and he's got three interceptions? The kid is a baller. He's a great friend of mine. I love Shaun. I really respect him and the work that he does, the preparation that he puts in, and it's exciting for people to finally see his hard work paying off because, I mean, the two and a half, three years he's been here, people necessarily haven't seen all the work he's been putting in because he hasn't been on the field much, but it's cool to kind of see that come to fruition."
Q: I was curious about sort of the nickel looks that you guys have been in in 3rd and long. It's been highly effective. Why do you think that works so well? What do you like about playing with that personnel group, especially with Trumbetti, Hayes, Okwara and Tillery in front of you?
TRANQUILL: "Yeah, they're able to get after the passer, which makes it easier on the back end to cover guys. I think adding Shaun to the mix has been very effective for us, and his ability to shut down the slot receiver, which is huge for quarterbacks in college who can't necessarily throw it outside as well as NFL passers could. But a lot of teams like to work the slot. They get to like on the Mike linebacker with three, and so we've just been able to vary our looks. Coach Elko has an incredible scheme and we can throw different looks. We've got guys that can get after the passer and guys that can cover, so when you put those together, it tends to give good results."
Q: I'm sure you felt like that was going to be an advantageous situation for you guys, anything and long is good, but have you guys been even better in that set than you would have thought?
TRANQUILL: "Absolutely. And I think you hit it there in terms of the idea as a defense is to get the offense in 3rd and long, and I think we've done an incredible job on 1st and 2nd down to put teams in that situation, which has allowed us to be effective on 3rd down. And so we'll continue to move forward with that idea of stopping them on 1st and 2nd down and putting them in just advantageous situations so that we can then open up our entire playbook to throw them on 3rd and long.
Q: How much of maybe a difference is having Daelin and Julian out there because I don't think in the past you guys have had multiple body types like that that could really just fly to the edge.
TRANQUILL: "Yeah, I definitely think it probably complicates the offense's protection a little bit in terms of who they're going to slide to. If you slide away from one of them, you're putting one of them on a back, and so I think just having the ability to have multiple pass rushers out there can confuse the offense's protection a little bit and complicate it."
Q: Can you give maybe a specific example of a play that you or one of your teammates has made over the last three games that kind of shows that this defense clearly is different and you guys are playing much better, where you maybe thought, wow, we would not have done this last year?
TRANQUILL: "I mean, I think back to the 4th down stop this past game against Boston College where they kind of hurry it up and we're rotating personnel and trying to get people lined up and they snap the ball and we're all not even necessarily set, but two or three guys absolutely penetrate the gap, Myron and Te'von comes up with a big stop for us, so just our ability to execute within our game plan and guys making big plays in big moments is probably a big difference."
Q: Did you have like any sort of just internal reaction after that, like huh, we didn't do this last year?
TRANQUILL: "Definitely not in the game. I wasn't thinking that. But it was exciting to have the stop. I think I was more excited to get our offense back on the field and give them the opportunity to score again. And so that's more so what was going through my mind."