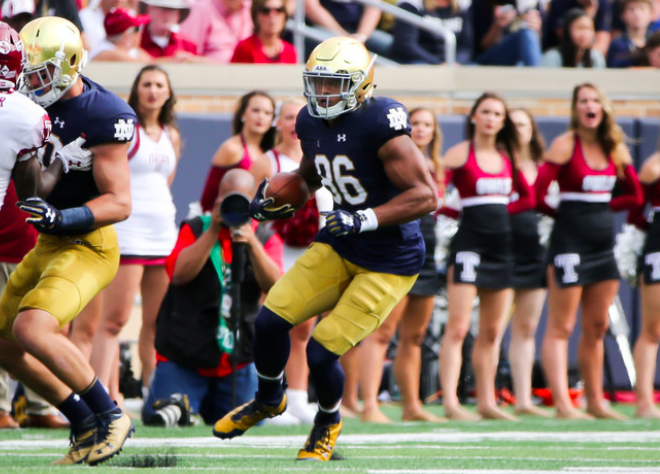 Notre Dame and Michigan State square off this weekend in what will be a huge matchup for both teams. The Irish are looking to win back-to-back road games for the first time since 2015, and the Spartans are looking to show 2016 was just a fluke.
Blue & Gold Illustrated has brought you analysis of this matchup all week, but now it is time to make our predictions.
Lou Somogyi, Senior Editor
Seldom does Notre Dame cruise in Spartan Stadium, and I'm not expecting it to happen this season, either. Like at less talented Boston College last week, Notre Dame needs to weather the probable early storms in this one before finding its rhythm in the second half or fourth quarter against a better program than the Eagles.
PREDICTION: Notre Dame 31, Michigan State 23
Bryan Driskell, Football Analyst
I am having a hard time picking between what should happen and what I think will happen. What I think will happen is these two teams battle for 60 minutes and whoever has the ball last will do something to come away with the win. This Notre Dame team still has a lot to show me, and as much as I would like to say 2016 is out of my system, it isn't. Notre Dame should have whipped the Spartans last season, but the opposite outcome happened.
What should happen is a Notre Dame team with far more experience and more top-end talent than the Michigan State team should be able to impose its will on the Spartans. Notre Dame should be better along both lines and its skill players are more experienced. If the Irish play their game, play clean and play better early than they did against Boston College this should be a comfortable win.
Ultimately, my prediction is more about what should happen than it is what I expect to happen.
PREDICTION: Notre Dame 31, Michigan State 16
Corey Bodden, Recruiting Reporter
Both teams will be prepared for this one and ready for a physical battle. Notre Dame has the revenge factor, but Michigan State had plenty of time to prepare for the Irish with a bye week.
The Spartans will likely load the box and force Brandon Wimbush to prove he can be consistent throwing the ball and stretching the field. Notre Dame will have to keep Michigan State honest on defense and get much more than last week's performance against Boston College. Notre Dame's wide receiver group will present a Spartan secondary group, which lost multiple starters, their first test of the young season.
It will be no surprise to either fanbase if this game comes down to one score which is what I expect. Both teams still have a lot to prove, but Notre Dame has played a much better schedule to date and that in the end will pay dividends late. Notre Dame gets a stop late to pull out the a hard-fought victory.
PREDICTION: Notre Dame 28, Michigan State 27
David McKinney, Recruiting Reporter
A night game on the road is never the ideal environment, and we'll find out Saturday night if this Notre Dame team can pass the first big night road test of the season. The biggest matchup I'll be looking at in this game is Michigan State's secondary against Notre Dame's receivers.
The Spartan secondary has been a question this season, and if the Notre Dame receivers can finally break out, I think this is a game the Irish can win. There's no worry about Notre Dame's run game, we know that from last week. If the offense can click in every aspect, Notre Dame should pick up a second straight road win.
PREDICTION: Notre Dame 30, Michigan State 21