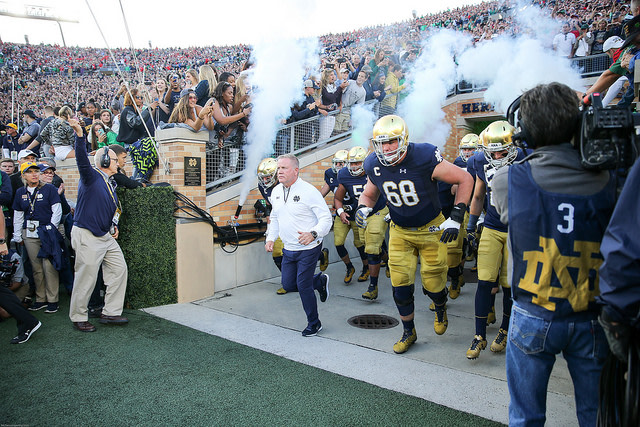 10 Seasons since Michigan State has recorded back-to-back victories against Notre Dame, which happened to be the first two years under head coach Mark Dantonio in 2007 (31-14) and 2008 (23-7). He will attempt to repeat the feat this year after winning 36-28 at Notre Dame last season — and the two teams are not scheduled to meet again until 2026-27.

9 Running plays this year by Notre Dame through three games that have gained at least 36 yards (five of them over 60 yards). In 12 games last season Notre Dame had only seven rushes of at least 36 yards (with two more than 60 yards, both in the final two games by Josh Adams).
8 This will be Notre Dame's 8th game ever on Sept. 23, with the previous two also coming at Michigan State. On this date in 2006, the Irish rallied from a 37-20 fourth-quarter deficit on a rainy night to win 40-37. On this same date in 2000, Michigan State had its own drama when it scored late on a 68-yard touchdown pass on 4th-and-10 to Herb Haygood to win 27-21. Both of those Notre Dame teams went on to play in major bowls, the 2000 team in the Fiesta and the 2006 edition in the Sugar.
7 Ranking nationally of Notre Dame senior Tyler Newsome in punting average with a 47.3 mark. More significant is the Irish are 14th in net punting (43.83) after finishing 106th (35.28) in that category last year, and the field position aspect has aided Notre Dame's defense. Michigan State is 54th in net at 39.67.
6 Places from the bottom Notre Dame is nationally in passing efficiency this year. The Irish mark of 94.60, which includes only 5.1 yards per pass attempt and a 49.5 percent completion percentage, is 124th out of 129 teams, ahead of only BYU, Rice, Charlotte, Georgia Southern and Army. Meanwhile, Michigan State has allowed only 112.0 yards per game through the air to rank 8th nationally.
5 Ranking nationally of Notre Dame in rushing yards per game (330.7), the same as junior running back Adams individually in yards gained on the ground (443). His 147.7 yards per game rushing is ahead of the school record 130.6 set by Vagas Ferguson in 1979.
4 Michigan State head coach Mark Dantonio is 4-4 against Notre Dame since taking the Spartans job in 2007, winning last year 36-28 in Notre Dame Stadium. He, Stanford's David Shaw and Alabama's Nick Saban own the most victories against the Irish among current coaches — with three of Saban's also coming at Michigan State from 1997-99.
3 Third-down conversions given up — in 28 attempts — by Michigan State in its first two games this year, versus MAC foes Bowling Green and Western Michigan. That .107 percentage ranks No. 1 nationally. The Irish are 84th on offense in converting third-down situations (.375) — but Notre Dame's defense isn't bad in that category either with a No. 16 ranking (.255) after three contests.
2 Michigan State ranks second in most victories ever against Notre Dame with 29, behind USC's 37. Notre Dame leads the all-time series against the Spartans, 48-29-1. Only Navy (90 games), USC (88) and Purdue (86) have played the Irish more often than the Spartans, with whom they will clash the 79th time tonight.
1 Notre Dame has gone 17 consecutive football game without recording back-to-back victories — a dubious streak that ties for No. 1 at the school with the 1958-59 Irish teams. After last week's 49-20 victory at Boston College, it needs to win this week at Michigan State to not stand alone with 18. Notre Dame has not won two in row since November 2015 when it defeated Wake Forest (28-7) and Boston College (19-16).