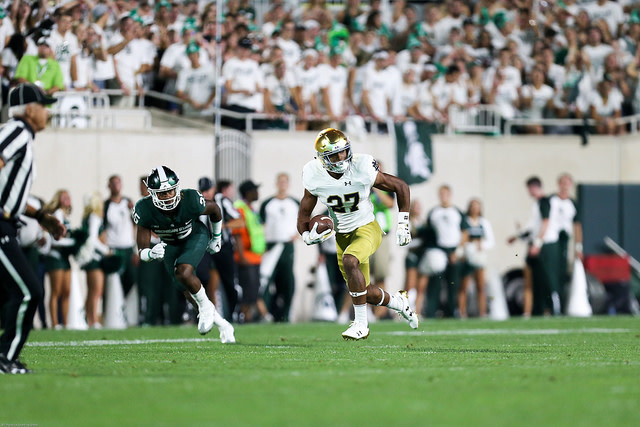 Famed American writer Mark Twain is often credited for popularizing the saying: "There are three kinds of lies: lies, damned lies, and statistics."
Notre Dame's decisive 38-18 victory versus Michigan State on Saturday night in East Lansing provided more evidence of the latter.
The Spartans out-gained the Fighting Irish 496-355 and possessed the ball seven minutes longer, but those numbers nowhere reflected Notre Dame's far greater efficiency all around.
Far and away the most relevant data from the game was that Michigan State committed three turnovers that resulted in 21 Notre Dame points, while the Irish did not commit any turnovers. Those Spartan miscues resulted in a 28-7 halftime lead for Notre Dame, which was not threatened thereafter.
Within the game's first five minutes head coach Brian Kelly's team was up 14-0, highlighted by a 59-yard interception return by sophomore cornerback Julian Love. Two more crucial Spartan turnovers — one in the Irish end zone for a touchback — in the first half resulted in Notre Dame touchdowns, and the Irish defense also made a fourth-quarter goal-line stand.
"The story here is defensively we're taking the football away," Kelly said. "We hadn't been able to take the football away over the last few years. We're taking it away, and then we're opportunistic.
"Rushing yardage doesn't really matter much. Passing yards don't matter much when you can take the football away and they capitalize in the red zone on them. Those are the real numbers when you get down to it, because they equal points and point differentials — and they equal winning football games."
Junior quarterback Brandon Wimbush reflected the efficiency of the Irish with a mostly conservative but productive 14 of 20 passing effort for 173 yards. He also opened the scoring with a 16-yard draw on the opening possession while Notre Dame amassed 182 yards rushing. Wimbush finished with 52 yards rushing on eight carries to complement his passing.
"We can probably move on that he can't throw it," said Kelly of the criticism his quarterback had received regarding his passing acumen after his first three starts. "He's got the ability to do a lot from that position. He's just growing. He hasn't arrived, but he did some really good things at the position that helped us become efficient on offense."
"I thought I delivered the ball the way I know I could," said Wimbush of the Irish passing attack that entered the game ranked No. 124 among 129 teams. "They definitely made the plays. Even out the backfield…Dexter Williams had a great catch in the end zone. Shout out to my surrounding cast. They did a hell of a job making plays when their number was called."
Here's the quarter by quarter synopsis:
FIRST QUARTER: Notre Dame 14, Michigan State 7
Top Moment: In the first 4:27, the Fighting Irish went ahead 14-0. First they took the game's opening series 78 yards in just six plays, capped by Wimbush's 16-yard touchdown on a draw. He also completed four of his five passes for 62 yards, most notably a 41-yard toss to a diving junior Equanimeous St. Brown on a post route right before the touchdown.
On the ensuing series, Love read an out pass and timed his break perfectly for a 59-yard interception return for a touchdown.
Top Performer: In addition to his touchdown, Wimbush completed five of his seven passes for 74 yards during the first 15 minutes.
Stats: Notre Dame had 102 yards total offense while the Spartans' 18 plays netted 100 yards.
Items: Michigan State drove 75 yards and scored at the 6:33 mark on a four-yard pass from quarterback Brian Lewerke to Darrell Stewart Jr.. A 52-yard "quarterback sneak" by Lewerke on third-and-one on a bad fit by the Irish defense set up the score.
Senior rover Drue Tranquill recorded a 10-yard sack for the Irish on the third series and would finish with six stops in the first half.
SECOND QUARTER: Notre Dame 28, Michigan State 7
Top Moment: With Notre Dame leading 21-7 and 6:21 left, Michigan State running back L.J. Scott headed for a 15-yard touchdown — but had the ball punched out by junior nickel Shaun Crawford near the one-yard line, before Scott broke the goal line plane. Crawford then also recovered the loose ball in the end zone for a touchback.
Top Performer: Junior running back Dexter Williams scored both touchdowns in the quarter, the first from eight yards while straddling the sideline on a third-and-six pass from Wimbush with 9:32 left. Then at the 4:47 mark he tallied on a 14-yard sweep to the left side.
Stats: Michigan State had 221 yards total offense (121 rushing, 100 passing) to Notre Dame's 209 (99 rushing, 110 passing). But the most significant number was the Spartans had three turnovers that led to 21 Irish points, while Notre Dame had no turnovers.
Items: Irish senior linebacker Greer Martini forced a fumble by scrambling QB Lewerke that sophomore drop end Daelin Hayes recovered at the Spartans 23. Six plays later Williams caught the pass that put Notre Dame ahead 21-7.
THIRD QUARTER: Notre Dame 35, Michigan State 10
Top Moment: Sophomore running back Deon McIntosh scored his first career touchdown at Notre Dame on a nine-yard sweep, giving Notre Dame a 35-10 advantage with 7:46 left. The drive was 62 yards.
Top Performer: Sophomore Irish receiver Chase Claypool had two catches on the scoring drive, highlighted by an outstanding, leaping 27-yard catch along the sideline while keeping one foot in-bounds.
Stats: Michigan State had 97 yards total offense in the quarter while Notre Dame had 88, but the Irish still out-scored them 7-3 to extend their lead.
Items: The opening drive of the second half saw Michigan State settle for a 40-yard Matt Coghlin field goal at the 11:13 mark to reduce its deficit to 28-10.
FOURTH QUARTER: Notre Dame 38, Michigan State 18
Top Moment: With 9:52 left, Notre Dame made a goal-line stand to stop a Michigan State drive that went 81 yards and used 8:33 off the clock. The Spartans had a first-and-goal at the four and netted minus-two yards the next four plays.
Top Performer: In these final 15 minutes, Spartan quarterback Lewerke completed 14 of his 21 passes for 165 yards and a touchdown while playing against a prevent defense because the game was well in hand for Notre Dame.
Stats: The Irish had only 58 yards total offense in the quarter while basically keeping the clock running and attempting only one pass.
Items: Junior kicker Justin Yoon rounded out Notre Dame's scoring with a 45-yard field goal with 4:51 remaining to end a 66-yard march (aided by a 15-yard personal foul penalty on the Spartans) and extend the lead to 38-10. Michigan State followed with a 71-yard touchdown drive and two-point conversion, with running back Gerald Holmes taking a 25-yard screen from Lewerke for the score at 3:09.