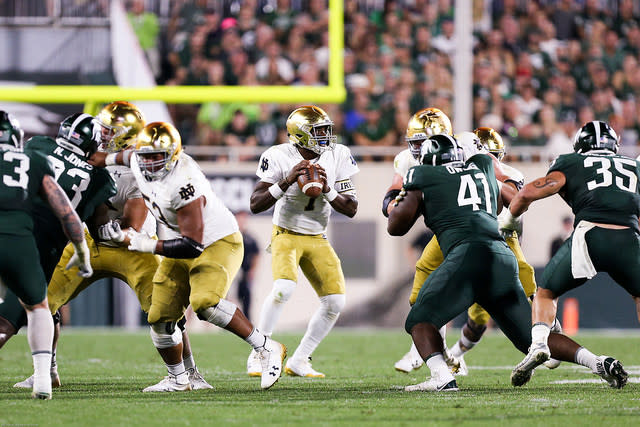 2 Consecutive victories posted by Notre Dame after defeating Boston College (49-20) and Michigan State (38-18). That was a first since November 2015 when the Fighting Irish defeated Wake Forest (28-7) and Boston College (19-16) to improve to 10-1.
Since then Notre Dame went 17 straight games without winning back-to-back contests, tying the school record set in 1958-59 (last eight games of 1958 and the first nine of 1959).
4 Times Notre Dame has played Michigan State on Sept. 23 — including this year — and in each of the previous three the Irish went on to play in a major bowl. The first was in 1989 (a 21-13 victory), when Notre Dame defeated No. 1 Colorado in the Orange Bowl. The most recent prior to now was 2006 (40-37) when the Irish fell to LSU in the Sugar Bowl. In between was a 27-21 loss at Michigan State in 2000, but Notre Dame still finished the regular season 9-2 and was invited to the Fiesta Bowl, where it lost to Oregon State.
5-2 Record for Notre Dame in its last seven visits to Spartan Stadium, dating back to 2002, including 2-1 under head coach Brian Kelly. Under Kelly the Irish lost 34-31 in overtime in 2010 on a fake field goal in overtime, but won in 2012 (20-3) and this year to give him a 4-2 ledger overall against the Spartans. The two teams aren't scheduled to meet again in a home-and-home series until 2026-27.
11 Running plays this year by Notre Dame through four games that have gained at least 30 yards, including 32- and 30-yard scampers by junior quarterback Brandon Wimbush and junior running back Josh Adams, respectively, at Michigan State. The Irish totaled only seven runs of at least 30 yards all of last year in 12 games. Plus, five of the 11 such runs this year also covered at least 60 yards. There were only two in 2016, both by Adams in the final two contests.
18 Games that had passed since Notre Dame last scored a touchdown on defense — until sophomore cornerback Julian Love's 59-yard interception return early in the first quarter. The most recent defensive score by a Fighting Irish player was defensive end Andrew Trumbetti's 28-yard interception return in the 28-7 win versus Wake Forest on Nov. 14, 2015.
The most recent interception return for a score by a Notre Dame defensive back was Bennett Jackson on a 34-yard tally at Purdue in a 31-24 victory on Sept. 14, 2013.
21 Points that Notre Dame led by at halftime (28-7). That was the worst halftime deficit Michigan State faced since the Jan. 1, 2011 Capital Bowl loss to Alabama, when it trailed 28-0 at halftime.
19-19 Represent the number of trips and scores by Notre Dame in the red zone this year. It remained perfect against Michigan State by scoring four touchdowns all four times it penetrated the Spartans' 20-yard line. The Irish were tied for No. 1 nationally in that department entering the game, but especially impressive is that 17 of the 19 scores have been touchdowns. The Irish were 6-for-6 a week earlier at Boston College, with all of them touchdowns.
124 Ranking of Notre Dame among 129 Football Bowl Subdivision teams in passing efficiency (94.60) entering the Michigan State game. The only teams behind the Irish were BYU, Rice, Charlotte, Georgia Southern and Army West Point.
That statistic should rise appreciably in the coming weeks, beginning with Wimbush's 14 of 20 performance for 173 yards, one touchdown and no interception against the Spartans, which was almost a 160.0 rating.
1983 The last season in which Notre Dame recorded back-to-back victories by at least 20 points in another team's home stadium —until the 29- and 20-point conquests of Boston College and Michigan State the past two weeks. Head coach Gerry Faust's third Fighting Irish unit in 1983 recorded consecutive victories at Colorado (27-3) and South Carolina (30-6) — and then would defeat Army the ensuing week on a neutral field, 42-0.
Turning Point
With Notre Dame leading 21-7 and 6:21 remaining in the first half, Michigan State running back L.J. Scott broke through the middle and was headed toward a 15-yard touchdown run — when Irish junior cornerback/nickel Shaun Crawford met him at the one-yard line and punched out the football. Scott almost fell on it in the end zone, but when he was unable to secure it, Crawford hustled to pounce on it for a touchback.
Notre Dame then responded with a quick 80-yard march capped by junior running back Dexter Williams' 14-yard scoring run. In a span of 1:34, the game went from Michigan State potentially cutting its deficit to 21-14 to the Irish extending their cushion to 28-7, and that was for all intents and purposes the ball game.
Stat Of The Game
Michigan State committed three turnovers — all in the first half — while Notre Dame had none. More significant was that the Fighting Irish turned the miscues into 21 points — the difference in their 28-7 halftime advantage.
It began with sophomore cornerback Julian Love returning an interception for a 59-yard touchdown to make it 14-0 five minutes into the contest. A forced fumble by senior linebacker Greer Martini on scrambling quarterback Brian Lewerke that sophomore drop end Daelin Hayes recovered set up a 23-yard touchdown drive to make it 21-7. When Spartan running back L.J. Scott fumbled into his end zone that Crawford recovered for a touchback, that resulted in another Irish touchdown march.
Brian Kelly's Take
After generating only 14 turnovers all of last season (104th nationally), the Irish head coach noted that three were produced in each of the last two games on the road versus Boston College and Michigan. That raised the total already to 9, a pace that would put them at 27 (nearly double) at the end of the regular season.
"The story here is defensively we're taking the football away," Kelly said. "We hadn't been able to take the football away over the last few years. We're taking it away, and then we're opportunistic.
"Rushing yardage doesn't really matter much [in tonight's game]. Passing yards don't matter much when you can take the football away and they capitalize in the red zone on them. Those are the real numbers when you get down to it, because they equal points and point differentials — and they equal winning football games."