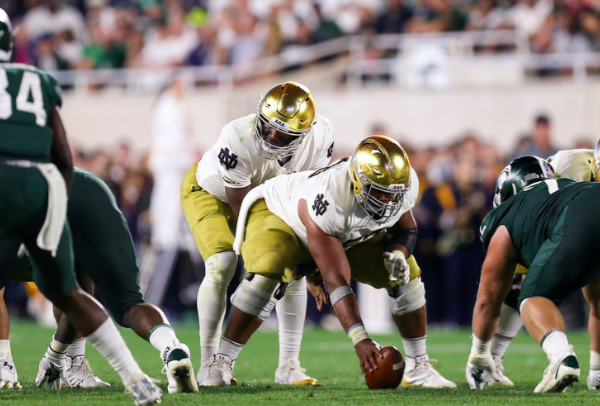 Notre Dame continued its strong start to the 2017 season with a 38-18 road victory over Michigan State, which improved the Irish to 3-1 on the season. It was the second-straight double-digit road victory over a Power 5 opponent, and a long-time rival.
Below are the snap counts for the Irish offense and defense.
OFFENSE
A few notes:
* A defensive touchdown, a 24-yard touchdown drive and the blowout victory resulted in all but two starters (TE Durham Smythe, RT Tommy Kraemer) receive a season low in snaps.
* Junior running back Josh Adams hurt his ankle in the game, so he only played three snaps in the second half.
* With Adams banged up, sophomore Tony Jones Jr. out for the game and junior Dexter Williams a bit hobbled late, sophomore Deon McIntosh stepped in and took 18 snaps. He scored his first career touchdown in the game.
* A week after missing the Boston College game, senior Cameron Smith was back in the starting lineup, receiving 29 snaps in the game.
* Junior wideout Miles Boykin played a season-high 22 snaps against the Spartans.
* Senior offensive lineman Jimmy Byrne played three snaps in the game, marking the first time he stepped on the field for the Irish.
DEFENSE
A few notes:
* For the second straight week, the Notre Dame defense was on the field for 85 snaps against an opponent. For the second straight week, however, the defense was able to get back ups on the field in a blowout victory.
* 29 different defensive players saw action against Michigan State.
* Sophomore end Daelin Hayes only played 36 snaps after getting banged up in the game. When Notre Dame went to its nickel defense he was replaced by sophomore linebacker Jamir Jones, who played a career-high 23 snaps.
* Through four games, Hayes and senior Andrew Trumbetti have received the same number of snaps (177), and Trumbetti has 37 more snaps than starting strongside end Jay Hayes.
* For the second straight game, junior nose tackle Jerry Tillery has taken over 60 snaps.
* Freshman defensive tackle Myron Tagovailoa-Amosa took a career-high 50 snaps, while classmate Kurt Hinish had a career-low two snaps in the game.
* For the second straight game, sophomore safety Jalen Elliott (57 snaps) has set a career-high in snaps.