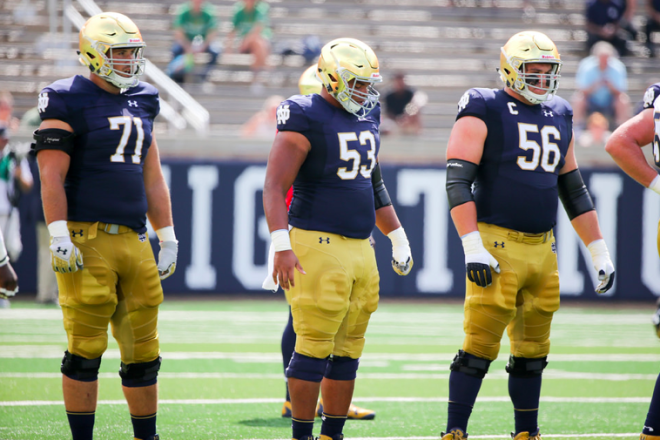 Notre Dame's offensive line was expected to be the driving force behind a bounce back season. Struggles against Georgia raised some concerns, but in the other three games – all victories – the Irish offense has averaged 373 rushing yards per game.
The unit has played with a bit of an edge the last two games, and it starts with arguably the top guard in the country – senior left guard Quenton Nelson.
"My evaluation of him as a football player is that he's extremely powerful, physical, can run," Notre Dame head coach Brian Kelly said of his All-American blocker. "He checks all the boxes. I don't know that there's anything that I would say here that would surprise you as a football player. Smart, instinctive, can pass protect. He's the real deal.
"Show me one that's better, and we'll have a good argument."
Nelson is a physically imposing player that came to Notre Dame as a five-star recruit, and he quickly showed that ranking to be quite accurate. The Holmdel, N.J. was dominant on the field, but he was quiet and shy off of it.
Now a senior captain, Nelson has emerged as one of the team's leaders.
"He's evolved and grown as a leader," Kelly noted. "He's done it by his choice. We've worked a lot together personally, he and I, on taking his strength as a leader, which as you can imagine, truth is his number one strength. He's very truthful, and you can take that any way you want.
"[Nelson] really worked hard on how he delivers that truth," continued Kelly. "It's been much more impactful across the board. He's a very effective leader because of that, and that's something that he's wanted to do."
According to Kelly, Nelson turned down an opportunity at the NFL to develop his non-blocking skills and traits.
"One of the reasons he came back was that he wanted to work on those skills, as well," Kelly explained. "Not only did he want to be a better and more complete football player, but he wanted to be a better leader, too, and he's worked really hard on that. I'm proud of him."
Nelson and senior left tackle Mike McGlinchey have been a strong tandem thus far in the season.
"Those two guys on the left side, stay away from those two," Kelly said of Nelson and McGlinchey. "I mean, they just, each and every week they have a mindset of wanting to dominate, and that's a pretty good thing."
Nelson and McGlinchey are getting most of the attention – rightfully so – but they are not alone when it comes to playing strong football this season. Senior center Sam Mustipher has put together four straight quality performances and has served as an anchor to the Irish line.
Mustipher was not quite as good against Boston College as he was in the other three contests, and it motivated him to be at his best against the Spartans.
"We do a highlight video of our offensive linemen, and he was not in the clips last week [against Boston College]," Kelly said. "Not that he didn't play great, because he played pretty good, but there were some hellacious hits from some other players, and he took that personal.
"He's all over this week's highlight clips, and that's the kind of pride he has in his performance," continued the Irish head coach. "… His ability to pull and his ability to snap the ball effectively, he's made great strides in that area. He takes great pride in it. He was really impressive on Saturday."
Senior right guard Alex Bars was also at his best against Michigan State.
"Alex Bars stays on his feet and plays with great balance and leverage," Kelly said of the Nashville native. "That wasn't necessarily the case last year."
The one question mark coming into the season was the right tackle position. Through four games, a pair of newcomers to the starting lineup have rotated each series. Sophomore Tommy Kraemer is the starter and freshman Robert Hainsey comes off the bench at the position.
Both young players are still developing, and Kelly likes the way the rotation has played thus far.
"That tandem is really now almost seamless in terms of how they're working together," Kelly said of his young right tackles. "Tommy – look, extremely physical, and that showed itself on film. He's throwing guys around, literally. Hainsey is a beautiful pass setter. He's about as flawless as a pass setter as there is in college football at his age.
I mean, he's a young player, so that's showing itself in practice, and it's translating into games."