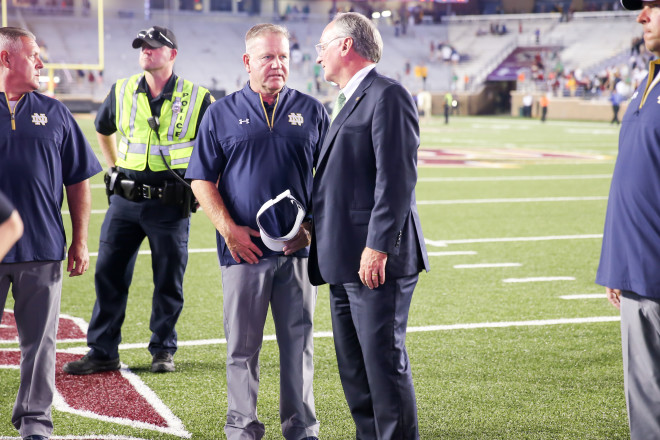 It's been a long three years at Notre Dame for junior defensive back Shaun Crawford. Well, certainly the previous two.
Crawford was hampered by injuries his first two seasons in South Bend. He suffered a torn ACL as a freshman that forced him to miss the entire campaign, and then he incurred a season-ending Achilles tendon injury two games into the 2016 campaign.
He is now back healthy and much like 2016, Crawford is making the most of his playing time. In six games played in his career (two in 2016 and the first four this season), Crawford has recorded three interceptions, two forced fumbles and two fumble recoveries, plus he ran back a blocked extra point against Texas in 2016.
Against Boston College, Crawford notched two interceptions. Against Michigan State, he forced a fumble at the goal line and recovered it in the end zone to halt the Spartans' momentum.
When the Irish were recruiting Crawford in the 2015 class, the entire staff wasn't sold on the 5-9, 176-pound Ohioan. But head coach Brian Kelly saw something in him and made sure to get him to Notre Dame.
"I knew what we had," Kelly said of Crawford. "I've said this a couple of times — I recruited him personally because of what I felt were his traits. We weren't unanimous on the recruiting of Shaun Crawford. That was a head coach take. And I'll take credit for it 100 percent. And I'm not here — and I don't mean that in any other way — I'm not trying to pat myself on the back.
"I'll take credit for it because there's more to this game than just looking at the size of one's stature. The kid plays the game in a manner that is so smart and savvy that I hadn't seen before. He had those traits that overcame two or three inches."
Several former Irish players such has Jaylon Smith and KeiVarae Russell have praised Crawford's play this season, and Kelly touched on why he feels that is.
"You know, when you're out there playing the game, the players know the guys that know the game, and he's got a huge football IQ," Kelly said of Crawford. "He's always got a great attitude, a spiritual center on him that attracts many people, just a great attitude, and people are attracted to people like that, that are always — it's always half full, not half empty.
"And when he had to deal with back-to-back years of injury, and you talk about a kid with grit, that's why he deserves everything that's coming to him right now."
DEFENSIVE LINE IMPROVEMENT
Thus far in 2017, Notre Dame's defensive line has noticeably improved under coordinator Mike Elko and position coach Mike Elston. The unit has recorded five sacks in four games after posting just three in 12 contests last season.
Head coach Brian Kelly is happy with the group's performance and what he's seen from the unit.
"I'd give them an A-minus," Kelly explained. "I think the minus is probably [because the defensive linemen have] lost a little bit of focus here and there at times, but their technique, their ability to use their hands, play with a much better discipline in terms of how they fit in our front seven is probably an A-plus. And then [it come down to] just maintaining that intensity, that endurance, that mental endurance that I talk about.
"That's the area that they have to continue to grow at. We're getting some pretty good edge pressure from our front four. We're getting batted balls, and we're getting the kind of integrity that front four needs relative to the run fits. Mike Elston has done a terrific job with that group."
It's a collection of players, in Kelly's eyes, that are helping improve the unit's play from last season.
"I thought that — as a group, as coaches, myself — we all underachieved," Kelly noted. "So, I don't know if we really painted the right picture. And so coming into this season, we had maybe higher expectations than everybody else. And then I think that through our preparation, we've been able to really see that this group could continue to grow and be better each and every weekend.
"What we ask them to do and what Mike [Elko] is coaching them to do has really fit very well with the position group. … We've gotten some really good play from some freshmen, emerging players like Julian Okwara have done a nice job, and then some veterans are having their best year in terms of an Andrew Trumbetti.
"It's been a little bit of all of that coming together."
GAME STILL 'EVOLVING' FOR CLAYPOOL
Sophomore wide receiver Chase Claypool has started the last two games for the Irish and caught four passes for 56 yards against the Spartans.
Head coach Brian Kelly is excited about what Claypool can add to the wide receiver unit, but knows there is work left to be done.
"You used a lot of words in [your question]: elevated, flashes, where could he be. I think all of that," Kelly said. "I'm in between flashes and wanting to elevate. It's one game. We think he's capable of being a very nice piece to putting our wide receiver corps together. As you saw, he's big, he's athletic, he can catch the football, we can get some nice matchups with him.
"But he's a young player that, quite frankly, the game is still evolving for him. But really like the way he ran and caught the football, made that initial defender miss and got us the yards after the catch. Excited about Chase, love his work ethic during the week, and hope that it becomes elevated and it continues to grow."