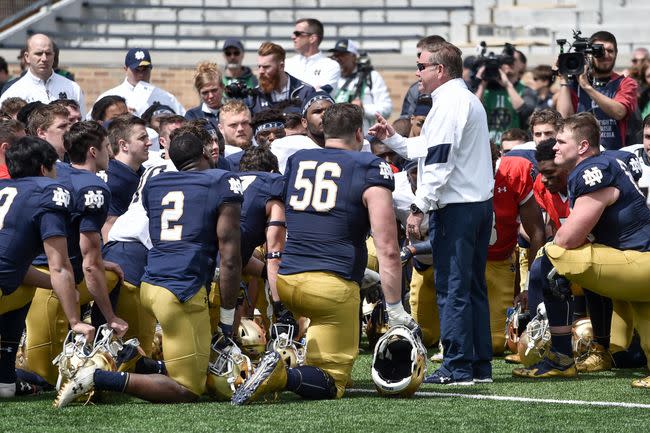 Notre Dame is one of three Football Bowl Subdivision (FBS) schools — along with UCLA and USC — that has not played a Football Championship Subdivision (FCS) school.

Knowing that it will likely have to play as many as 14 or 15 games almost every season (when including the College Football Playoff), the University of Alabama annually schedules such a contest, facing Mercer this year (Nov. 18) just to give itself a breather late in the year when championship fever begins. Same with reigning national champion Clemson, which will host The Citadel on the same day.
With a regular 12-game schedule and no league playoff to have to concern itself with, Notre Dame would do itself a disservice with the College Football Playoff committee by scheduling an FCS team.
However, that doesn't mean it cannot once a year include at least one Group of Five — American Athletic Conference (AAC), Conference USA (CUSA), Mid-American Conference (MAC), Mountain West Conference (MWC) and Sun Belt Conference (SBC) — team on the docket for a regular 12-game slate. That has been part of the modus operandi since 2008 and 2009, when MWC teams San Diego State and Nevada, respectively, were scheduled as the openers.
• In 2010, head coach Brian Kelly's first season at Notre Dame, Western Michigan became the first MAC team to be on the Notre Dame regular season schedule since 1920, when it also was the Broncos.
Also in 2010 Notre Dame hosted CUSA member Tulsa — which stunned the Irish with a 28-27 defeat.
• In 2011, South Florida — which became an FBS member only 10 years earlier — pulled another shocker when it upset the Irish in the opener (23‑20) despite finishing 4-7 the rest of the year.
In 2013, a 2-10 Temple team was scheduled as the opener, followed by Rice to begin the season in 2014.
In the same way that Notre Dame tries to have its bye week fall in mid-October to coincide with fall break, thereby allowing the student-athletes some down time to go home and decompress, it also has scheduled a form of a "sacrificial lamb" game early in the season — without the opponent coming from the FCS. The MAC is likely to be a popular alternative.
• In 2015 it was UMass, which began the transition period to the FBS in 2011. The Irish won against the then-MAC member (now independent) Minutemen, 62-27.
• Last year for the home opener it was Nevada, whose head coach Brian Polian was now the Irish special teams and recruiting coordinator. Notre Dame won 39-10.
• This year , the Irish face Miami (Ohio), which begins a new string of MAC opponents visiting Notre Dame Stadium. It is a mutual convenience because for the Irish it should be a "scheduled W" without having to play a return date at the other team's home stadium, and for the MAC school it's a huge pay day, a relatively short trip and an opportunity for a "Rocky-like" moment for the school as the heavy underdog.
• In 2018, Ball State comes to South Bend on Sept. 8 following the Irish marquee opener versus Michigan.
• On Sept. 14, 2019, New Mexico — now coached by 1997-2001 Notre Dame head coach Bob Davie — and Bowling Green (Oct. 5) are on the schedule. This is the year that Notre Dame athletics director Jack Swarbrick admits is a bit overscheduled with road games at Louisville (on Labor Day), Georgia, Michigan and Stanford, not to mention hosting arch rival USC.
• For Sept. 19, 2020, Western Michigan was recently announced, with the Broncos' pay day reported to be $1.175 million, per the Detroit Free-Press.
• On Sept. 11, 2021, the Toledo Rockets are scheduled to come to town.
Nevertheless, as Tulsa and South Florida have proven in the past decade, nothing can be taken for granted.
Miami (Ohio) actually was scheduled to be the opener in 1997 when the first addition to Notre Dame Stadium was unveiled. However, to have a "bigger name" for that opener, the RedHawks were replaced with Georgia Tech, and the Irish instead scheduled a basketball series with Miami (Ohio) as part of the compensation.
With 12-game regular seasons now the norm, lining up a Group of 5 member among them also is likely to become a tradition, especially among the MAC.