A few of Notre Dame's captains were available to the media this afternoon.
Below are the complete transcripts of all four players available: linebacker Greer Martini, offensive tackle Mike McGlinchey, linebacker Nyles Morgan and rover Drue Tranquill.
LB GREER MARTINI
Q: What's the reason you think the team has made the changes with the turnover ratio improved? What kind of things are you guys doing in practice that maybe you weren't doing last year that has helped you in that category?
GREER MARTINI: "Yeah, so every practice we have a period that's dedicated to turnovers called the turnover circuit, so every single day we're practicing, so it's become kind of engrained in what we do, and I think that's helped a lot."
Q: I know you guys treat every game the same, but considering how the game against Michigan State unfolded, a pretty thorough physical handling of them over 60 minutes, do you think that that performance can be a demarcation for this program or something that can be carried over moving forward?
MARTINI: "Yeah, I think so. Definitely when you beat a good opponent like that, that can transfer over, and we want to continue to treat each Saturday like we approached the Michigan State game. We were ready for that game, and I think going forward we're going to prepare like that for each and every week."
Q: And I know every team, every coach wants to -- no letdowns, same level of enthusiasm from one week to the next. You've played three straight physical teams, and obviously expended a lot of emotional energy last week. Realistically, how do you carry that over? What are the buttons that you push in order to achieve that? MARTINI: "So I think reach week you've kind of got to take a deep breath after each Saturday. Coach Kelly stood up in front of us and said, hey, take a deep breath, this was on Monday, and then we've got to get back after it. So just kind of putting all that, getting all those emotions, it's just like a high stakes game, and then just to kind of take a quick breath, and now we've got to get back after it."
Q: We just asked Nyles about the defensive line and what they've done up to this point. It was pointed out that the top four linebackers, including Drew at rover, are the top four tacklers, so obviously you guys are getting some pretty good run fits from that D-line.
MARTINI: "Yeah, I think the D-line has done an amazing job. It's allowed us to make more plays this year and us to be more effective, so the D-line has done an amazing job at that, and also, too, it's our job as a linebacking corps to take double teams off them quickly so they can be productive, as well, so it goes both ways."
Q: Can you notice a significant difference in the ability to get the run fits, the ability not to or to be able to avoid offensive linemen in your face which obviously makes your job very difficult?
MARTINI: "Yeah, I think that just knowing where you've got to be and doing it quick doesn't allow you all that time to get blocked, and I thought at times in the past it had been like kind of buzzing our feet, not really knowing where we needed to be. So this scheme allows us to play fast, and we kind of just fit the gaps, and that allows us at times to go out and block."
Q: I know I'm asking you to go back a few years, it was a challenge for Nyles, but when you were being recruited by Notre Dame, who were the main assistant coaches that recruited you, and who made the greatest impression on you?
MARTINI: "So my recruiting was Coach Booker, who's no longer here, but he came to visit me at Woodbury Forest multiple times, and he was kind of the main guy that kind of came each and every year and kind of got me to Notre Dame."
Q: Anybody else maybe during a visit or something that made a strong impression on you?
MARTINI: "Yeah, so when Coach Diaco came to my school, as well, and that was a big impression. He came to like a spring practice and just interacting with him was a big influence on why I came here."
Q: What do you see from the Miami quarterback that makes him such a challenge and makes him so talented?
MARTINI: "Yeah, I think that he's a smart kid, can run the ball, is athletic, and I think he makes a lot of really good decisions."
Q: Do you think he's, from what you're seeing, the best quarterback you'll have to go up against so far this year?
MARTINI: "I think that we've seen a lot of good quarterbacks. I can't really tell you it's the best quarterback we've seen, but he's a good quarterback, that's for sure.
Q: And then through four weeks with the defense, obviously the turnovers have been so huge that we've talked about, but what are the other areas of growth that you've seen from you guys from the start of the season?
MARTINI: "Yeah, so I think that I've talked about this before, but I just think from a level of confidence, I think the defense itself just is playing a lot faster and trusting each other, playing one as 11, and just kind of doing your job because the guy beside you is doing his job."
Q: How does that carry over when that confidence continues to build each week? How does that help you guys as you get to the next game?
MARTINI: "So I think it frees you up to make more plays, so once you know where you're supposed to be, then when you get there, you can improvise and get to the ball because you know where you're supposed to be, so you're not worrying about your assignment as much as making a play."
Q: Obviously you guys have done very well on the road the last couple weeks, but are you looking forward to being back at home this week?
MARTINI: "Yeah, I think the guys can't wait. I love playing in our stadium. It's going to be an exciting game."
OT MIKE MCGLINCHEY
Q: I think there's a lot of talk about the left side and the right side of the offensive line. We never talk about Sam Mustipher a whole lot. How have you seen him performing this year in his evolution?
MIKE McGLINCHEY: "Sam has done a great job. Sam does a great job for us up front, not only just executing and blocking his ass off, but he controls what we do up front. Every call that we have goes through Sam. He identifies the fronts, he makes sure we're all on the same page, he's taking that role with a great responsibility, and he has done an awesome job and is going to keep growing, and the amount of work that he puts into this, the amount that he studies and the amount that he truly cares about himself being the best and helping us get to be the best, as well, Sam is an awesome guy, and he's an awesome football player, and more great things are going to come from him for sure."
Q: Besides what you guys are doing and run blocking and the tight ends, when you watch film, how much of an assist have the wide receivers been in that area so far this year?
McGLINCHEY: "I actually said that to Q this past week when we were watching film. I think that's one of our greatest improvements on offense this year is just noticing how our receivers and how our perimeter players are working and just busting their butt off to get down and stay on people and spring the big plays. I think that we hadn't seen that before, at least to the extent of what we're doing right now in the four years that I've been here, and that's a credit to Coach Alexander and all the receivers and Coach Long and having the mindset that they have right now in terms of doing whatever they can, whether it's the ball in their hands or whether it's blocking downfield to put points on the board.
"Our receivers have done a phenomenal job, and they've -- you just can repeatedly look on film, and you see them body on body down the field. It helps bring huge plays, and I think that one run by Dexter in either later in the second quarter or the third quarter when he wasn't touched for 15 yards until he got into the end zone because of guys being body on body downfield."
Q: You mentioned Quenton, and obviously we can see what he does on the field, but what is his personality like in the locker room and what is his leadership style like as a captain?
McGLINCHEY: "Well, I think Q leadership-wise is very truthful, very honest. He will never, ever sugar coat anything when it comes to what you're doing or the way he views something. He's extremely passionate, cares more than anybody on our team, and he is just as good as they get in terms of his preparation, and he makes sure that everybody else is coming along with him.
"Obviously as the player, there's nobody better in the country at what he does, and we think Quenton Nelson -- you can try and scour the country, but I'll bet you a lot of money you're not going to find somebody better than him, and that's because of the way he works, the way he leads, and the way he just goes out and balls. You have to commend Q for the amount of work he's done for four years now to put himself in the position that he's in, and the sky's the limit with him. He's just phenomenal across the board."
Q: Coach Kelly talked about how his leadership has developed going into this year and decided to come back for another year; have you seen differences with him in the way that he leads and the way that he communicates going into the season than in the past?
McGLINCHEY: "I think so. I think he is obviously like myself, Q is a very emotional guy, very passionate, lets it loose on his sleeve, and I think that's been the greatest area of maturity for him is he has now found a way when he's communicating and trying to lead, has found a way to properly communicate that across the board, whether it's to another offensive lineman, to a quarterback, to a DB, no matter who it is, Q is very, very good now at communicating what he wants done and what our head coach wants done to all facets of our football team. I think that's been the greatest growth of his maturity, and noticeably in terms of the off-the-field stuff, he doesn't let his emotions drive him as much as he used to, and obviously it's a battle for both me and him each and every day, but I think that that's been the greatest area of his improvement in terms of his leadership for sure."
Q: Obviously after the Georgia game you took great responsibility for the missed play, but as a unit, the offensive line got a lot of criticism after that game. Was that motivation for you guys over the last couple weeks to show people what you guys are really all about?
McGLINCHEY: "I don't think we let criticism drive us at all. I don't think we give it -- I was about to -- I don't think we give much of a crap about what anybody says about us or what's going on in terms of outside the world. We look at it as if we don't get our jobs done, we're the ones criticizing ourselves. We take a lot of pride in being the engine that makes this team and this offense go, and when that doesn't happen, then we have to make sure it does, and we've got to clean it up. Obviously we didn't have a lot of success against Georgia, but in terms of motivation from the outside world, we haven't looked at that at all. We know what we're about in our room, what we're capable of and what we're supposed to be doing, and that's all that matters with that."
Q: So you do have a bit of a filter?
McGLINCHEY: "Every now and again, yeah. It could get worse, believe me."
Q. So then I guess I should ask, was there self-motivation for the group? McGLINCHEY: "Absolutely. And that's the -- if you're not self-motivated, then you're probably not going to wind up being a good football player and especially not a good offensive lineman. That's the only thing that should drive you. I have it sitting up outside my locker is the man in the arena quote from Teddy Roosevelt, and it's just about the critics aren't the one who counts, it's the guy that's in there, blood, sweat and tears, and putting his work in each and every single day and leaving it all out there, and until you get to the point where you're perfect in your execution, which is never going to happen with football, then you stop working, but there's a great desire and there's a great responsibility in our room to be the ones that carry this football team and to play to the best of our abilities, and we're not going to stop working until that gets done."
Q: Obviously you guys have played really well on the road, but are you looking forward to being back at home in front of your home crowd this weekend? McGLINCHEY: "Absolutely. I mean, it's always great to play in Notre Dame Stadium. Obviously traveling takes a little bit more out of you, longer nights on the road and getting back and traveling back after games is obviously not very fun. Thank God we were on the winning side of it these last two weeks, but yeah, any time you're back in Notre Dame Stadium, back at home, family coming to town, that's why we come here. That's why we play. There's no place like it in the world, and we're excited to get back in front of our home fans."
Q: Coach Kelly mentioned that Miami's offense was kind of like Navy in terms of they really like to control the time of possession; how important is that for you guys as an offense to maximize your opportunities because of that?
McGLINCHEY: "Well, I think that's our goal every single time we go out and play football on offense is to be as efficient as we can be and put as many points on the board as humanly possible, and we believe that every time we touch the ball, there should be points on the board for Notre Dame. It doesn't really matter who has the ball longer, as long as we have more points at the end of the game, then that's all that matters."
Q: We've obviously seen a lot of Shaun Crawford the last couple of games. What has been your impression just the way that he's been able to come back from his injuries and make such a big impact?
McGLINCHEY: "I think it's the biggest example of heart in college football, I think, could be Shaun Crawford. He's just one of those kids that he just puts it all on the line every single day, doesn't let anything affect him. I mean, he's had more bumps in his path to success in college football than many of the players that I can even think of, and he keeps coming back for more. You have to give all the credit in the world to him and what he's able to do. He's a phenomenal football player. He makes plays all over the field, and on top of the fact that he's just a great guy, and we're lucky to have Shaun in our locker room. He's a positive influence across all assets of our team, and sky's the limit for him, as well. He's so good. He's such a good playmaker. He puts everything he has into his game and his preparation and to the way he plays, and you can see it every single time you turn on the film."
Q: Did you kind of notice his rehab process at all, kind of see him around and what he was doing to get back?
McGLINCHEY: "Absolutely, I mean, you saw him every day. He was grinding in the training room with Rob Hunt and his staff, and he treated that preparation and that rehab the same way he does his preparation in football, and that's why he's back after the traumatic injuries that he's had. He takes care of himself. He makes sure he's doing the right things and doesn't let anything get in his way of getting back and getting successful. "He's a perfect example of what everything that you want in a football player and in a teammate, and like I said, Notre Dame is lucky to have Shaun Crawford."
Q: Kelly was asked this yesterday, and I want to get your opinion, too, your assessment of the defensive line through four games?
McGLINCHEY: "They've done a great job, and I said this before the season and I'll keep saying it over and over again. Our defensive line is ready to play. They are a good group, and they've done a lot of great things for our football team already this year. They've made dramatic improvement from where they were. That's a credit to Coach Elston, Coach Elko and the guys that they have in their defensive line room, and they just keep going to work every single day. You can feel them getting better, especially as an offensive lineman, you can feel the things that they're doing to you. You can feel how hard they're playing, and you can see the fire with which they go about their business every single day, and it's translating to good success on the field, and only more of that to come."
Q: I'm not too sure I've ever heard somebody use an inspirational quote from Teddy Roosevelt; are there other people that have inspired you that you keep their quotes around?
McGLINCHEY: "I don't know, I'm not much of a quote guy, and I kind of almost regret saying that in front of everybody, but yeah, I mean, there's things that you look for just to get yourself a little juice. I don't know if -- I think the man in the arena really kind of came to me and actually was my best friend Hunter Bivin who kind of put it in my life, and I think he treated it out, but he had shared it with me previously. That was right after the Georgia game, and obviously I wasn't on my chipper spirits after that game and certainly had a lot of things to think about, and that kind of put it all into perspective for me.
"That's where I think I needed to grow the most is to block out the noise and to worry about myself and worry about how I'm going to get better and how I'm going to keep improving and helping our football team win. That's kind of my biggest challenge is spreading myself too thin and letting my mind get off the things that are really, truly important to me and what's going to make me successful, and I think President Roosevelt did a hell of a job with that one."
Q: I believe you guys are 100 percent in the red zone this year; has that been a focus from the coaches during training camp, and what makes you guys so successful once you get down in the red zone?
McGLINCHEY: "Well, I think just as a whole, we look to be as efficient as possible on offense, no matter what spot we're in. We obviously rep red zone. We rep two-point plays. We rep deep into the red zone, back in the red zone, whatever it is, to be prepared for those situations. I think that it comes down to the mindset that we have, when we're in that part of the field. We want to put our foot on the gas pedal and put points on the board, and we've been successful in doing that thus far, and I think it's just a great play calling, great execution, and the mindset of not letting anybody come in between us and the end zone."
Q: How was the run game different in any way, whether it's Josh or Dexter back there?
McGLINCHEY: "I don't think it is very different. I mean, I certainly don't know who's -- to be honest with you, sometimes I don't even know who's in the game when I'm lining up to play. They do the substitutions on the fly and all that. But both of them have their different talents. They're both different skill set, and both of them are great football players. They've become all-encompassing running backs at this point, and it's not just them running the ball through the holes and hitting the holes hard and scoring points and touchdowns and all that, but you see it in their blocking. You see it in their pass pro. They've taken a great amount of pride and responsibility with that, and they're sitting with us on Thursday, Friday, Coach Denson, Brandon and Tommy Rees, we're all working together to walk through blitz pickups and walk through different situations that we're going to see that's requiring them to do things without the football in their hand, and I think that's where I'm so proud of those guys and the evolution of their game that they've taken, because Coach Long puts a lot of responsibility on the running backs and definitely cuts them loose to where they need to be the engine for our offense and make plays, but at the same time, they're willing to stick their nose in when it's not their time to shine, and that's where the two of them have grown, I think, the most."
Q: When you looked at the Michigan State film Sunday and Monday, is that the best sort of overall team performance since what?
McGLINCHEY: "You know what, I really can't remember a time that we felt like that good about what we did and how efficient we were. I think we had 60 or so plays on offense and wound up with the 33 points, I think, or 32 points because one of them was a defensive touchdown. That's obviously a lower number than we're used to with Coach Long being our offensive coordinator, but I think we were very efficient. We didn't stall out like we had seen us do in the past, and everybody across the board was executing their job. And I think it was as clean of a game as we've had here in the past, and I think that that's got to be the standard, and until we match that week in, week out -- there's obviously still a ton of things that we can improve on, but that was definitely as clean of a game as I can remember here, and it certainly feels good, and we're going to do our darndest to keep it moving."
Q: I want to ask you about that. So if that's the standard, what's the hardest part about hitting that level, that peak level every week?
McGLINCHEY: "Just that it's college football. You have things thrown at you all different times, people have bad days, good days, but it's about being the same player and being the same team consistently throughout the way at all times no matter what. That's the best football teams and the best football players figure that out and take that with a lot of pride and make sure that nobody can tell what's going on with them, whether they have something going on in their personal life or they're not just feeling good that day. You have to step up, do your job no matter what at all times, and until you do that and that's the standard and you've got to try and meet that every single week."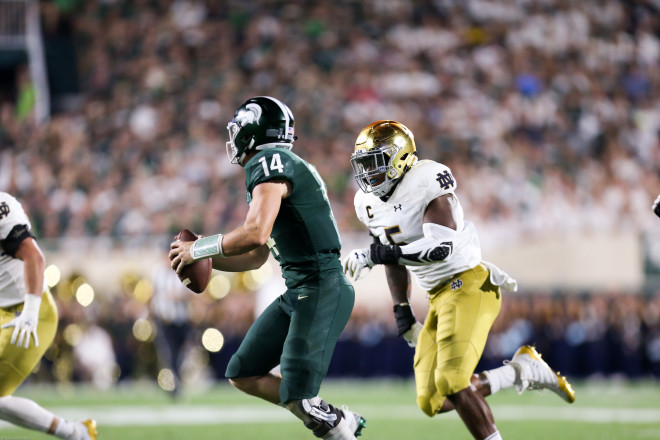 LB NYLES MORGAN
Q: I know you guys try to treat every game the same and I understand where you're coming from with that, but when you go to Michigan State and play a game like that against a physical program and do a pretty good job of hammering them over 60 minutes, is that something you feel that you guys can take and carry with you moving forward?
NYLES MORGAN: "Definitely. You know, I don't want to say that that was a statement game, but obviously it was one of our bigger games, and you know, it kind of set the tone for what we have to continue to keep doing, whether it's Miami of Ohio, North Carolina, USC, that sets the standard forward for what is yet to come
Q: And leading into that because Coach Kelly talked this week about what your mission is and how you guys want to be able to and should be able to avoid letdowns because of your commitment to the mission and the cause, but how difficult is that when you invest as much emotion and energy into a game as you did last Saturday, and really three straight very physical opponents in Georgia, BC and Michigan State?
MORGAN: "I mean, it's not hard at all because just, you know, all the hard work we put in this summer and for the guys who were here last year and this spring, that's not for nothing. We're doing it to win, and that's the mission."
Q: What assistant coach or coaches recruited you here to Notre Dame? Who were the most prominent ones? Who were you involved with most during that process? MORGAN: "That was like four years ago. It was Chuck Martin, Coach Kelly, Coach Diaco, Coach VanGorder, Coach Elliott, rest in peace. I love coach Elliott, he's my guy."
Q: A lot of guys have said that.
MORGAN: "Yeah, he was the best."
Q: Any Coach Martin stories from that experience?
MORGAN: "I liked Coach Martin a lot because he's actually from like the same area I was. He went to one of my rival schools, who we beat on all the time. But yeah, I like Coach Martin. He's a good guy."
Q: Why did Coach Elliott make such an impression on you?
MORGAN: "He was just so genuine with everything, you know. He kind of took things out of more of a -- well, more of -- not out of a football perspective but more of a -- how do I explain it? Like he understood that life is more than just football, as well, and he wasn't just a coach, he was a great mentor, a great person, and he was a great person just to learn from. He had a lot of wisdom, you know, and I always came to him when he was here, like wherever he was, I was like, any issue or anything wrong in my life going on, I could count on Coach Elliott to be there for me.
Q: Nyles, going back this year you've had great success and the defense has had great success making turnovers, and going back to last year, what little things are you doing and is the defense doing do you think that's helped make the change? MORGAN: "You know, Coach Elko is really big on turnovers, and he makes sure that we feel the same way about it, so you know, just putting that implication of every day in practice getting the ball out, punching, stripping. We work these mechanics every single day, so you know, it makes sense that it translates over to the field it you work it every single day. It's kind of like walking. You walk every day, you just learn how to walk."
Q: What is Shaun Crawford like? What's his personality like?
MORGAN: "I love Shaun, because like Shaun is always himself. Shaun is a guy who he brings great energy to this team and to this defense because in my eyes, everything he does is pure. He's not faking it. He's always himself, and especially on that field, you know, Sean brings -- Sean gives me energy, and I just give it back to him, and if he has enough energy, I'll just give it to somebody else. He's one of -- I look at Sean as a leader on the team, despite what anybody might say. He's somebody that motivates others, and if you can do that, then you're somebody of great value."
Q: Obviously we've seen a lot of him the last couple games; where have you seen him show just the most improvement having obviously missed the last couple of years? MORGAN: "I would say most improvement would be since the minute he got on the field. I mean, for me, you know, I've watched Shaun's process since he's got here, and he's always had that fire and ambition. He's been through a couple challenges, but when he touches that field, he -- like I say, ignites everyone else around him, and it's through his play making ability and through his energy and enthusiasm.
Q: What do you remember about what Shaun going through not only one recovery from a significant injury but two, and what do you remember about him during that process? How much was he around? I know he was around, but just the process that he went through to get back to this point.
MORGAN: "Shaun was here every day before anyone else, I think. Every time I got to Gug, Shaun was already in the training room getting treatment. Shaun was always after practice or after lift or anything we had going on, he was out there getting treatment. He's so dedicated to getting back at it without even saying a word. He's not a guy who tells you -- who does the talking or even has to talk. He shows it through who he is as a person, and him coming back from two injuries like that, he's still fighting what he does. If that doesn't motivate you, then I don't know what else would."
Q: What do you see from the Miami quarterback that makes him such a threat? MORGAN: "I think anybody who plays Division I football is a threat. We don't take anybody lightly. We're not that team that thinks, oh, yeah, he's okay. We take everybody seriously. He's very accurate. He's very athletic, as well, and he's, I'll say, one of the better players on their team from an offensive standpoint."
Q: They like to control the possessions; how critical is it for you guys as a defense to obviously try to limit their time of possession, being that that's one of their biggest strengths?
MORGAN: "Just like every other team, the faster the offense has the ball, you know, the less your defense is tired on the field and also the less that the offense is on the field since they're the ones usually scoring all the points. The more that they're not on the field, the better for this team."
Q: Obviously you guys have done an incredible job with the turnovers. What else about the defense do you think has -- I don't want to say improved, but what's the biggest steps the defense has taken since the beginning of the year do you feel to be at the point where you guys are at right now?
MORGAN: "Four games in, you know, I'll say the biggest steps I've seen is just consistency. Guys are game in and game out pretty much reenacting the same thing as last game. And it's not perfect, it's football, things happen, whatever. But overall guys are really honed into what they need to be doing."
Q: Does that improve the confidence each week when you see that?
MORGAN: "Yes."
Q: When you look at the team stats, three linebackers and a rover are the leading tacklers right now. What does that say about the kind of job the defensive line is doing in front of you guys right now?
MORGAN: "Really? I didn't know that. We don't really pay attention to stats too much. It's all about just really doing your job. Like in my eyes, stats don't really matter as much to me. Just for me personally I'm trying to do the best I can, but saying that, D-line is doing a heck of a job because the biggest thing for linebackers is when those guys come up to you too quick or guys getting not back into you, you can't get a good read, and D-line is doing an excellent job, like excellent job. If there are any mistakes, the three linebackers are there to clean it up. But they're doing an amazing job."
Q: And also just in times of Julian Okwara getting more and more playing time, how is his skill set and how important is he to the defense?
MORGAN: "As far as Julian, Julian is excelling, in my opinion, pretty quickly. He's catching on to things. The game seems like it's getting easier for him, and he has the skill set to be a really great pass rusher, and he's doing that. Wasn't he the first guy to get a sack; is that right? You guys would know. Julian is doing a heck of a job, as well. He's really come along, and I see his role growing more and more every game."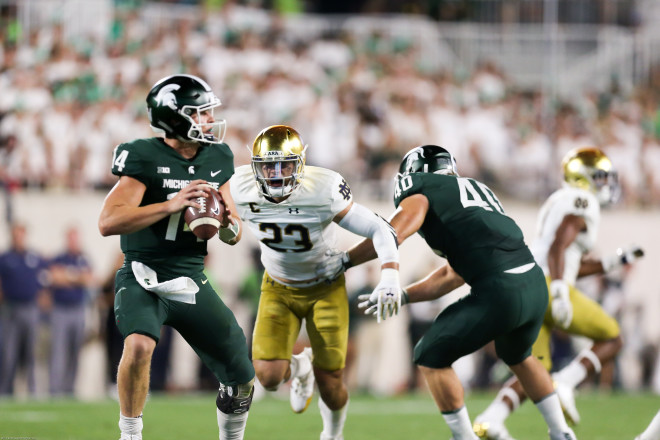 ROVER DRUE TRANQUILL
Q: Could you talk a little bit about the improvement as far as creating turnovers and what the reasons are for that, you think, from last year to this year?
DRUE TRANQUILL: "I'd say the reasons are because we practice it. I think it's a big emphasis. It's always been an emphasis of Coach Elko's since I stepped into his system. That's one of the three things we try to do and measure ourselves by on a game to game basis, and so we'll continue to work on that and continue to push that because especially when you can cause turnovers on the road and even at home, you give yourself a big advantage."
Q: What is Shaun Crawford like? What's his personality? Is he quiet, funny? What's his personality like?
TRANQUILL: "He's pretty similar to me, I think, personality-wise. He reminds me of myself, and maybe that's just because I went through injuries with him. But he's a resilient kid, someone who pays great attention to detail, I think, to his work, and cares a lot about his work, whether it's in the classroom or on the football field. He's constantly teaching me stuff I feel like in terms of football. He's very instinctual on the field.
"In terms of just the kid he is, he's kind of laid back, likes to goof around and just laugh. He's more reserved and more quiet, I think, than some of the guys on the team, but a great friend and a really great kid and a great teammate."
Q: What's an example of maybe something during practice or even a game where he taught you something?
TRANQUILL: "I just remember at Culver, we were watching, I guess, some of our one-on-one reps, and he was just -- I mean, he's one of our best cover guys on the team, and so he was just giving me tips on my footwork, on my pad level in and out of breaks, and just, I guess, keys into what the receivers' body languages are and their tendencies based on their alignments and stuff, and it was really helpful for me and my craft."
Q: Obviously we've seen just a lot of him the last couple games. How have you seen him improve just obviously coming back from those injuries? Where have you seen the most improvement?
TRANQUILL: "Yeah, I mean, I think that question is kind of hard to measure because with his injuries they were both early on in the season, so I think it was just a question of finally getting him healthy and allowing him to play games in a row, and I think we've seen his capabilities and seen what he brings to the table as a player. In just the few games that he's played, there was no question within this program and within our team what he was going to do when he finally got on the field, and I think everyone else is finally seeing that."
Q: As someone who, as you mentioned, has gone through his share of injuries, as well, how impressed are you with the way he has been able to overcome to get back to the level he is?
TRANQUILL: "I mean, any time you can overcome big injuries like that -- I think I have a greater appreciation for it having gone through it. It's rigorous, it's tough. There's highs and lows. There's points where you question is this really for me. But I think Shaun embodies the traits we preach on a day-to-day basis, our five traits of excellence. He embodies resiliency and grit, and so I'm very, very impressed with how he went through his process. You don't see a lot of kids like him, and I'm so happy to finally see his hard work come to fruition and pay off for him."
Q: For the defense as a whole, obviously we spoke about those turnovers, but what else have you seen over the last four weeks that has allowed you guys to grow to the point where you're at right now?
TRANQUILL: "There's just guys buying into their role, caring about their role, guys not trying to do it all, that I think some guys felt in previous defenses, and so there's not a pressure on a guy to make 10 plays in a game. It's Julian Love having a pick six; it's Shaun punching the ball out before the end zone; it's Greer causing a fumble and Daelin recovering it. It's our linebackers fitting their gaps properly, our D-line getting penetration on 3rd and short, 4th and short, all the small things that add on themselves, and so people just buying into their role and taking great detail to their role."
Q: As the team as a whole, can you remember being a part of a win that was such a complete start-to-finish effort?
TRANQUILL: "Man, I wish I could answer that with Florida State my freshman year, but that game didn't end the way we wanted it to. No, I'd say as complete a win as I've been a part of since I've been in the program."
Q: When you look at Miami's quarterback, what makes him so dangerous? TRANQUILL: "I mean, I think he's a tough kid, plays within the offense, takes care of the football, a competitor, someone who's on point with his footwork, is going to deliver the ball to his receivers, take care of the football, like I said, and then has the ability to escape the pocket and extend the play."
Q: They love to control possessions, the time of possession; how critical as a defense is that to not allow them to dictate that aspect of the game?
TRANQUILL: "I think it's huge. I think when you have an offense as explosive as ours, we want them on the field. I think that's important to get wins. And so that's our goal on a week-to-week basis is to get three-and-outs to get off the field so our offense can score points because that's how you win football games."
Q: The prevention of big plays has also been a major improvement of the defense this year. What do you think the biggest keys for that are?
TRANQUILL: "I think it's, like I said earlier, guys buying into their job. I think it's our corner and our secondary staying on top of the routes and making the quarterback check down. You know, we've allowed teams -- we gave up, I think, more yards than we wanted to, more yards than I'd like to in this past game. But when you force offenses in college football to drive the length of the field, they can't do it on a drive-to-drive basis, and they can't score as many points. When you start giving up explosive plays, an offense who can get 40-, 50-yard passes, it makes it a lot easier to get down in the red zone and be productive scoring points."
Q: And curious your perspective on Josh and Dexter in the run game in terms of what they're like to try to bring down. I know you're not in training camp anymore, but how are they different as you approach them as a linebacker? What do you need to keep in mind when you're trying to bring them down?
TRANQUILL: "I think what comes to mind first with both of those two guys is their explosiveness and their suddenness on any given cut. You can be pursuing them with an angle and then all of a sudden they kick it into gear and hit another speed and you're totally out-leveraged in your pursuit of them. I think they're strong at the point of contact, both of them, and just that suddenness and that burst that they bring, they're not necessarily very shifty backs, they like to get north and south, make their cut, but when they do, they're very explosive and it makes it difficult as a tackler pursuing."
Q: More similar than different then?
TRANQUILL: "I would say more similar than different, definitely. They're very similar, yeah."
Q: Just in terms of the performance at Michigan State, Brian Kelly used championship-level performance. Why is that hard to recreate, to sort of package that and then keep doing it the rest of the season?
TRANQUILL: "I think it's -- to play really good football I think is difficult week in and week out in college football. You're getting different things from different teams. Here at Notre Dame you get each team's best, and so I think in any sport, in any competition, to stay at your peak performance and stay at the pinnacle is different. It's difficult, and it's hard to sustain. And so to keep that type of energy level and to sustain that is difficult and something that we have to consciously be aware of moving forward, but I think it's something that we've trained and we've built since January, and we're trained to do that, and we're going to continue to do that, and we're going to continue to come with the mindset of come dating and punishing each and every one of our opponents."
Q: I'm curious if you could shed some light on how you try to do that this week. Now that you've seen what you can be, how is practice maybe a little bit different this week as you try to remind guys, hey, what we did on Saturday to be more of a standard?
TRANQUILL: "I think it's just awareness. I don't think anything -- I don't think the message necessarily changes in a week-to-week basis. It's the same message for us. Our traits of excellence, our routines, our preparation, and then Saturday is about welcoming our opponent to that total preparation. So the message doesn't change. Maybe this week coming off a big win against a rival, heading into this game, maybe it's a heightened awareness of hey, guys, we have to continue to pursue, continue to trust in the process, but it's a pretty consistent message on a week-to-week basis.
Q: You and three linebackers right now are the leading tacklers on this football team. What does that say about the play of the defensive line so far this year? DRUE TRANQUILL: It's great. Whenever they can make guys get off double teams, whenever they can get the penetration they are, it makes us easy to fit our gaps. It makes our run-pass reads a lot easier, and whenever they can stop the running back deep in the backfield, it allows us to pursue the football more quickly and get those tackles.
Q: Jerry Tillery is getting his share of tackles right now, but interior defensive linemen, sometimes things they do not show up in the stats. How has he graded out so far this year when you watch him on tape?
TRANQUILL: "I think Jerry has been great for us. I think specifically this year what stood out to me about him is his effort in pursuit to the football. He's made multiple tackles downfield, which is impressive for a 300-, 310-pound lineman, so to see him doing that and giving that spark to our team has really been incredible."