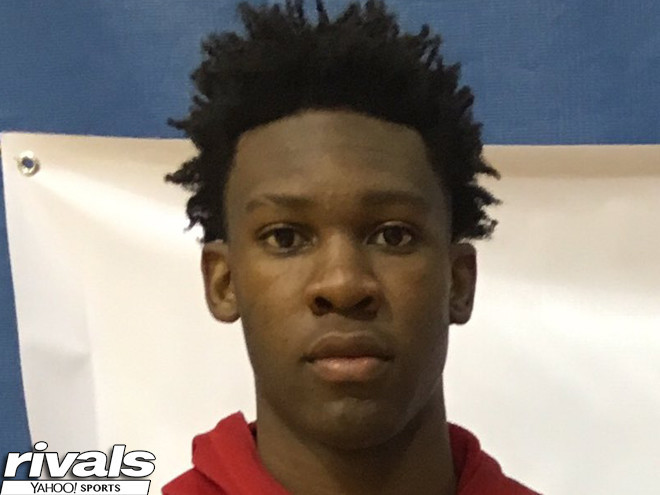 Fort Lauderdale (Fla.) Cardinal Gibbons defensive end Khris Bogle is one of the top players in the class of 2019, and on Tuesday, he picked up an offer from Notre Dame.
Bogle, the No. 9 weakside defensive end in the class and No. 169 overall player in the nation, said coming from a Catholic school made the Notre Dame offer a big one for him.
"It's really big," Bogle told Blue & Gold Illustrated. "I go to a Catholic school right now, and Notre Dame is a Catholic school My principal is really in love with Notre Dame. It's a great opportunity to have a scholarship from Notre Dame."
According to Bogle, the Notre Dame coaching staff started contacting the staff at Cardinal Gibbons following his sophomore season, and got in touch with Bogle himself after the 2019 contact period started.
Bogle said he's been speaking mostly with running backs coach Autry Denson, adding that the conversations have been different than any he's had with other college coaches.
"We really haven't been taking about football," Bogle said. "Most schools know I can play football, but he's trying to make me become a man and prepare me for the next level and how to grow up and provide for my family."
The four-star said he's been a big fan of the conversations with Denson because they've taught him some things he may well need down the road.

Ht: 6'5.0"
Wt: 215.0
Class: 2019
Commitment status:
undecided
"You never know," Bogle said. "On any given day your football career could be over with, so it's great talking to him."
Being in Florida, Bogle is obviously far away from Notre Dame.
However, the Floridian said distance won't be a factor in his recruitment.
"My mom always says 'wherever you go, just make the right decision," Bogle said. "She's not going to stop me from going where I want to go."
A month from now on Oct. 27, Bogle is planning on releasing a list of his top 10 schools, and said Notre Dame will likely make the list now that an offer is on the table.
There's a long time to go between now and the time Bogle signs with a school, but the young defensive lineman said he knows exactly what he's looking for in a school and a football program.
"Just a relationship that I've built with the coaches and seeing if I could play as a freshman," Bogle said. "And if my family likes it, that's a big factor."