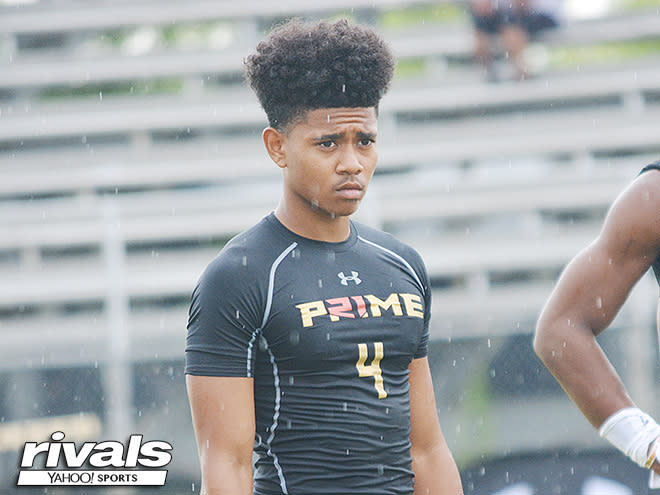 Notre Dame will host an impressive crop of talent on Oct. 21 when USC comes to South Bend to take on the Irish.
Xavier Player, a class of 2019 cornerback from Cibolo (Texas) Steele, will be in attendance, and said he's very much looking forward to seeing Notre Dame up close.
"I'm really excited," Player said. "I just want to learn everything they have to offer regarding education, football and the coaching staff."
The 5-foot-11, 160-pound Player said he's been receiving mail from Notre Dame lately, and was eventually invited to a game.
Player said seeing a game inside Notre Dame stadium was an opportunity he couldn't pass up.
"They basically just told me they were interested in me and they were inviting me to a game," Player said. "Me and my parents talked it over and we felt it was a great idea to take a trip out there."
According to Player, he's had his eye on Notre Dame for a while now, and has always wanted to see South Bend for himself.
"I felt like they were pretty interested in me," Player said. "I've always watched them growing up and I really like their program, so it will be great for me to go out there and learn even more about it."
Ht: 5'11.0"
Wt: 160.0
Class: 2019
Commitment status:
undecided
As it stands, Player doesn't hold any division one offers, but has been receiving interest from schools all over the country.
Player said eventually landing an offer from the Irish would be huge for his recruitment.
"It would be really big," Player said. "I've always really liked that program and it's a really big school. That would really mean a lot and they would definitely be one of my top schools."
Going forward, Player obviously hopes to earn more offers, and hopes to end up at a place where he feels at home.
"The biggest thing is just having a relationship with the coaching staff," Player said. "They'll have the best interest for me and I'll have the best interest in them, so I know that situation will work out great for me."