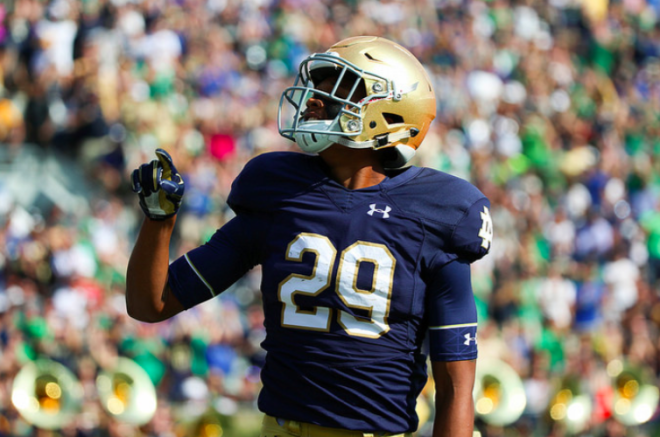 Notre Dame head coach Brian Kelly confirmed after Thursday's practice that sophomore wide receiver Kevin Stepherson likely will see his first action this season when the Irish face Miami (Ohio) at home.

A report from local news channel WNDU in August indicated that Stepherson would be suspended the first four games this season, although neither the University nor Kelly at the time would confirm or deny the news. Now that four games have been completed by 3-1 Notre Dame, Kelly stated that Stepherson, who last year had one of the best freshman seasons by a receiver for the Irish, will be back.
"He'll be limited in action," said Kelly of what he projects for Stepherson against Miami (Ohio). "He's doing a better job. His cumulative work is such that he just doesn't have the volume, but he's been doing a much better job in terms of the day-to-day attention to detail and just his focus — the traits that I've been talking about with him. He's better, but don't expect him to be playing a high-volume game."
Kelly also confirmed that Stepherson began practicing with the varsity, as opposed to just the scout team, last week during preparations for the Michigan State game. His expectations for Stepherson are more about the long term than the immediate.
"He's got great explosion, take-off, he can run by anybody we play against," Kelly said. "Elite speed. He's got to work on his concentration skills and his focus. He'll drop a ball here or there just because he's not locked in the way we need him to be."
The Irish head coach reiterated how proud he of Stepherson for not only meeting the demands the football operation has placed on him since January, but that he also stuck it out at Notre Dame rather than take the easier option of transferring.
"This has been a long haul for him," Kelly summarized. "He's had to do a lot to get himself here. Off the field he's made significant progress — and then he's got to work his way up the depth chart, too. We're not going to accelerate that. He's going to have to earn that, and that's going to take time, too.
"Probably what I'm most proud of him is his grit and sticking with it. He could have kicked the can, if you will, and said, 'Hey, I'm gone, I'm going to transfer.' But he knew that Notre Dame was a place that could change his life. I think in a large degree it has in many ways and continues to every day."
Kelly said Stepherson's main position remains the X, where graduate transfer Cameron Smith has received the bulk of reps, with freshman Michael Young and junior CJ Sanders also in the rotation.
Stepherson caught 25 passes last season as a freshman for 462 yards — 18.5 yards per reception — and five touchdowns. Only Michael Floyd in 2008 caught more TD passes as an Irish freshman, snaring seven.
Practice Notebook
• Kelly touched on the status of the Irish running backs heading into Saturday's game against the Miami (Ohio) Redhawks.
"Josh Adams, he's 100 percent," Kelly said. "Took the majority of his first-team reps. Each week it's kind of monitoring how much volume we give him. Tony [Jones Jr.] took the number two reps. We really cut back on Dexter [Williams]. Dexter was kind of in Tony's positon last week, so he'll be a game-day decision. Deon [McIntosh] got the third team reps."
Williams incurred an ankle injury last week at Michigan State.
• Sophomore defensive end Julian Okwara is tied for the team lead with 1.5 sacks and has been active with his pass pressure in the nickel package.
"We're pleased with what he is giving us in our sub-packages," Kelly explained. "The fight with Julian has been body weight and maintaining that body weight for first and second down. He's done a pretty good job there. I think what's surprised us more than anything else is he continues to show really good improvement in the weight room. He's surprisingly strong — that kind of shows that trait in the way he plays.
"He can get his hands on you now. If you really watch tape of him, he's not just a guy that's going to bend. He'll be able to punch you in the chest too and push you back. So, he plays with some physicality and his numbers show that. When we look at his numbers just from today in terms of his hand-clean work, he's up there. Even though he's not in that 250, 255 range, at 230, 232 he's got some real strength. Really pleased with what he's doing."
• A lot of talk following Notre Dame's 38-18 win over Michigan State focused on a missed targeting call on Michigan State linebacker Chris Frey against Irish quarterback Brandon Wimbush. The Irish sent the play in to be reviewed and it was confirmed what they already knew.
"We heard from the ACC and the Big 10," Kelly said. "It was clearly missed."
• Senior defensive tackle Daniel Cage is taking a medical redshirt this season after suffering multiple concussions throughout his career and a knee surgery this summer. Kelly was asked about Cage and where his football future stands.
"We've given him the opportunity really to focus on his academics," Kelly said. "That's been really, for me, the most important thing is to see that he gets his degree this year. Then we can figure out whether football is still an option for him.
"I think he's feeling pretty good … In January, if we feel like we wanted to restart this, we would sit down and have that conversation."
Kelly also mentioned that Cage has "very little involvement" with the Irish strength and conditioning program.
• Kelly was asked whether the topic of what is transpiring in the NFL in regard to the silent protests has come up with his team.
"No. I meet with them every week and that has not been an agenda item," he replied. "They haven't brought it up to me. Whatever we would do, they are students here and we respect the fact that they have the opportunity to free think and be who they are."
The Irish head coach added that he would be open to conversation if the student-athletes wanted to engage in it, but there also is a line to be drawn about this not being an individualistic topic.
"I'm also a football coach that runs a team and I would like to have that discourse in a team fashion," he said. "We'd like to be able to do things as a team, but some things you can't control totally as well. They're students and we would respect that.
"I think that's the struggle that from a distance that I see that's going on right now. You've got a team sport that it's hard to put the team parameters on individuals that want to be able to have their voice. It's a tough mix there.
"… Coaches would like to do things as a team. There are individuals that obviously have been outside the team on certain things. That's why coaches have to decide how we're going to do this. Are we doing it as a team or we just letting individuals be individuals?"