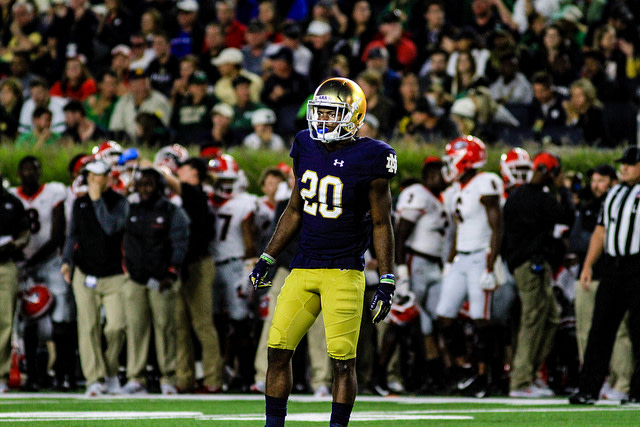 There is no "C" on junior nickel Shaun Crawford's jersey to represent a captaincy on Notre Dame's 2017 team.

Yet when it comes to providing motivation, a work ethic model and playmaking skills, nobody better embodies what rebounding from the collective 2016 woes this year's Fighting Irish are attempting to achieve than Crawford does from an individual standpoint.
"Everything he does is pure," said one of this year's seven captains, senior Mike linebacker Nyles Morgan. "He's not faking it. …He's always had that fire and ambition. When he touches that field, he ignites everyone else around him, and it's through his playmaking ability and through his energy and enthusiasm."
Another captain, senior rover Drue Tranquill, said Crawford's instincts on the field and fundamentals — footwork, pad level, keys into reading tendencies, etc. — are unparalleled on the team.
"He's constantly teaching me stuff in terms of football," Tranquill said. "There was no question within this program and within our team what he was going to do when he finally got on the field, and I think everyone else is finally seeing that."
One of the three smallest scholarship players on the team at 5-9, 176, the "Little Big Man" Crawford received the game ball from head coach Brian Kelly in the 38-18 victory at Michigan State when his game-changing hustle from the back side not only enabled him to punch the football away from Spartans running back L.J. Scott at the Irish one-yard line, but Crawford finished the play by recovering the loose football in the end zone for a touchback.
A week earlier at Boston College, a tight second half in which the Irish led only 14-13 at one point, was broken open with two interceptions and a fumble recovery by Crawford from his nickel position.
In the first five full games Crawford has played at Notre Dame — the 2016 Texas opener and the opening four this season — he's produced five turnovers plus a two-point conversion return. If the football is steel, then Crawford is the magnet.
Originally, Crawford didn't feel Notre Dame was attracted to him at all. During a visit to campus after his sophomore season at St. Edward's, the Lakewood, Ohio native felt rejected by 2010-13 Irish defensive coordinator Bob Diaco, who was a stickler when it came to measurements at certain positions.
"It wasn't the best visit," Crawford admitted, which led him to commit to the University of Michigan as a four-star prospect.
When Diaco took the head coaching position at Connecticut after the 2014 season, Kelly and new coordinator Brian VanGorder pegged Crawford as their future nickel back, with Kelly personally taking over his recruitment and calling him to make the scholarship offer.
"I'll take credit for it because there's more to this game than just looking at one's stature," Kelly said. "The kid plays the game in a manner that is so smart and savvy that I hadn't seen before. He had those traits that overcame two or three inches. When I was at Grand Valley State, we had to find Shaun Crawfords, because they weren't getting offered scholarships."
By the second week of training camp in August 2015, Crawford was penciled in as the starting nickel, only to tear his ACL in a drill that sidelined him the rest of the season.
One year later, Crawford was back in the starting lineup, but in the opening minutes of game 2, versus Nevada, he tore his Achilles, and was shelved again for the duration of the season.
"Faith played a huge, huge part in it," said Crawford of how he dealt with the back-to-back disappointments while regularly consulting with his parents and pastor. "I was definitely down numerous times and had to rely on faith, get into Scripture and just think about my purpose and how much I have already gone through and how much I was going to have to trust [God] even more."
Morgan stated how Crawford's incessant commitment in the training and weight rooms served as motivation to him.
"He's so dedicated to getting back at it without even saying a word," Morgan said. "He's not a guy who tells you, who does the talking or even has to talk. He shows it through who he is as a person."
As someone who has bounced back from two knee surgeries of his own, Tranquill relates well with Crawford.
"There are points where you question is this really for me," Tranquill admitted. "But Shaun embodies the traits we preach on a day-to-day basis, he embodies resiliency and grit. You don't see a lot of kids like him, and I'm so happy to finally see his hard work come to fruition and pay off for him."
Even former players who have graduated such as linebacker Jaylon Smith and Joe Schmidt or defensive backs KeiVarae Russell and Matthias Farley have given shout-outs to Crawford in social media regarding his tenacity, temperament and talent.
"Players know the guys that know the game, and he's got a huge football IQ," Kelly said. "He's always got a great attitude, a spiritual center on him that attracts many people — that's why he deserves everything that's coming to him right now."
Former Notre Dame corners Russell and Luke also tried their hand at nickel, but the intricacies of the position made them yearn to return to their regular field corner spots. Crawford acknowledged nickel can be taxing mentally, but said it's worth it.
"I love it because I'm closer to the ball," he said. "The nickel kind of gets thrown at more, which is more fun to me. College and the NFL are moving mostly to the spread, so the nickel is going to be needed almost every down now.
"It's like my home really. I'm comfortable at corner as well but it's not as fun. It's away from the ball more."
As for his playmaking skills, he emphasizes it can never be achieved alone, and credits new defensive coordinator Mike Elko's scheme and emphasis in practice with the "turnover circuit" of developing him to thrive, along with his teammates.
"He's putting me in a great position right now to make plays," said Crawford of Elko, "and putting me around the ball. After that I just always tell myself to play fast and play free."
Earning the game ball at Michigan State was his validation that all previous toil was worthwhile, and the greatest gratification was the knowledge of helping his teammates and staff who supported him in the darker days. Kelly received a little extra acknowledgment.
"I told him, 'Thank you for just believing in me and even giving me this opportunity to still be on this team and play,' " Crawford said. "It's finally happening the way I want it to.
"Coach [Todd] Lyght gives me a hug and said 'We got you through another one.' I thank God for every game."
The Irish defense has given him its own thanksgiving in return.