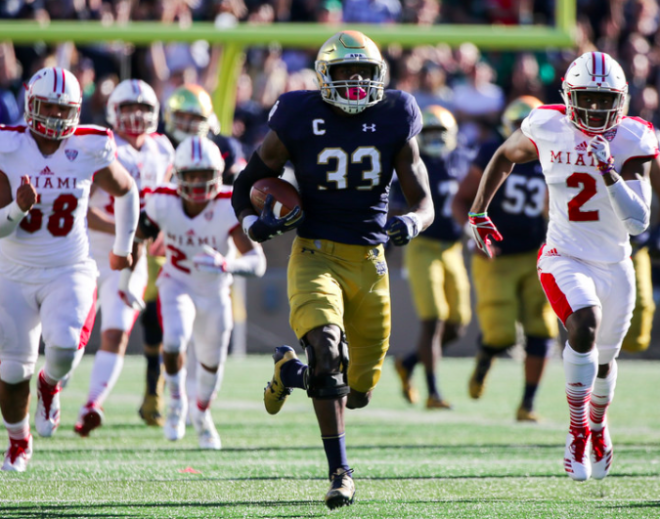 News and notes from Notre Dame's 52-17 victory over Miami (Ohio).
Dominant Ground Attack Continues
Notre Dame's ground attack has been on a historic run so far this season, and the 52-17 win over Miami (Ohio) was no exception. The Irish offense ran for 301 yards against the RedHawks, plus added another 32 yards came on a fake punt in the second quarter.
For some perspective, consider that the Fighting Irish topped the 300-yard rushing mark just twice from 2004-16. Notre Dame rushed for 376 yards in a 41-3 victory over Miami on Oct. 6, 2012, and also racked up 457 yards in a 62-27 win over Massachusetts on Sept. 26, 2015.
Through five games of the 2017 season, Notre Dame has topped the 300-yard mark three times.
"We've got some really good players that we want to feature," head coach Brian Kelly said following his team's win over Miami (Ohio). "I made a commitment to change the focus of the offense towards a much more physical approach to running the football.
"We are making sure that we utilized our strengths. We've got two guys on the left side that are going to be playing on Sundays as well as a very good center and right guard, and our right tackles are coming along."
Fifth-year senior left tackle Mike McGlinchey and senior left guard Quenton Nelson played outstanding football against the RedHawks, but junior running back Josh Adams' 73- and 59-yard touchdown runs in the first quarter went to the right behind senior center Sam Mustipher, senior right guard Alex Bars and sophomore right tackle Tommy Kraemer.
Adams has taken full advantage of playing behind such a dominant line. He rushed for 159 yards and two scores on just eight carries despite playing only one quarter against Miami (Ohio).
Through five games, Adams has rushed for 658 yards and is averaging 9.0 yards per attempt. He is on pace to break Notre Dame's single-season rushing record of 1,437 yards, set in 1979 by Vagas Ferguson.
Adams is also on pace to rush for 1,579 yards in the regular season, a statistic that is even more impressive when one considers that Adams has sat out a total of six quarters in the first five games thanks to the Irish winning by at least 20 points in each of its four victories.
"He's a stud," Kelly said of his lead back. "[Saquon] Barkley is a great player at Penn State, but Josh has got to start to get some kind of national recognition for the kind of season he's having.
"He is a load. He's a big, physical runner who gets in the open and then runs away from people. This is a special back who's having a special year."
Notre Dame's improvements on the ground game go beyond just having talented players. The Irish offense is far more diverse this season, using a wider variety of formations and run game wrinkles than it did a season ago.
Last fall, Notre Dame's offense was in a three-receiver formation more than 80 percent of its offensive snaps. Through five games this season, Notre Dame has used that formation group just more than 50 percent of the time.
The variety of alignments and schemes has made Notre Dame a more difficult offense to prepare for. There has also been a change in how Notre Dame's offensive staff evaluates itself.
"I wanted to self-scout each week, so we've self-scouted each week," Kelly explained, referring to the coaches reviewing themselves after each game. "We've got great balance in a lot of things that we're doing. Before, it would be five weeks and then we'd self-scout, and maybe there were some tendencies here and there.
"Now, we're self-scouting weekly, and I think we have got some pretty good balance in what we're trying to do offensively."
Defense Continues Disruptive Ways
It wasn't a pretty game for the Notre Dame defense, but once again the Irish did what they needed to do on that side of the ball. Coordinator Mike Elko's players continued their disruptive play in the win over Miami (Ohio).
Notre Dame registered three sacks and five quarterback hurries, broke up six passes and forced two more turnovers. Elko's defense now has 11 turnovers in five games after forcing just 14 total turnovers in each of the last two seasons.
According to senior linebacker Greer Martini, the defense's newfound ability to force miscues comes from practice.
"I think it's all preparation," Martini said. "Every day we have a turnover circuit where we're working toward creating turnovers. That's a product of the defensive coaching staff, and that's just part of the defense now."
Preparation goes beyond learning how to bat a ball down or to strip the football. It is also about knowing what to expect from your opponent. On the RedHawks' first play from scrimmage, senior tight end Ryan Smith ran a seam route that went for 22 yards. Miami (Ohio) went back to the seam route two plays later, but Martini was ready for it, picking the pass off and running it back 42 yards to set up the second score of the game for the Irish.
"During the week we knew they liked the switch route combination with [the No. 2 receiver] going out and [the outside receiver or No. 1] running a dig," Martini said. "We knew that. I read it from the line of scrimmage and just dropped back to [cover] under number one. The ball was just there, and I made the play."
Notre Dame's second forced turnover was a result of junior nose tackle Jerry Tillery knocking the ball out of the hands of Miami (Ohio) quarterback Gus Ragland. Tillery was outstanding a week prior in Notre Dame's 38-18 road victory over Michigan State, and he continued that strong play against Miami, setting a career-high with 1.5 sacks in the game.
Tillery has been a far more disruptive player this season. He leads a defensive line that has 7.5 sacks through five games, already surpassing the three sacks the front four accumulated through 12 games a season ago.
"I'm just out here trying to make plays for my team," said Tillery, who was awarded the game ball by Kelly. "That's always been my goal, and I think I'm able to do that this year much more consistently."
Tillery now has 3.5 tackles for loss and three sacks on the season. He had just five tackles for loss and one sack during his first two seasons at Notre Dame … combined.
Defensive end Khalid Kareem was another disruptive force for the Irish front. The sophomore recorded his first career sack in the victory, and added one pass broken up and a quarterback hurry to his final tally.
"Khalid is really emerging in so many ways," head coach Brian Kelly said of the Detroit native. "Physically in the weight room, the numbers are off the charts in terms of what he's been doing.
"He's just physically coming into his own … He's earned his playing time."
Injury Updates
Junior running back Josh Adams tweaked his ankle on his final carry, which came late in the first quarter. He did not play another down, and junior running back Dexter Williams also missed the game. Sophomore Tony Jones Jr. also left the contest following a hit to the helmet in the second quarter.
With the top three backs out and freshman C.J. Holmes planning to redshirt, sophomore Deon McIntosh became the bell cow the final three quarters, registering 47 yards on 12 carries.
According to head coach Brian Kelly, all three backs could have played in a more competitive game and should be healthy when Notre Dame travels to North Carolina Oct. 7.
"We just felt like we just would run Deon and just be safe," Kelly explained. "We expect each back next week. Josh should be full-go, and Tony gets this week to really get back to 100 percent. We feel good going into next week."
Sophomore safety Devin Studstill did not play in the game, and Kelly noted after the contest that Studstill was at about 80 percent. The expectation, though, is that Studstill will be back to full strength versus the Tar Heels.
First Timers All Over
Notre Dame led Miami (Ohio) 45-14 at the half, and the blowout victory allowed the Irish to play a lot of backups in the game. In fact, seven walk-ons saw game action for the first time in their careers.
Senior wide receiver Keenan Centlivre, senior offensive lineman Sam Bush, senior defensive tackle Ryan Kilander, junior cornerback Brian Ball, junior defensive tackle Lincoln Feist, junior punter Jeff Riney and sophomore cornerback Temitope Agoro all took the first snaps of their Notre Dame careers in the win over Miami (Ohio).
Miscellaneous Notes
• Notre Dame is now 3-0 against Mid-American Conference opponents under head coach Brian Kelly, with an average margin of victory of 31.3 points. Notre Dame defeated UMass 62-27 on Sept. 26, 2015, and topped Western Michigan 44-20 on Oct. 16, 2010.
• The 52 points scored against Miami (Ohio) were the most by Notre Dame since the 62 it scored against UMass.
• Adams has now scored 15 career touchdowns, and eight of those scores have been from at least 35 yards out.
• Sophomore wideout Chase Claypool's second-quarter touchdown was the first of his career.
• Junior wide receiver Miles Boykin (54 yards) and junior wideout Chris Finke (48 yards) both had career-long receptions in the game.