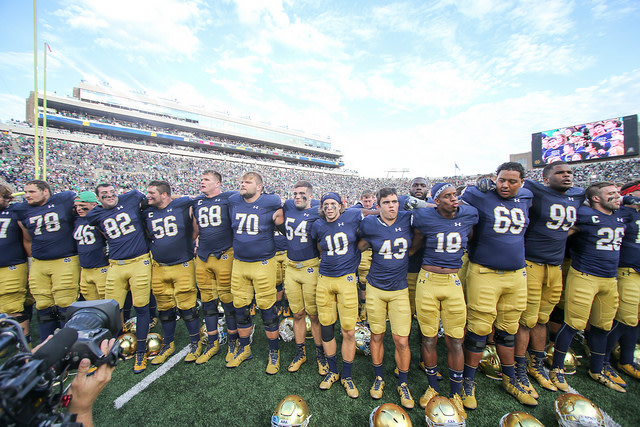 The late Ara Parseghian — who was honored in memoriam throughout this weekend's Notre Dame-Miami (Ohio) game — often stated that his first season at Notre Dame in 1964 had perhaps the purest joy because of the failure all the returning players had experienced in the years prior, including only two wins in 1963.
Once they felt the elation of winning consistently, starting 9-0 and coming so close to a national title, practice was not a grind but a pleasure for them as an opportunity to absorb more each day.
After last year's 4-8 fiasco, a similar feeling is brewing currently with a revamped Notre Dame regime that included six new on-field staff members and strength and conditioning staff.
The 4-1 start with three straight blowout wins is not quite the same at this point as 1964, but the feeling of redemption and determination to avoid embarrassment again is tangible.
"There's no question that not living up to the standards of Notre Dame football had an impetus on how we trained and how we went about our business in the off season," head coach Brian Kelly said. "I don't disagree that they carry that with them on a day-to-day basis. There was an eagerness from the very beginning to want to change the scorecard, if you will."
According to Kelly, it had to begin with the coaching and teaching first while fostering more positive reinforcement rather than constant berating and beat downs.
"When it comes to enjoying it, you still have to create the right atmosphere," he said. "You have to create an environment where the kids enjoy coming to play every day and enjoy coming to practice every day, and that is a positive coaching environment.
"That's the difference between last year and this year. We've got a great environment where kids enjoy coming to practice every single day, coupled with the fact that they want to settle up a score — and that is to bring back Notre Dame football to where it should be."
Part of that environment, believe it or not, involved a reconfiguration of the locker room and interaction dynamics. This was prompted during Kelly's conversation with current senior walk-on offensive lineman Sam Bush amidst the nearly 100 exit interviews at the end of last season.
Kelly has spoken about how there is a symbiosis among the offense, defense and special teams to create complementary football where each benefits the other, and the roots of it took place in the offseason.
It began with new strength and conditioning coordinator Matt Balis rotating different workout partners, and spilled into other arenas such as not having position groups assigned next to each other.
"It was intentional to move the locker room around," Kelly explained. "We wanted a more cohesive locker room in the sense that we wanted linebackers with offensive linemen, and we wanted defensive tackles with wide receivers. Creating the atmosphere of a cohesive group and team starts in the locker room, and it works its way into how Coach Balis each day changes the workout groups, and they get excited about somebody different each day.
"Those are the underpinnings of how you develop the camaraderie and guys caring about pulling for each side. …There's no question that there is a tighter group here because of the things we did here in the offseason."
Kelly said he entrusted Bush the assignment on how to best reconfigure the locker room, and they worked together on who should be where.
"We actually broke it down by personalities and different people that we wanted in areas, and then we have block captains (including keeping the locker area clean)," Kelly said.
None of that matters if on-field execution or practice habits and taking instruction remain poor. But if one is to restore order in the house, it begins with creating a positive home environment.
Injury Update
No significant injuries were sustained yesterday that would preclude anyone from playing at North Carolina next Saturday (which has lost 13 players to season-ending injuries this season), per Kelly.
The Irish head coach was especially pleased with the running back situation. Sophomore Tony Jones Jr., who suffered the helmet-to-helmet hit late in the first half, didn't even have to go through a concussion protocol after reviewing his scan, and he has been cleared.
Junior Dexter Williams, who sat out the Miami (Ohio) game because of an ankle sprain, is cleared for Tuesday work, according to Kelly, and junior Josh Adams, who suffered a mild sprained ankle, could have returned to action yesterday but was kept out as a precaution.
"The running backs should be much better than they were last week in terms of availability across the board," Kelly said.
Quinn Essential
Kelly admitted this weekend that in the past he didn't go into much self-scouting until around midseason or when there was a bye week. Now, that's been weekly protocol under senior offensive analyst Jeff Quinn, Kelly's right-hand man for more than two decades.
"Does an incredible job of really diving deep into all of our formations and plays and right and left, and tendencies," Kelly said of Quinn. "It's just been a thorough report that's allowed us to really be very intentional in terms of play calls and setting things up.
"It's helped us quite a bit this year so far."
Newly hired director of scouting Bill Rees, now in his fourth decade of coaching at the collegiate or NFL level, handles the personnel evaluations of the Irish opponents.
Catching On Physically
Notre Dame's physicality on offense is highlighted by a No. 1 ranking in red-zone production, where it has scored on all 22 opportunities, including a whopping 20 touchdowns. It also shows in the running game that ranks No. 1 with an average of 301.4 yards per game.
What gets overshadowed is the downfield blocking of the receivers and tight ends. No one is putting up Will Fuller, Michael Floyd or Tyler Eifert numbers, but production doesn't always have to be measured by pass-catching data.
"The physicality does not stop at the offensive line," Kelly said. "That physicality is all over the field. We've got guys at the wide receiver and tight end position that are sustaining blocks and are playing really physical all the way down the field, and that says a lot about their commitment to what we're doing.
"At times, you can get frustrated that you're not getting the ball but these guys are really doing a great job."