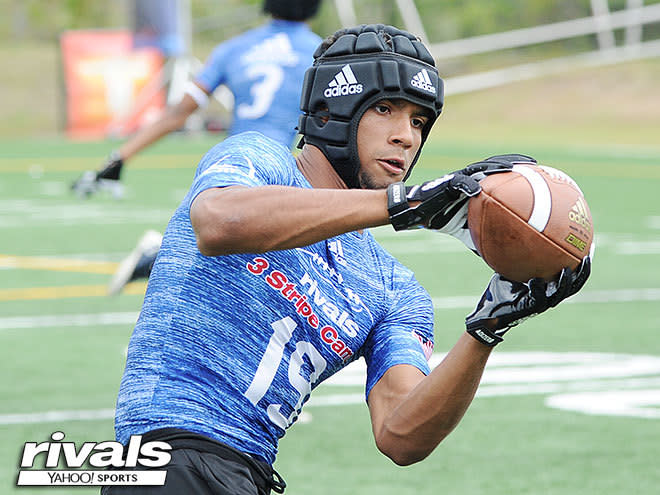 North Fort Myers (Fla.) High cornerback Joe Wilkins Jr. told Blue & Gold Illustrated Sunday that he will visit Notre Dame Nov. 4 when the Irish host Wake Forest.
Additionally, Wilkins told BGI that he has trimmed his list of offers down to six finalists: Notre Dame, Michigan State, North Carolina State, South Florida, Iowa State and Kentucky.
Wilkins, a three-star prospect, was offered by Notre Dame May 16 and is being recruited by the Irish as a cornerback.

Ht: 6'2.0"
Wt: 175.0
Class: 2018
Commitment status:
undecided
Though some schools are recruiting him as a wide receiver, Wilkins' head coach at North Fort Myers, former Florida Gators standout Earnest Graham, said he sees Wilkins' best future in the defensive backfield.
"I think his upside and his highest potential is on the defensive side," Graham said. "He's a 6-foot-2 corner, and you usually don't get kids with his size and his type of ball skills and his type of IQ.
"I think if he really dedicates his time to that side of the ball, he's going to be fantastic corner."
Notre Dame agrees.
Running backs coach Autry Denson and defensive backs Todd Lyght are tag teaming Wilkins' recruitment, and are contacting the Florida talent on a regular basis.
Since being offered, Wilkins has built strong bonds with both Irish coaches.
"He just sends me quotes," Wilkins. said of Denson. "Just little day to day uplifting things. On Father's Day he sent me an acronym for the word father. He just checks in to see how I'm doing, so it's been good."
"I can tell he's serious," Wilkins said of Lyght. "He's not really one of those coaches that wants to talk your ear off, he gets to the point. He asks me about my day.
"He lets me know that they're still interested in me and lets me know what I can do for his defense."
A commitment date has not been set for Wilkins, but he plans on visiting North Carolina State Dec. 9, so it likely won't be before then.
No other official visits have been set up as of now.