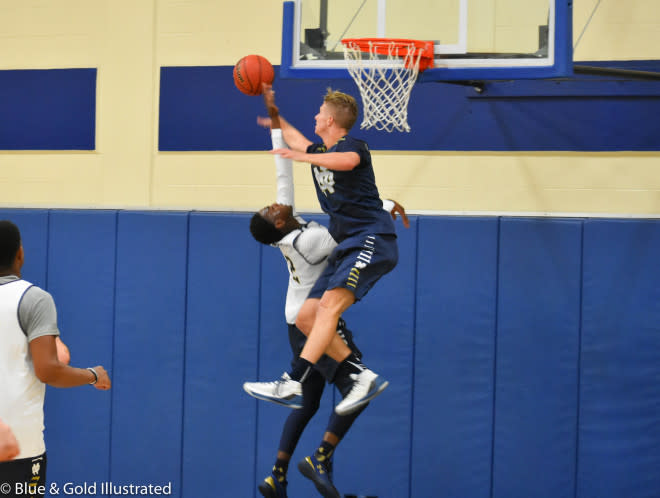 Over the past 17 years, the identity of the Notre Dame men's basketball program under head coach Mike Brey has been remarkably consistent.

The first is about supreme passing and shooting that results in annually one of the best assist-to-turnover and offensive efficiency ratios and rates in the country.
The second is defense that is more about damage control than a suffocating shut-down approach, mainly because the efficiency and emphasis on offense can compensate.
There might be some tweak to the identity during the 2017-18 season.
"What I'm interested in is who we'll be offensively — and that's very unusual for me to say with this program," said Brey as his team opened practice this Monday.
The main reason is the insertion of junior Rex Pflueger (6-6, 206) and sophomore T.J. Gibbs (6-3, 188) into the starting rotation along the perimeter, replacing the graduated tandem of Steve Vasturia and V.J. Beachem, who helped lead Notre Dame to two Elite Eight appearance, an ACC Championship and also a league runner-up finish last year.
Pflueger and Gibbs — who join seniors Bonzie Colson, Matt Farrell and Martin Geben in the starting five — so far have built their identities mainly on the defensive end of the floor. Each averaged 4.6 points per game last season in reserve roles, but defense was their calling card, and how consistent they can now be as shooters inside and outside the three-point arc is, for now, a mystery.
"I have a better feel for who we are on the defensive end right now," Brey said. "We've grown in that area the last couple of years, and with Gibbs and Pflueger in there, there's a real pride in how we guard.
"Can we turn some people over and get some easy buckets? That's usually not how we've done business here. I think we may be able to do that, and maybe that takes some pressure off how we're shooting the ball."
Last year Vasturia and Beachem combined for 27.6 points per game and converted 145 three-pointers between them to help Notre Dame rank No. 1 in that category in the 15-team ACC.
"Shooting left the building with V.J. and Steve," Brey said. "I think Rex and T.J. will shoot it at a comparable number, but who are they going to be from out there? So a guy coming off the bench that can really step up and stroke it, that's where he can really, really help us."
The top two candidates for that potential role would be 6-6 ½, 220-pound freshman D.J. Harvey and 6-7, 211-pound sophomore Nikola Djogo, who redshirted last season.
"D.J. is physically ready to do it," said Brey, whose history generally has been to ease freshmen into the rotation rather than force too much too soon. "He's got a great mid-range game. He's got a great stroke. He can be a little bit of a shooter for us. He also rebounds with anybody for his size.
"It's funny how he stands out a little bit when you have all these old guys and he's the only freshman. Slowing him down a little bit, getting him to understand what a good shot is and how we play. The good thing about it is he's played with all old guys this summer who kind of told him and kind of coached him when I'm not around."
As for Djogo (pronounced Joe Go), the southpaw has the classic shooting stroke of a "Brey shooter," and he also possesses good enough athletic skills to play some at the point, which is what the Canadian did in high school.
"Nik had a very good summer," Brey said. "We have him handling the ball … We kind of forced Nik into that. It's really helped him. He's taken better care of the ball. He had a little bit of an issue not taking care of the ball his freshman year. He's better with the ball. He's had to do more."
During the first four days of practice through this Friday, Brey is going to have his staff keep meticulous tabs on every detail from the scrimmages such as rebounding, assist-to-turnover ratio... and especially shooting to begin a stronger and more consistent evaluation process.
"Now we have a little bit bigger sample size than one practice a week in the summer," he said.
One other role he sees changing in 2017-18 is the personality of the team. Whereas Vasturia and Beachem last year were lower key and even-keeled, this year's top quartet of Colson, Farrell, Pflueger and Gibbs have much more high-strung personalities.
"They are edgy guys, emotional guys — and 98 percent of that is good and I wouldn't want it any other way," Brey said. "I'd rather have that and kind of downshift it a little bit and try to have to inject a guy with that. When we don't have success and in the midst of a game and in midst of a tough stretch in the ACC, can we be poised and understand the big picture? I think that's going to be a big part of my job.
"I've talked with Matt Farrell about that as the quarterback and the senior — I don't want to take any of your juice away. Your talk in the huddles may have to be a little different than what it's been before. Last year, we had Steve and V.J. They were like listening to jazz in the huddle. They brought everybody else down. I'm thinking I guess I'm the jazz guy right now, and maybe Matt Farrell can join me."
Whatever the musical genre, Brey and his team have been hitting mainly the right notes the past several years.