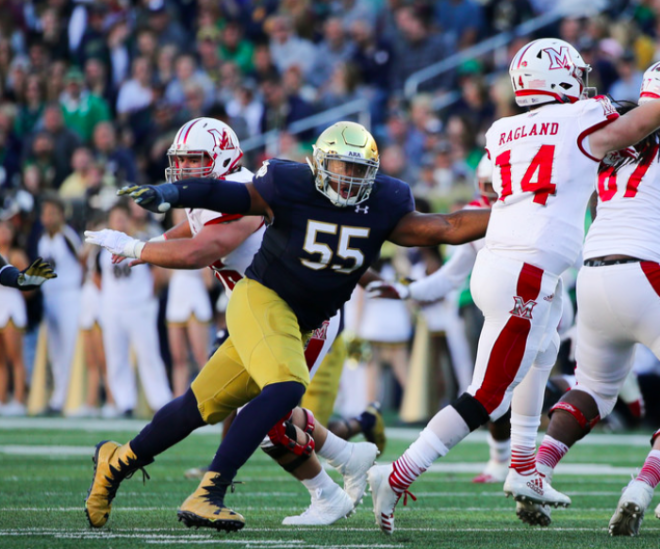 Notre Dame did what it needed to do defensively against Miami (Ohio), playing a key role in the 52-17 victory over the RedHawks.
Miami (Ohio) had 377 yards, averaged 5.4 yards per play and picked up 19 first downs, but it could not score enough points early on to make it a competitive games thanks to Notre Dame's ability to force turnovers and come up with stops when needed.
Grades for the Notre Dame defense and its position groups:
RUSH DEFENSE
Notre Dame had its second best performance of the season with its rush defense, holding Miami (Ohio) to 115 yards on 33 attempts, good for just 3.5 yards per rush.
Most of Miami's yards on the ground came with the game already decided. The RedHawks rushed for just 49 yards in the first half as Notre Dame built up a 45-14 lead. Miami had runs of 20, 11 and 9 yards in the first half, so the lack of ground success had more to do with Notre Dame leading big early than it did Notre dame actually shutting down the ground game.
Outside of runs of 27 and 11 yards late in the game, which came on back-to-back carries, Miami had little success on the ground in the second half. It rushed for 85 yards in the final two quarters, but those yards came on 19 rushes.
Notre Dame didn't tackle as well as it needed to, and there were a couple of fit issues, but overall the run defense did its job.
GRADE: B
PASS DEFENSE
Notre Dame's pass defense was a bit erratic against Miami (Ohio). There were moments when the pass defense – from both a coverage and pressure standpoint – was very good. There were also moments when the coverage failed, either by turning a player loose or a defender not being able to make a play on the football.
Miami (Ohio) passed for 277 yards and averaged 7.1 yards per attempt and 13.8 yards per completion, all good numbers for the offense. Both of its touchdown passes came in the first half. Miami (Ohio) wasn't overly efficient throwing the ball, with quarterback Gus Ragland completing just 19 of his 37 passes (51.4 percent).
The RedHawks had some success over the middle, and receiver James Gardner won down the field all game long, hauling in five catches for 115 yards, including two scores in the first half.
A big part of Notre Dame's ability to keep the points down was built around its ability to force incompletions and to turn the ball over. Part of that success came from good coverage, but the biggest factor was the pressure it was able to put on the RedHawks. The defense racked up three sacks and was credited with five hurries, but the pressure was even better than those numbers show.
This is an excellent pressure by senior defensive tackle Jonathan Bonner, who got into the pads of the right guard, got him on his heels and rode the blocker into the quarterback. Ragland had no chance to step into the pocket and he had to rush the throw, which allowed senior corner Nick Watkins to jump the route and break up the pass.
Notre Dame harassed Ragland throughout the game, and the only success Miami (Ohio) had in the game was due to Gardner making strong catches but also Ragland making some really impressive throws. His first touchdown came with him throwing off of his back foot because of a pressure from Daelin Hayes. The Irish defense wasn't terrible on the play, it was more about Ragland and Gardner making strong, strong efforts.
Overall, Ragland could not complete enough passes or make enough plays to keep Miami (Ohio) in the game.
Notre Dame forced two turnovers in the game, and both came in the pass game. There was a forced fumble early in the game (see the clip in the coaching section) and senior linebacker Greer Martini ended Miami's first drive with an interception.
GRADE: B
SITUATIONAL DEFENSE
Notre Dame was not great with its situational football, but it got the job done. Miami (Ohio) converted 40 percent of its third-down opportunities (6 of 15), but it went 0-2 on fourth-down. The RedHawks went 2 of 2 in the red zone, but only one of those scores was a touchdown.
GRADE: B-
COACHING
Defensive coordinator Mike Elko did some nice things in this game. One questionable decision was the move to have his cornerbacks play so soft on the outside. It appears that Watkins isn't as effective playing off and transitioning down the field as he is in press coverage, but he did more off coverage in this game.
There were too many soft spots over the middle, although that's not by design as much as it is just needing to continue to get the defense in better position to execute and be more effective over the middle.
Other than that, I felt good about the plan Elko had in this game.
Elko knew two things were true about stopping Miami (Ohio). The first was the need to shut down the run game. In Miami's six losses in 2016 it averaged just under 100 yards, and it was just over 100 yards in the two losses prior to this matchup. In Miami's eight wins the last two seasons it averaged over 160 yards per game on the ground.
The Irish defensive coordinator did a good job of getting his safeties down and showing looks with his fronts to keep Miami (Ohio) from wanting to run, and putting his players in position to be effective against the run to be effective when the RedHawks did hand off.
The second truth was when Miami (Ohio) did drop back to pass the defense needed to put pressure on Ragland. If he was able to get comfortable in the pocket he could have a lot more success than he did. Notre Dame forced Ragland to make a lot of really good throws, but he was unable to make enough of them to really keep Miami (Ohio) in the game.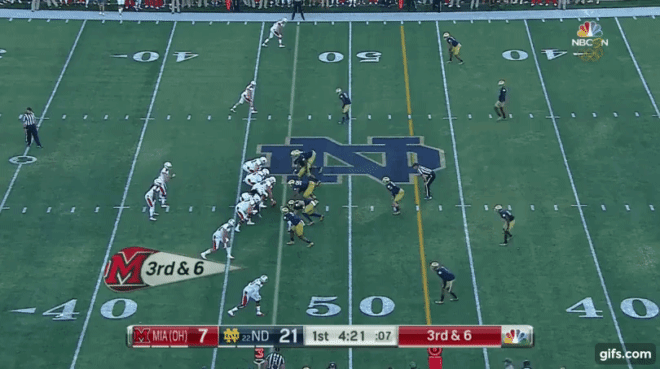 There were plenty of four-man pressures in the game, but Elko also mixed in a lot of well-designed pressures. Some of the up-the-middle pressures weren't effective because the linebackers were a bit late or unable to win one-on-one matchups.
The outside pressures were the most effective in this game, and you see an example in the clip above. Notre Dame got a good push up the middle, but the fast outside pressure from Nickel Shaun Crawford forced Ragland to step up and into the pressure.
Pressures like this made life difficult for Ragland and were a big part of Miami's inability to be more efficient in the pass game.
GRADE: B
DEFENSIVE LINE
Stats: NT Jerry Tillery – 3 tackles, 1.5 TFL's, 1.5 sacks, 1 forced fumble, 1 QB hurry; DE Khalid Kareem – 2 tackles, 1 TFL, 1 sack, 1 break up, 1 QB hurry; DT Jonathan Bonner – 2 tackles, 1 QB hurry; DE Andrew Trumbetti – 2 tackles; DE Daelin Hayes – 1 tackle, 1 TFL; DT Brandon Tiassum – 1 tackle; DE Jay Hayes – 1 tackles, 1 QB hurry
Notre Dame's defensive line was up-and-down, but overall it proved to be quite disruptive in the game. In the two clips above the ability of the defense to get a strong push was obvious.
There were times when the line got knocked back or missed gaps, but overall the unit held its own or won their battles.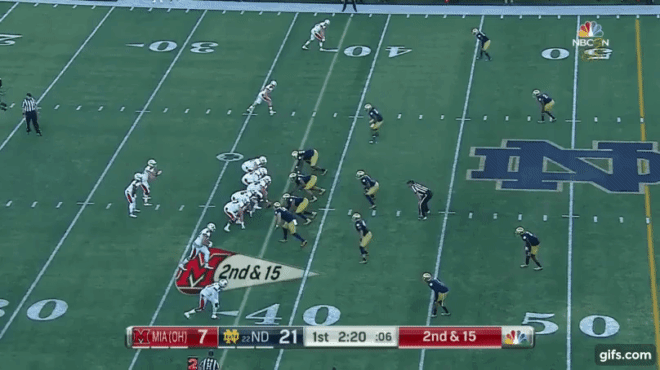 In the clip above you see the line making arguably its most disruptive play of the game. Junior nose tackle Jerry Tillery is credited with the sack and the forced fumble while senior end Jay Hayes recovers the fumble. It is Bonner who has the initial pressure that forces Ragland to step into the pocket and into Tillery's arms.
This is not one player making a play, this is the entire line doing its job and winning battles.
Tillery had a strong performance, constantly pushing the Miami (Ohio) line into the backfield. He was credited with half a sack in the clip where Crawford blitzes, and he made the sacks in the clip directly above. He had several up the middle pressures that kept Ragland from letting loose with the ball.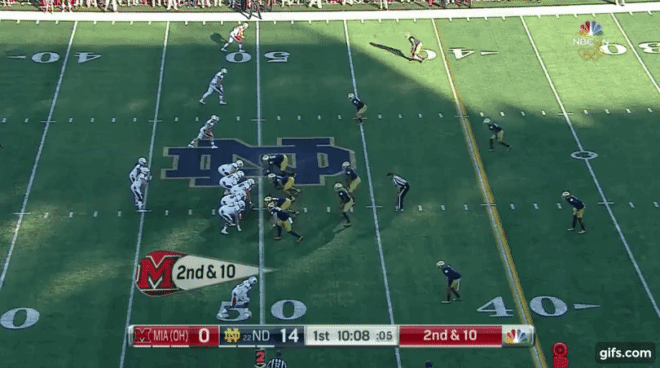 You can see an example of Tillery's disruption beyond the sacks in this play. Ragland has no chance at setting his feet and throwing the ball with how quickly Tillery sheds his blocker and gets into the backfield.
Senior defensive tackle Jonathan Bonner got knocked around at times, but this was arguably his most disruptive performance. It was without question his most effective game in regards to getting off blocks and getting into the backfield.
All the ends had quality performances, but the play of sophomore end Khalid Kareem was the most encouraging. Kareem was disruptive all game long, making a hurry early in the game and a sack later in the game.
GRADE: B+
LINEBACKERS
Stats: Nyles Morgan – 7 tackles; Drue Tranquill – 7 tackles; Greer Martini – 5 tackles, 1 INT; Te'von Coney – 4 tackles; Jonathan Jones – 4 tackles, 1 break up; Asmar Bilal – 2 tackles; D.J. Morgan – 2 tackles; Jamir Jones – 1 QB hurry
Notre Dame's linebackers had a quality performance, but we've still yet to see this group really dominate the way it is capable of.
Senior Nyles Morgan had a strong performance outside of one poor run fit in the first half. His ability to play sideline to sideline really made it hard for Miami's run game and perimeter screen game to get rolling.
This was arguably Greer Martini's best game of the season. He made the crucial pick early in the game, and his run game performance was a bit more aggressive. Junior Buck linebacker Te'von Coney was solid in the run game as well, although he was not as aggressive playing downhill as he has been in previous games.
Senior rover Drue Tranquill lost contain on a pair of snaps, but once again he played aggressive football and tackled well in space.
A lot of work is still needed from the linebackers when it comes to coverage, especially up the seams and over the middle. This is especially true of junior Asmar Bilal, who continued struggling to find perimeter routes and got sucked inside on a play-action pass. Fortunately, Miami's slot player dropped the wide open pass on that particular play.
An encouraging sign late in the game was the play of sophomore linebacker Jonathan Jones, who looked good playing the run and pass during his reps.
GRADE: B-
SECONDARY
Stats: S Jalen Elliott – 5 tackles; CB Julian Love – 4 tackles, 2 break ups; CB Nick Coleman – 3 tackles; S Nicco Fertitta – 2 tackles; CB Shaun Crawford – 2 tackles, 0.5 TFL's, 0.5 sacks; CB Nick Watkins – 1 tackle; 2 break ups; S Isaiah Robertson – 1 tackle; CB Donte Vaughn – 1 tackle; S Jordan Genmark Heath – 1 tackle
Notre Dame's secondary was the most up-and-down unit for the Irish defense. There were some very strong moments in the game, but there were also some struggles defending one-on-one balls and when it came to tackling in space.
Watkins was beat on a number of occasions by Gardner. Beat might not be the right word, as Watkins was constantly in position. Gardner outplayed him when the ball was in the air. Ragland also placed a couple of those throws in tough spots for the Irish defender.
Watkins did have a pair of breakups, and the fact he was always in position was encouraging, but this wasn't the first time in 2017 that Watkins was outplayed for the football on down the field throws.
Sophomore cornerback Julian Love continued his upward trend after struggling a bit in the first three games of the season. He was tight in coverage, made a strong break up in the end zone during the second half and tackled well during the game.
Crawford was good as a blitzer and in coverage, but he did lose contain on a 3rd-and-17 screen play that allowed Miami (Ohio) to get a bit too close to picking up a first down.
Sophomore safety Jalen Elliott had an interesting performance.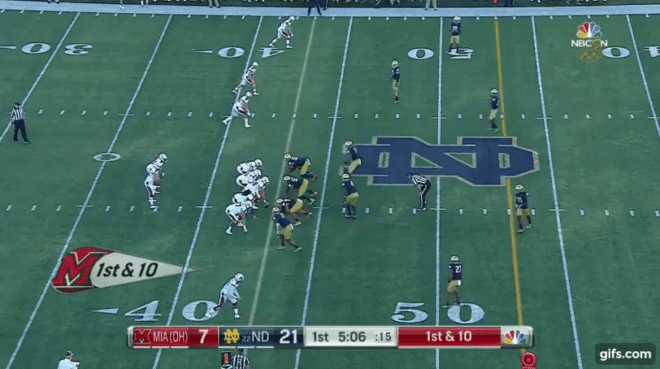 He had some very good moments in the game, especially when it came to coming down in the box and being aggressive against the run. There was one particular play in the first half where the line got sealed inside and the linebacker had a bad fit, but Elliott flew downhill and tackled the back after just a couple of yards.
His instincts were good and he was constantly around the ball, but as one can see in the clip above, he didn't finish off plays. Elliott was close to having an outstanding performance. He was in a perfect spot to make a tackle for loss in the clip above and he had chances to make 3-4 more impact plays in the game.
Moving forward he needs to start making those plays, but his improvement when it comes to being assignment sound is very encouraging.
GRADE: C+