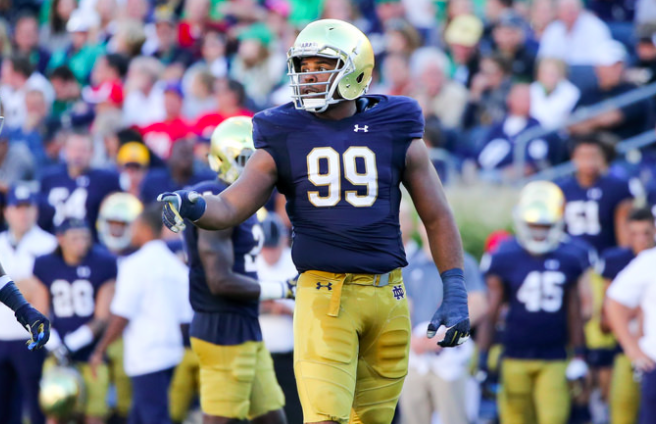 Notre Dame has strung together three straight blowout victories, topping Boston College of the Atlantic Coast Conference 49-20, Michigan State of the Big Ten 38-18 and Miami (Ohio) of the Mid-American Conference 52-17.
The Irish are preparing to head to Chapel Hill, N.C., to take on the North Carolina Tar Heels, and another blowout seems to be in the works. Notre Dame is 4-1 while the Tar Heels are 1-4 and coming off a 33-7 loss to Georgia Tech.
North Carolina is incredibly banged up, and 13 players have already been lost for the season, but Notre Dame head coach Brian Kelly believes the Tar Heels are better on film than what their record and statistics show.
"If one would look at their record, you may get the similar sense that it's a 1-4 football team, and it is," Kelly said during his Tuesday press conference. "But four of the five games they've had a lead going into the fourth quarter. If you watch their film last week against Georgia Tech, that's a battle going late into the game. It's 7-0 and they are playing hard and physical."
Despite the 1-4 start, Kelly believes North Carolina will enter this matchup inspired, thanks to its head coach Larry Fedora.
"Coach Fedora has got this football team — the morale is good," Kelly said. "Coach Fedora has done a great job of keeping this team mentally locked in regardless of what group he puts out there week in and week out. It's been very, very impressive.
"We've got to go back out on the road, play another road game and be challenged again by an ACC opponent, which we're looking forward to."
Part of Kelly's concern about the Tar Heels is the athleticism Fedora's unit will throw out on the field.
"Looking at who they are on film, looking at the athleticism that they have, the production is one where we'll have to play up to our standards that we have set, and that's the most important thing," Kelly explained. "Not looking at anything else but the film and how they've played their opponents over the past five weeks … there's some really good athletes on this football team."
Kelly has coached at least three games against an opponent from every major conference, and everyone but the Big 12 is on the 2017 schedule. He believes the talent in the ACC stacks up against anyone, and that factors into why he feels North Carolina will be a tougher test than their record might otherwise indicate.
"When we watch film of the opponents of the last couple years, Boston College was a physical team with really good defensive players," Kelly said. "Then you look at North Carolina State, really good defensive players, and North Carolina with great offensive players. It's been interesting because of the high-end caliber athletes on both sides of the ball, to the level as good as anybody in the country.
"I'm not here to wave the flag for the ACC, but we see them all. We see the Pac-12, the Big Ten and Big 12, and the talent level is outstanding in the ACC."
Other notes from Kelly's press conference:
On the first month of the season: "I'm satisfied with our preparation and the mindset that we have taken on Saturdays, when our performance is graded. And it's obviously very important on Saturdays.
"Preparation is one thing, but performance is really what this is all about, and that total preparation has been able to give our guys the opportunity for the kind of high performance necessary to win football games at this level. So I'm very pleased with all of that.
"There are a number of things that I've got to do a better job with and continue to work on, and that's why we've got a ways to go. I don't want to say a long way to go, but we've got a ways to go as a football team and as a coaching staff."
On why the red zone has been such a strength for his offense in 2017: "It has a lot to do with the running of the football and then what we're setting up off of the run, more so than trying to take shots on first down in the end zone. We're staying ahead of the chains down there.
"We're leveraging our calls down there through the run game is the best way that I would put it to you, and that leveraging is allowing us to do other things other than trying to attack the front pylon, the back pylon and the back of the end line."
On the play of senior defensive tackle Jonathan Bonner: "Football instincts, just sensing and feeling more — he's explosive, powerful, understands the system of defense in terms of what he needs to play a lot better.
"Sometimes he loses himself a little bit in terms of where he is on the field. Just that kinesthetic awareness of playing off blocks and into gaps once in a while, but he's made great, great strides. He's playing pretty good football."
On the play of the defensive line on third down: "I've been the guy that's been ringing that bell from day one about expecting that our defensive line was going to play better than many thought. [Defensive line coach] Mike Elston has done a great job with that group, there's no question, hands, hands up, deflecting, contesting it at the line of scrimmage, in quick gain, and then pushing the pocket inside and out.
"We're getting sacks, we're getting hurries. We're making it very difficult for quarterbacks to just sit back there and throw the football. They're contested from the pocket.
"Jerry Tillery inside is doing a great job. When we move [Andrew] Trumbetti inside in that three-down package, he's doing a great job. He doesn't get a lot of credit, but he's getting real good pushes. Julian Okwara was a menace at times knocking people around, maybe not getting to the quarterback for a sack, but he took a tackle back, knocked him back into the running back. We're getting really good play. Khalid Kareem comes in and is very effective.
"Again, it's the pressures, it's the deflections, it's the sacks. [We] didn't have those last year, and we're getting them this year.
On the health of junior running back Josh Adams: "He's just got a bit of a cranky ankle, and we've just tried to be as cautious with him as possible."
On how Las Vegas natives Nicco Fertitta and Alizé Mack are responding to the shooting in their hometown: "They both obviously have had some friends that have been touched by it in some fashion. I can't give you the specifics or particulars, but both of them were obviously — and we all are, obviously — devastated by the news and sick about it.
"But both of them, Nicco and Alizé, were quite sullen yesterday because they knew of somebody that they were close to or were acquaintances that were affected by the tragedy."