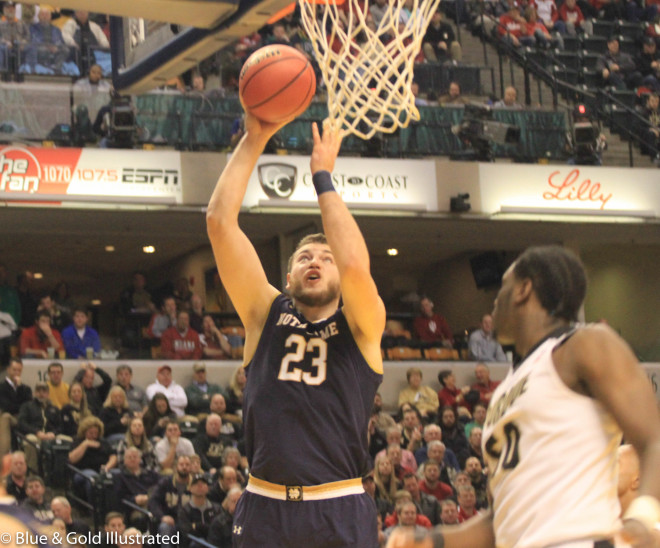 For athletes, the opportunity to represent your home country in international play is quite the honor.
It's not an achievement the majority of athletes are able to experience. Let alone winning a gold medal in the respective sport or event.
Notre Dame senior big man Martinas Geben accomplished both this summer.
While most of his teammates were in the United States working on their games and enjoying the break from school, the 6-foot-10, 255-pounder was over overseas representing his native Lithuania in the World University Games.
In mid-July, Geben began his journey with a team camp for the Lithuanian Student National Team with 15 members participating in an exhibition tour in China where 12 players would then move on to represent Lithuania in the World University Games.
Through his play during the exhibition games, Geben landed a spot on the 12-man roster which headed to Taipei, Taiwan for the World University Games.
Geben started his time in Taipei in style by shattering a backboard during a team practice. But the end of the trip will forever live in the mind of Geben and his teammates.
🏅🔓 Achievement unlocked!@Martin_Geben takes out his first backboard in Taipei with Lithuanian Student Team.
🤞hope they have a backup pic.twitter.com/yLmT7OMhUU

— Notre Dame MBB (@NDmbb) August 14, 2017
The Lithuanian team started with a win over Israel before falling to Australia 84-82 the following day. Then Geben and his teammates found their groove.
Five straight wins over Mozambique, Ukraine, Russia, Argentina and Latvia set up a matchup against the United States (Purdue University) in the gold medal game.
When the final buzzer sounded on Aug. 29, Geben and his teammates had knocked off the United States team 85-74 to win the coveted goal medal. Geben recorded 12 points and seven rebounds in the victory.
"It was completely surreal," Geben told Blue & Gold Illustrated. "We went in with a competitive attitude, but we didn't go in saying we were going to win gold or we wanted to win gold. We wanted to play our best basketball and represent the country. Throughout the process, it happened to be that won gold. That's the ultimate honor representing your country at the highest level and winning the highest award.
"It was a huge honor and blessing. You don't get a chance to represent your country in international play every summer. When I got the opportunity, it was a no brainer for me. Really happy I was able to represent the country and play well myself and come out with the gold."
Geben also made the most of his opportunity in a bigger role.
In three seasons in South Bend, Geben averaged 2.3 points and 2.29 rebounds while averaging 9.2 minutes. During the eight games in Taipei, Geben averaged 10.8 points and 6.9 rebounds in just over 22 minutes of action each contest.
His best performance came in a 112-71 win over Russia where he scored 20 points and grabbed 11 rebounds while dishing out four assists.
Proud of my big Lithuanian!
Helped his team to gold at World University Games.
Congrats @Martin_Geben ! pic.twitter.com/fpDdR20EPc

— Mike Brey (@NDMikeBrey) August 29, 2017
The increased role allowed Geben a chance to become more comfortable on the floor and add a little confidence to his game.
"I had a different and slightly bigger role on that team, so I was able to experience some of that and more of a leadership based role," Geben said. "It gave me confidence, and I got more game experience against different competition and styles. I think all of that will help me coming into this season.
"It was a huge confidence booster. I proved to myself that I can do it and I think I proved to a lot of people I'm able to do it against great competing on a big stage. Now, it's to translate that same performance to courts here in the United States."
Geben shot 53.1 percent from the floor at the World University Games. His efficiency around the bucket and keeping that was the biggest takeaway skill set wise for the senior.
"I was able to play well there," Geben said of his offensive game during the event. "I did some other things that I haven't really done here on the court as far as more perimeter shooting. But other than that, just kind of getting better with the current skill set I have."
Now that he is back stateside, Geben embarks on another journey: finishing his senior season in style. The opportunity is there for an increased with the Irish during the upcoming 2017-2018 campaign. With his confidence sky high, Geben is going all out for his final go-around in South Bend.
"Just leave it all on the court," Geben said of his senior year. "Give it my best effort and not hold back. I find it that I play best when I have no expectations of myself as far as any numbers or accolades or anything like that. I want to be the best player I can be on the court and help the team win as many games as possible."