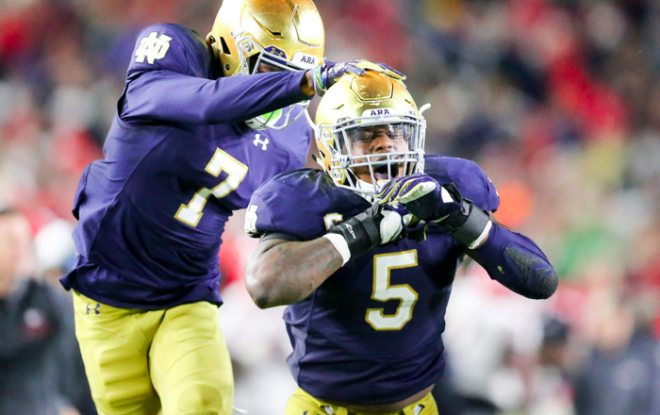 Notre Dame is looking to improve to 5-1 on the season when it travels to North Carolina this weekend to take on the Tar Heels.
Blue & Gold Illustrated has broken down and previewed the matchup, but now it is time to put our money where our mouths are - so to speak. It's prediction time.
Lou Somogyi, Senior Editor
The Tar Heels have been so ravaged by injuries and have lost so much top personnel, it's completely overshadowed that this was mid-term week at Notre Dame. Many times in the past the Irish have been lethargic in such games.
However, what should compensate is the knowledge that there is plenty of time to decompress next week with no classes and no game to prepare for, while having the good feeling that at 5-1 you've already surpassed the win total from last season.
PREDICTION: Notre Dame 31, North Carolina 16
Bryan Driskell, Football Analyst
This was a tough matchup for North Carolina before all the injuries set in. Everywhere Notre Dame is strong the Tar Heels are either weak or lack depth. North Carolina simply does not have enough firepower to go toe-to-toe with Notre Dame, so unless the Irish make a lot of mistakes this game should not be overly competitive, at least at the end.
North Carolina has enough athletes at enough positions to keep it competitive early, but if Notre Dame plays sound football and establishes the line of scrimmage it should put North Carolina away sooner rather than later.
PREDICTION: Notre Dame 41, North Carolina 17
David McKinney, Recruiting Reporter
We don't know who's going to be starting at quarterback, but at this point I'm note sure that matters all that much. I think Ian Book is more than capable of winning this game for Notre Dame, even if UNC loads the box and makes him throw. Even then, I don't think the UNC defense will be able to stop the Notre Dame run game. I mean, nobody else has.
North Carolina is absolutely decimated by injuries, and haven't shown on the field so far that they're capable of winning a game like this. I think Notre Dame will be too much for the Tar Heels, and the Irish will head into the bye week at 5-1, with a visit from the Trojans looming.
PREDICTION: Notre Dame 40, North Carolina 20
Corey Bodden, Recruiting Reporter
Notre Dame has proven so far this season it can play and play well on the road. The Irish should be able to keep up its perfect mark on the road against a North Carolina team that is having trouble stopping opposing offenses through the air and on the ground which doesn't bode well against an Irish team averaging near 300 yards on the ground per game. Which remains the same even if starter Brandon Wimbush is a no-go.
North Carolina quarterback Chazz Surratt will likely find some success through the air, but the Irish will adjust well as the game goes on and make life difficult for Surratt. If Ian Book is the starter, I don't expect the game plan to change much with the Irish trying to establish the run and impose their physicality. Losing your starter for a road game against a Power Five team would create some caution, but North Carolina is dealing with a serious injury bug all over the board. Notre Dame finds a way to cruise to a three touchdown victory with Wimbush or Book.
PREDICTION: Notre Dame 45, North Carolina 23