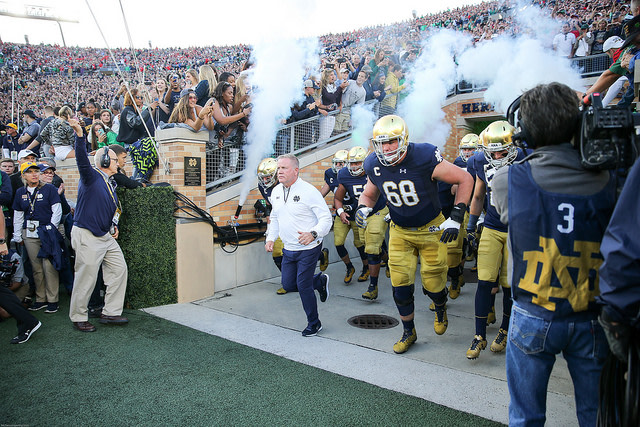 10 Straight victories Notre Dame is aiming for in games played Oct. 7, dating back to 1955. It is 15-1-1 all time on this date, with the lone defeat occurring in 1950 to Purdue, ending the school record 39-game unbeaten streak.

9 Teams this year so far in the Football Bowl Subdivision to win two road games at Power 5 Conference schools, with Notre Dame doing so at Boston College and Michigan State. A win at North Carolina today would make the Fighting Irish, Washington and probably Georgia (which is at Vanderbilt) the only three to have three such wins.
8 Junior running back Josh Adams already is 8th on the Notre Dame all-time rushing chart with 2,426 yard, only 21 behind Cierre Wood (2010-12) for the 7th spot. Moving past him would make Adams the top rusher of the Brian Kelly era.
7 Notre Dame's ground attack ranks 7th nationally with 301.4 yards per game, which at this pace would be the most in one season since the school record 350.2 by the 1973 national champs. Meanwhile, North Carolina's run defense is ranked 112th and yielding 221.8 yards per contest and 4.97 yards per rush.
6 Under Kelly, Notre Dame is 6-0 with a first-time quarterback starter, which is a possibility in Chapel Hill today with sophomore Ian Book, who took the bulk of reps this week while junior starter Brandon Wimbush was recovering from a foot strain. Three of those new starts were against ranked teams with freshman Tommy Rees versus No. 15 Utah in 2010 (Rees is now the QB coach), sophomore Malik Zaire against No. 22 LSU in the 2014 Music City Bowl, and DeShone Kizer versus No. 14 Georgia Tech in 2015.
5 Notre Dame is gunning for its fifth victory this season to improve to 5-1 entering the bye week. It would also already eclipse the win total from last year's 4-8 debacle. However, five of the six opponents in the second half of the season have only one or fewer losses so far too — and the one that doesn't is Stanford, which has won six of the last eight meetings versus the Irish.
4 North Carolina has lost four straight games at home in Kenan Stadium, 28-21 last season to North Carolina State, and so far this year to Cal (35-30), Louisville (47-35) and Duke (27-17). The Tar Heels — who have already lost 13 players for the season because of injury — had a lead going into the fourth quarter of all three of those 2017 setbacks but were outscored 48-13 by the trio over the final 15 minutes.
3 Consecutive Notre Dame victories by a least 20 points — 49-20 at Boston College, 38-18 at Michigan State and 52-17 last week versus Miami (Ohio) — a first since head coach Charlie Weis' debut season in 2005 when the Irish finished No. 9. Notre Dame also has scored at least 38 points in three straight games for the first time since 2006.
2 Times Notre Dame has lost to North Carolina in 19 previous meetings — 12-7 during the 2-8 season in 1960 and 29-24 in 2008, the last time it traveled to Chapel Hill. If the Irish win today to improve to 18-2 versus the Tar Heels, the .900 winning percentage would be the highest against any of the 16 opponents it has faced at least 20 times.
On a separate note, UNC director of athletics Lawrence "Bubba" Cunningham is a 1984 Notre Dame graduate who is looking to win against the Irish at a second different school. He was the AD at Tulsa when it won at Notre Dame in 2010.
1 Notre Dame is one of 12 teams tied for No. 1 in red-zone scoring (22-of-22) — and is first among them in most touchdowns (20) and No. 1 nationally in rushing touchdowns (15) inside the opponent's 20-yard line.