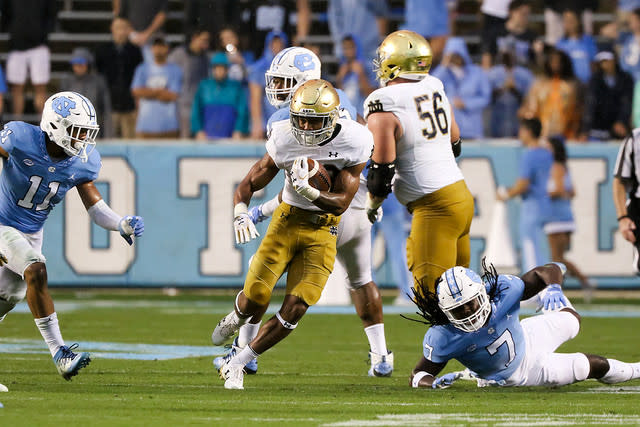 By The Numbers

3 Teams in the Football Bowl Subdivision to win three road games — not including neutral sites — through Oct. 7 against Power 5 Conference schools, with Notre Dame doing so against Boston College, Michigan State and North Carolina. The Fighting Irish join two top-10 ranked teams in Georgia and Washington as the only ones to have achieved that distinction through six games.
Entering this season, Notre Dame had been 3-10 in its last 13 games in the home stadium of its opponent, dating back to 2013.
4 Consecutive Notre Dame victories by a least 20 points — 49-20 at Boston College, 38-18 at Michigan State, 52-17 versus Miami (Ohio) and now 33-10 at North Carolina — a first since head coach Charlie Weis' debut season in 2005 when the Irish finished No. 9. That season Notre Dame defeated Brigham Young (49-23), Tennessee (41-21), Navy (42-21) and Syracuse (34-10) four straight before rallying late for a 38-31 win at Stanford in the regular season finale.
7-0 Record under head coach Brian Kelly with a first-time quarterback starter. Sophomore Ian Book became the seventh, and three of those new starts by others were against ranked teams: freshman Tommy Rees versus No. 15 Utah in 2010 (Rees is now the QB coach), sophomore Malik Zaire against No. 22 LSU in the 2014 Music City Bowl, and DeShone Kizer versus No. 14 Georgia Tech in 2015.
Also winning their first start were Dayne Crist (2010, Purdue), Everett Golson (2012, Navy) and Brandon Wimbush (2017, Temple).
10 Straight victories by Notre Dame in games played Oct. 7, dating back to 1955. It is 16-1-1 all time on this date, with the lone defeat occurring in 1950 to Purdue, ending the school record 39-game unbeaten streak.
11 Quarterback hurries by the Notre Dame defense, with sophomore end Julian Okwara leading the way with three while sophomore end Daelin Hayes and junior nose tackle Jerry Tillery had two apiece. The Irish also had two sacks, which don't always tell the story of just how effective the pass pressure was.
13 Runs of at 35 yards by Notre Dame this season after only six games, with junior Josh Adams scoring on a 73-yard run and sophomore Deon McIntosh tallying on a 35-yard scurry in the win at North Carolina. During last year's 4-8 season, the Irish had only seven rushes of at least 35 yards, two of them in the final two games by Adams.
18-2 Notre Dame's all-time record against North Carolina in a series where the first game was played in 1949. The .900 winning percentage is the best by the Fighting Irish among the 16 teams it has faced at least 20 times. Navy is second at .850 with Notre Dame owning a 76-13-1 record.
24-26 For the first time in its first 25 opportunities, Notre Dame failed to score once it entered the red zone (the opponent's 20-yard line). In the third quarter on a first down at the North Carolina 18-yard line, Book tossed an interception to safety Myles Dorn. That was the last such chance in the game.
The Irish capitalized on the first two red zone attempts at North Carolina with a touchdown and field goal. Twenty-one of the 24 scores have been touchdowns. On the final series, rather than trying for another score for "style points," Notre Dame ran out the clock. Thus, that will hurt its red-zone stats nationally, but perhaps give it some points for class.
34-4 Record under Kelly in his eight seasons when Notre Dame wins the turnover battle, as it did (3-2) at North Carolina. That comes out to a .895 winning percentage.
73-10 The margin Notre Dame has outscored its opponents this year after a turnover by either team. North Carolina actually finished with a 7-3 advantage as Notre Dame scored only once on the three turnovers it forced.
202 Career tackles for Notre Dame senior linebacker/captain Nyles Morgan after recording three against the Tar Heels. He joins 2015 Butkus Award winner Jaylon Smith as the two Fighting Irish players to reach that milestone since the 2013 season.
308.0 Yards per game rushing for the Irish at the halfway mark of the season after adding 341 more at North Carolina. At this pace, it would be the highest total at the school since the 1973 national champions produced the 350.2 figure.
Furthermore, the aforementioned McIntosh became the fourth different Notre Dame player to rush for at least 100 yards in game (124) this year, which might at worst tie a school record.
2,544 Career yards rushing by Adams after totaling 118 at North Carolina. This puts him No. 7 on the all-time Irish chart — and the most by a back who has played for Kelly. At North Carolina, Adams surpassed 2010-2012 Irish running back Cierre Wood, who totaled 2,447 under Kelly. At No. 6 is 1975-78 fullback/tailback Jerome Heavens with 2,682.
Turning Point
Although Notre Dame was never seriously threatened throughout the contest, it wasn't until the opening moments of the second half that it gave itself the breathing room needed to seal North Carolina's fate.
With the Irish leading 16-7, Okwara made maybe the best individual play of the game when he tipped a Chazz Surratt pass on the third play of the second half and then intercepted it as well, setting up a 29-yard Justin Yoon field goal.
The coup de grace occurred a few minutes later when a 23-yard punt return by junior Chris Finke, an 11-yard keeper by quarterback Book and a 35-yard touchdown run by McIntosh with 6:41 left basically salted away the game against a hurting Tar Heel offense by expanding the cushion to 26-7.
Stat Of The Game
Of the 15 possessions that North Carolina had, 10 of them resulted in them either having to punt or losing the ball in three plays or less.
The Tar Heels' first five series in the game were three-and-out, including one where they earned possession at their 49-yard line after a defensive stop. They did not get their initial first down until the eight-minute mark of the first half, and by then Notre Dame had built a 14-0 lead.
In the second half, the Fighting Irish defense against forced North Carolina to give up the ball — either via a turnover or punt — in three plays in its first four series. That helped Notre Dame stretch its 16-7 halftime advantage to 26-7 by the end of the third quarter. Consequently, Notre Dame dominated the time of possession with a 36:32-23:28 advantage.
Brian Kelly's Take On Joining Georgia and Washington as the only FBS schools so far this year to win three road games — not including neutral sites — against Power 5 Conference teams.
"To come down here and win a third road game is hard to do. We needed some resolve and some mental toughness, and we showed that today against an opponent that was obviously ready to play.
"I really liked our ability to take the football away today. We were able to be disruptive. We were pressuring the quarterback most of the day. We weren't as probably as opportunistic as we had been this year offensively, but when we needed it, put together a great second half in terms of controlling the clock and running the football.
"All in all, to go on the road and win by 20-plus points for a third time this year, I'm really pleased with our guys in terms of their mental preparation and how they get on the road and attack this. It's hard to do, really hard to do it. I'm proud of them."