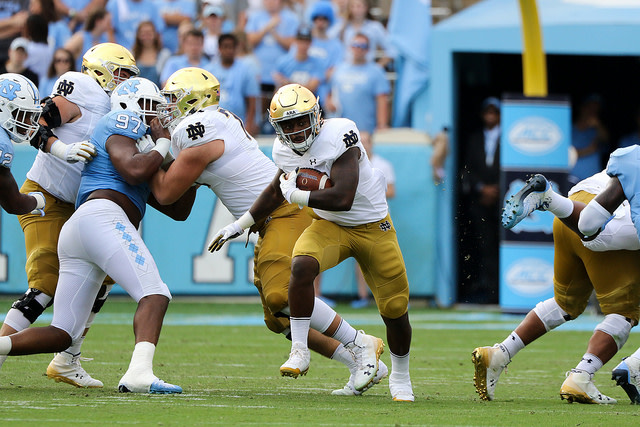 A bye week in college football is hardly a vacation for the coaching staff, but it does provide some needed rest and rehab for the student-athletes.

Ideally, head coach Brian Kelly of the No. 16-ranked Fighting Irish — who have won four straight games by at least 20 points — would prefer the bye come the same week as when Notre Dame students are on mid-term break (Oct. 14-22).
Instead, mid-term exams will take place this coming week before preparing for the back-loaded second half of the season that, per the Associated Press poll, features No. 13 USC (Oct. 21) and No. 20 North Carolina State (Oct. 28) at home, 4-2 Wake Forest on Nov. 4 — and then at No. 11 Miami (Nov. 11), No. 25 Navy (Nov. 18) and at No. 23 Stanford (Nov. 25) to cap the regular season.
There is a school of thought that a team playing as well as Notre Dame is right now would like to keep that rhythm going instead of taking a break, but Kelly is fine with the current status.
"The bye comes at a pretty good time for us," he said on Sunday afternoon. "We want to get our [running] backs healthy, we've got guys that really need to refocus and reset and get ready for this next six, which are obviously games that we'll have to elevate our performance and our coaching."
The injury situation is not acute, but some rehab time never hurts. The only players, according to Kelly, that might not have been available had there been a game this upcoming Saturday are senior right guard Alex Bars (low grade ankle sprain) and freshman reserve defensive tackle Myron Tagovailoa-Amosa (chest contusion).
With mid-term exams on the horizon this week, Kelly outlined the itinerary:
Sunday — Day off for both the players and coaching staff.
Monday — Normal light workout day for the players, with coaches in staff meetings outlining practice schedules and priorities.
Tuesday — Another day off for the players while the coaches begin game-plan and practice installation. About half of the coaching staff then will embark on recruiting trips.
Wednesday/Thursday — Practice days with preparation starting for USC — plus 20 minutes of practice dedicated to the introduction of Navy's triple option scheme in an effort to get ahead of the game in defensive structure.
Following the Thursday practice, the other half of the coaching staff then will also leave town to engage in recruiting.
Friday/Saturday/Sunday — Friday is the final day of mid-terms, with the players having the time off afterward so they can either go home for the weekend or decompress on campus if they are staying here.
Next Monday, the full preparation for USC begins in earnest, and with no classes that week, all the concentration can be on the Trojans and tuning out "the noise" when it comes to big-picture aspirations.
"I think we try to keep them really grounded on their preparation from week to week — that's what has really gotten us to the point we're at right now," Kelly said. "Their preparation, their mind-set of high performance Saturdays one at a time."
When asked about areas he'd most like to work on during they bye week, Kelly was specific.
"Coordinating our passing game, to working on some underneath coverage things that I think we need to get strengthened," he responded.
Beyond the tactical standpoints, rest and rehab are also going to be crucial, which is why the players will have five days off from this Sunday through next Sunday.
"That's very, very important as we get ready for this big push with the next six weeks," Kelly said.