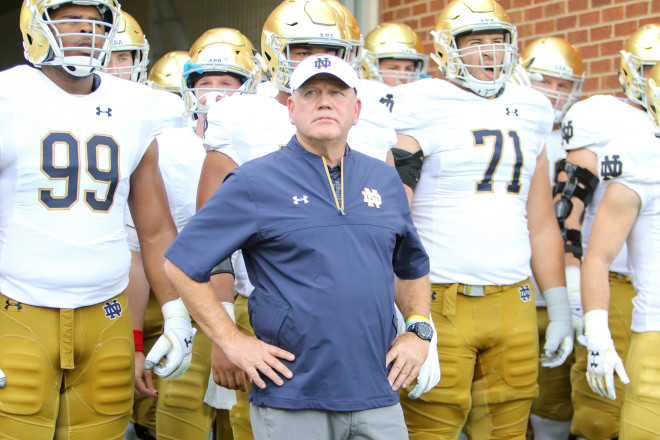 Notre Dame completely flipped the script in terms of the team's performance in the first half of the season.
Last year heading into game seven, Notre Dame sat at 2-4 with matchups against Stanford, Miami (Fla.) and USC looming.
The Cardinal, Hurricanes and Trojans remain in the back half of the schedule for the Irish in 2017, but this time Notre Dame is 5-1 with some momentum moving toward the final stretch with just a one-point loss to Georgia as its only blemish.
Head coach Brian Kelly is definitely pleased with his team and its performance in the first half. But he knows the challenge of the season awaits.
"This has really been about developing a mindset of our football team which I didn't develop very well last year," Kelly said Sunday afternoon. "So, I'm pleased with that. We've got to coach better and our players have to play better in the second half because we're going to have five of the next six opponents are ranked currently.
"Pleased with where we are at the halfway point, but this is not where we want as a destination. We came into this season wanting to play for a championship and win championships is our mission. Pleased with the mindset, the way we've developed that, but we're going to have to coach and play better in the second half."
Notre Dame has forced 14 turnovers — eight fumbles and six interceptions — this season for a plus-seven margin. The extra offensive opportunities is an area Kelly mentioned he is most pleased with so far in 2017.
"We've been starving in that area for a few years," Kelly explained. "To see our defense really transform itself from a group that really never came up with those plays to one that is thriving in that regard. I think that's probably the biggest transformation."
With multiple matchups against top 25 teams left, Kelly and his staff will keep harping on a week-to-week mindset.
"I think we try to keep them really grounded on their preparation from week-to-week," Kelly explained. "I think that's what really has gotten us to the point we're at now — their preparation, their mindset of high-performance Saturdays, one at a time. I think they've done a really good job of making sure they're not listening to the noise and really just paying attention what's hard and that is attention to detail every single day.
"That's a hard thing to do for 18 to 21-year-olds on a day-to-day basis and they're doing a great job. We'll continue pushing them in that regard."
MOVING FORWARD AT QUARTERBACK
Any time a backup quarterback is forced into action via injury to the starter, there is the thought a controversy at the position could occur if the backup performs well.

Or even a two-quarterback system. That will not be the case in South Bend following Saturday's game against the Tar Heels.
"We're not considering that," Kelly said when asked about a two-quarterback system. "Brandon [Wimbush] is our starter and Ian [Book] did a great job coming on while Brandon wasn't healthy. But no, we're not considering that."
The off time during the early stages of the bye week provides Kelly the expectation Wimbush will be ready for first-team reps by mid-week when practices resumes.
"Well, we would expect on Wednesday that he would be able to take first-team reps," Kelly said. "With nothing on Monday other than a mental day in a sense of we'll lift, go in the weight room, we'll do some rehab, we'll watch this game and grade it out obviously with our players. Tuesday, they have a day off.
"So, Wednesday we would expect with all that rehab that he would be able to get going on Wednesday and build on that for Wednesday and Thursday. That would be the expectations as I sit here right now."
HEALTH OF JOSH ADAMS/NATIONAL RECOGNITION
Irish starting running back Josh Adams has been dealing with some injury issues which have kept him from being at 100 percent in recent weeks.

The staff wanted to ensure Adams would be back to full strength by USC and limited his usage throughout the week to keep him fresh as possible for Saturday without overworking him.
"We were protecting him all week as well in terms of his reps," Kelly said. "Just trying to get maximum performance on Saturday and then try to fill in with the other backs. Certainly, Dexter [Williams] not being able to go at 100 percent and Tony [Jones Jr.] still not at 100 percent, that's what caused us to activate CJ [Holmes]. We didn't want to put a big load on Josh in this game."
Despite not being 100 percent, Adams rushed for 118 yards and a touchdown on 13 carries in the first half. Adams is sixth in the nation in rushing yards with 776 despite having 32 carries less than any player in the top six.
Even with the yardage and five touchdowns on just 86 carries, Adams has not received the national attention compared to other top running backs in the country such as Penn State's Saquon Barkley or Stanford's Bryce Love.
The attention will come, per Kelly, if Adams continues to be consistent on the ground against the second half of Notre Dame's schedule.
"You're going to play USC, North Carolina State, Miami and Stanford," Kelly said. "[Also], a very good Navy team, Wake Forest is very stingy defensively. You look at the next six weeks, I've always said that the Heisman isn't given out in September or October. Championships are not won there. You can lose them, but certainly I think the teams that are competing in November are the ones that are going to get all the individual accolades as well. So, consistency of performance in the back half, I think he'll get all the recognition he deserves."
INJURY UPDATES
Notre Dame suffered a few injuries yesterday including to right guard Alex Bars, linebacker Nyles Morgan and others. But none are serious per Kelly.

"Bars is a low-grade ankle sprain," Kelly stated. "The only other one is Myron [Tagovailoa-Amosa]. Myron had a chest contusion, but he should be fine. All the other guys would be cleared in some fashion if we were to play this weekend. No concerns moving forward."
KELLY ON ALIZÉ MACK
Junior tight end Alizé Mack led Notre Dame in yards (38) and receptions (6) against North Carolina. On the season, Mack has caught 17 passes for 154 yards after missing all of 2016.

It took a few games to get acclimated, but Mack's performance against the Tar Heels will be a building block for Kelly and the coaching staff with Mack.
"I think yesterday was a snapshot of what we expect," Kelly said of Mack. "It just took a little bit of time for him to get to where we wanted him to. I think the layoff in terms of getting to game speed, consistency is a little different than practice. I mean he looks in great practice, but playing the game is just a little bit different.
"I think he just needed some games to start to feel comfortable out there. I think we saw a little bit of that on Saturday. I think we're going to be able to build off that. I think it was a great game to go into the bye week. His confidence is up and I think we'll be able to really build on that in the next six weeks."