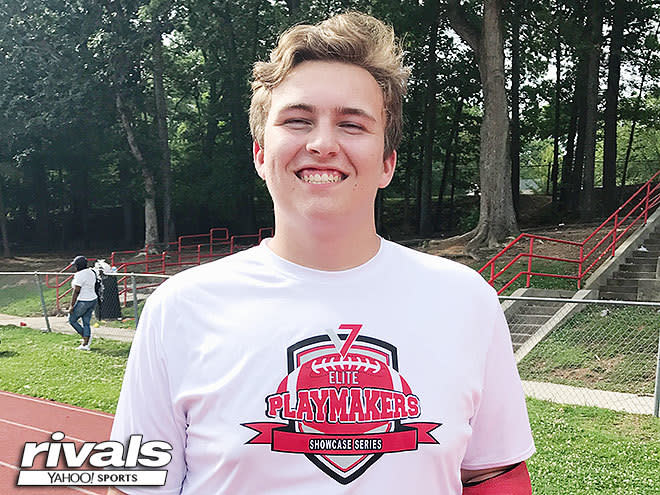 Notre Dame will host elite talent from all different classes when USC comes to town on Oct. 21.
Franklin (Tenn.) High offensive tackle Jake Wray, one of the top prospects in the class of 2020, is scheduled to be in town, and said he's looking forward to getting a closer look at South Bend.
"I'm really excited," Wray told Blue & Gold Illustrated. "I've never been there, and I haven't really been to any schools up north, so it'll be fun."
Wray said he wanted to make the trip up to Notre Dame because he's heard so much about the history of the school and the football program.
"Just the amount of tradition and excellence they've always had," Wray said. "They're a premier football team and they have great academics. It's just a great school."
Of course the main attraction of the visit will be the Irish's matchup with USC.
Wray said he's got high expectations for the rivalry game.
"A lot of energy," Wray said. "It's the USC game, so it'll be a full stadium and there will be a lot of energy from the players and the fans, just a full game experience."
Going into the visit, Wray does not hold an offer from Notre Dame, but a ton of other schools have already jumped in the mix.

Ht: 6'5.0"
Wt: 275.0
Class: 2020
Commitment status:
undecided
The 6-foot-5, 275-pounder currently holds offers from the likes of Alabama, Georgia, LSU, Miami (Fla.), Ohio State, Oregon, South Carolina, Tennessee, Texsas and several others.
Having all those offers this early, Wray said, has allowed him to focus fully on football and put his recruitment on the backburner.
"It's a great experience, and an advantage in my opinion," Wray said. "I don't have to worry about getting those later on. I'm just worried about playing and finding the right school."
Wray said adding Notre Dame to his list of potential destinations would be huge for him.
"That would be a big offer," Wray said. "Maybe it would open some more offers, but in my book that would be a big offer for me."
As young as he is, Wray already a list of a few criteria he's looking for in a school, as well as a football program.
"Good coaching, a good atmosphere, good academics," Wray said. "A bunch of things you would expect."